The 2015 Riverfront Times Music Showcase is set to be the biggest local music festival in St. Louis history. On June 20, nearly 100 local bands will play across ten venues in the Grove Neighborhood, including just about every genre possible, sans polka. From now until the showcase, we will supply you with the lowdown on every act nominated for an RFT Music Award, so you can be in the know with regards to your vote. Read on and get familiar with your local scene. And don't forget to mark your calendar for June 20!
See also: -- The Complete 2015 RFT Music Showcase Schedule -- Vote Now For the 2015 RFT Music Awards
---
Dots Not Feathers
Stephen Baier (Guitar, Vocals) Ryan Myers (Baritone, Guitar, Ukulele, Vocals) Jessica Haley (Omnichord, Vocals) Katie Brooking (Keys, Vocals) Chris Dickey (Bass) Nick Blackburn (Drums)
Read more about Dots Not Feathers in our review of 2014's Dolphin World:
Early on in its development, the knock on Dots Not Feathers was "indie-rock meets the cast of Glee." It wasn't an insult, at least not totally -- group harmony isn't anything to scoff at -- but that perception suggested that the band's technical brilliance stood in place of real heart and soul. (The band's Under Cover Weekend performances as A-level legends Stevie Wonder and Michael Jackson only underlined that gap.) The intervening years between albums brought on some lineup shifts, but it gave the band time to right its internal compass. On Dolphin World, leader Stephen Baier has written ten moody love songs, which his bandmates dress in vocally driven, R&B-flecked pop.

It speaks to the DNF's gentle sense of propriety that the slight feedback at the end of the lovely, loping "Catherine" -- a short song about secretive, somewhat unrequited love that sparkles as it stomps -- does not turn into a blowout, cathartic squall. You don't listen to this band for raw rock action; the protagonists of these songs take their romantic lumps and turn the hurt into hand-claps and sing-alongs. Even the full-throated chorus of "Timid Dolphin" sounds nominally like a threat but brims with Up with People brio, featuring muted trombones and disco piano crescendoes. Credit the production from Benton Park's Shock City Studios for the album's pop-slickness and the mastering work of Nashville's David Vandervelde for preserving some of the rough edges and vintage tones.
---
The Educated Guess
Grant Alexander (Guitar) Charlie Brumley (Keys, Vocals) Jamie-Lee Green (Vocals) Zack Hall (Trumpet) Brian Pincus (Drums) Arrika Rayburn (Vocals) Jim Scheffer (Alto Sax) Jess Speropulos (Vocals) Ken Summers (Bass Trombone) Jon Venegoni (Bass) Ken Winschel (Tenor Trombone)
Read more about the Educated Guess in our review of its 2015 self-titled LP:
Forgive the extended absence of a proper Educated Guess album. In the six years since West Skyline Drive was released, songwriter, composer, pianist and lead singer Charlie Brumley has written a Civil War-inspired song suite, staged the sci-fi musical Chrono Man and lent his talents to various acts around town. But the Educated Guess has long been his most fertile ground, and the protracted gestation period between albums allowed his skills -- and his vision for the band -- to grow.

If Brumley's earlier songs channeled Springsteen's penchant for symphonic, cinematic scope through the confines of a four-piece rock band, this self-titled LP takes the Boss' source materials and coats the tracks in technicolor brilliance. Brumley has always counted Phil Spector and Brian Wilson as inspirations, but with an army behind him -- 42 musicians, including string and brass sections as well as a chorus, are listed in the liner notes -- the Educated Guess has now constructed its own Wall of Sound. Along with those California pop signifiers, traces of Burt Bacharach, Motown and Philly Soul sneak through, and the girl-group harmonies of the Honeys serve as trebley angels on the shoulder of Brumley's plaintive, somewhat limited tenor voice. From a sheer compositional standpoint, there's been nothing to parallel the Educated Guess in the local pop and rock communities; these songs are precisely arranged and played with gusto and soul, and the scope of this self-titled album is both skillfully assured and musically ambitious.
---
Scarlet Tanager
Susan Logsdon (Vocals) Michael Logsdon (Guitar) Matt Davidson (Drums) Dustin Kent (Bass) Ben Helman (Guitar) Anna Westra (Keys)
Official Website | Bandcamp | Facebook
Read more about Scarlet Tanager in our review of 2014's Let's Love:
On its first album, 2011's American Songbird, Scarlet Tanager sang lullabies of young love and eternal summers with a cheery joie de vivre. On its second LP, those sing-along songs take a more adult approach. The closest thing that singer and guitarist Susan Logsdon gets to a lullaby comes in "Daddy Was," but as she sings "hush, baby, don't cry," a dark, bristling Delta rumble squalls behind her with overdriven organ chords and Jack White-indebted slide guitar lines. That's about as heavy as the six-piece gets on Let's Love -- there are still plenty of hand-claps and ebullient group vocals here -- but it signals a recognition of the thornier patches of getting older. Logsdon called her first batch of songs a record of "leaving home, falling in love and moving on." This album deals more with the hard work of relationships alongside the heart flutters; the title is as much of a challenge as it is a come-on.
---
Spectator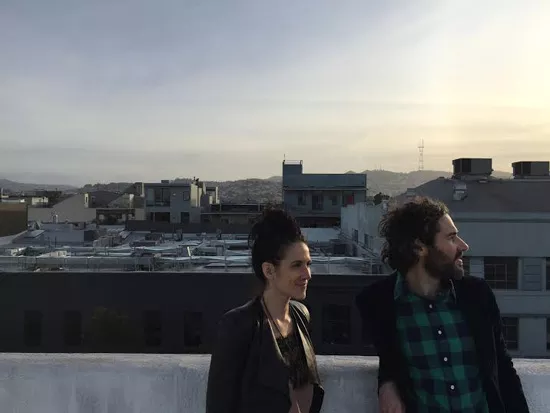 Megan Rooney (Keys, Vocals) Jeffrey Albert (Guitar, Vocals)
Official Website | Bandcamp | Facebook
Read more about Spectator in our review of 2015's The Last Exchange:
Even in the sketchy borders of rock music, a "St. Louis sound" should not, could not exist. And even if such a descriptor did present itself, the band Spectator would sound nothing like it.

Though Megan Rooney and Jeffrey Albert, the core of Spectator, are native St. Louisians, the music they make together and in collaboration with a host of musicians -- some local to the city, some from Columbia -- arises less from a region and more from personal experiments in an intimate laboratory. Songs are written, conceived, maybe even recorded; then they're deconstructed, revised, replayed, resung and rethought until they're distilled to a mysterious but irresistible essence.

And for Spectator, it doesn't matter how long that process takes.
---
The Sun and the Sea
Photo provided by band.
Catch the Sun and the Sea at the 2015 RFT Music Showcase: The Ready Room at 6 p.m.
Chris Rhein (Vocals) Max Sauer (Guitar, Keys) Tim Moore (Drums) Alex Haycraft (Bass)
Previously: - Americana - Blues - Country - Cover Band - DJ - Electronic (Eclectic) - Electronic (Dance) - Emo - Experimental - Folk - Hard Rock - Hip-Hop (Group)