The 2015 Riverfront Times Music Showcase is set to be the biggest local music festival in St. Louis history. On June 20, nearly 100 local bands will play across ten venues in the Grove Neighborhood, including just about every genre possible, sans polka. From now until the showcase, we will supply you with the lowdown on every act nominated for an RFT Music Award, so you can be in the know with regards to your vote. Read on and get familiar with your local scene. And don't forget to mark your calendar for June 20!
See also: Vote Now For the 2015 RFT Music Awards
---
Darin Gray
---
Demonlover
Photo provided by band.
Catch Demonlover at the 2015 RFT Music Showcase: Layla at 11 p.m.
Andy Lashier (Guitar, Vocals) JJ Hamon (Everything Else) Sam Meyer (Drums)
Read more about Demonlover in our review of 2014's Moody Future:
At this point it is simply a matter of biography to note that Andy Lashier, JJ Hamon and Sam Meyer first played together as part of the late, lamented Theodore. Only the faintest molecules of their old band inform Demonlover's splatter-paint style: As multi-instrumentalists, Lashier and Hamon brightened the corners of Theodore's story-driven folk songs with bursts of brass, keyboard and spirited backing vocals, but that was a few million miles away from Moody Future's pantheistic pop. Take closing track "Ate a Cicada," which finds Lashier reciting a sing-songy couplet over deep-space synths at an increasingly manic pace.

In the three years of Demonlover's existence, the band has taken experimentalism not only as permission to muck about with a variety of styles, but to exert some kind of mastery over them. The light-touch, melodica-driven dub of "3500 Spring"/"Annie Got Mad" would sound like some white-dread Venice Café nightmare in any other context, but coming between gibberish boogaloo "Shimmy Shimmy Ya" (not an ODB cover, sadly) and the crust punk/nursery rhyme mashup "Counterattack!!" leaves the song sequence seemingly random but, at least, consistently incoherent. That Demonlover is only physically releasing this album on cassette (alongside streaming/digital) suggests a stylistic fluidity between, and often within, tracks.
---
Eric Hall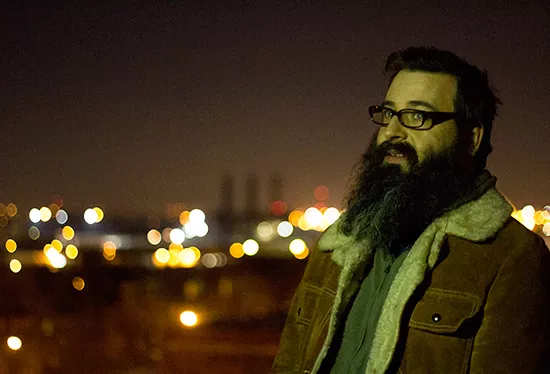 Photo by Mabel Suen.
Catch Eric Hall at the 2015 RFT Music Showcase: SoHo Lounge at 6 p.m.
Official Website | Bandcamp | Vimeo
Read more about Eric Hall in this 2014 interview:
Experimental musician Eric Hall's curious obsession with sounds began at a very early age. Technically, his first set up consisted of a mishmash of manipulated cassettes and turntables. He'd scratch his Smurfs records with gravel to bounce the needle, record his neighbors splashing around in a pool outside his window and would then play all these noises together, recording them on his dad's Dictaphone.

Over the years his tool set grew to include everything from Moogs, reel-to-reels and CB and shortwave radios to toys, contact mics and all manner of effects. Even though some of the jargon associated with his equipment is enough to make one's head spin (e.g. Ableton Live 9 with Max 6 on a 2012 MacBook Pro with Keith McMillen QuNeo and Akai APC40 and MPD32 controllers), he stays true to his simple, inquisitive nature.
---
Travis Bursik
Photo provided by the artist.
Read more about Travis Bursik in this preview for 2014's Slow Milk:
"Some people don't see the appeal of drone, and it's true it's not always compelling listening. Still, it affects you. Think about the sound inside a pressurized airplane cabin, or the way things sound underwater, and you'll know what I'm getting at," says local artist Travis Bursik. Armed with a guitar and a few components used to layer sound, Bursik molds music that might be best heard in tandem with meditation. And he has no illusions about this style of performance.
---
Yowie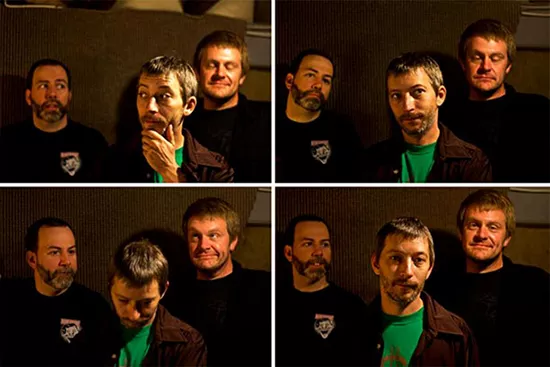 Photos by Mabel Suen.
Catch Yowie at the 2025 RFT Music Showcase: The Bootleg at 10 p.m.
Shawn O'Connor (Drums) Chris Trull (Guitar) Jeremiah Wonsewitz (Something Resembling A Guitar)
Previously: - Americana - Country - Cover Band - Electronic (Eclectic)