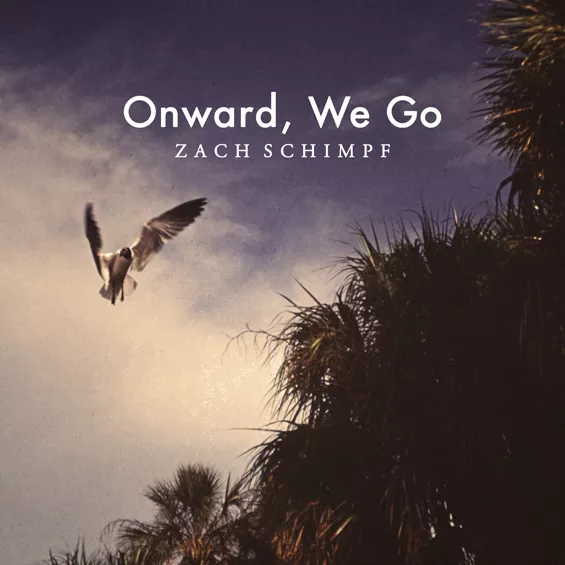 We're only halfway through 2015, but Zach Schimpf has already had a busier year than most artists in town. So far the singer-songwriter has released the full-length Blue Pool and contributed to the soundtrack of the indie documentary Discovering the Beating Path, which featured songs inspired by cancer patients' stories.
By comparison, the six-song Onward, We Go EP is small change, but the tidy, tuneful program serves as a good introduction to Schimpf's winsome, folk-rooted pop songs.
His voice references Death Cab for Cutie's Bed Gibbard -- both singers have a tendency to elongate and round their vowel sounds -- but with very little of the turgid drama of mid-period DCFC. His music, often driven by Schimpf's acoustic guitar and ornamented by processed electric guitar and soft-touch synthesizer, is closer to Rogue Wave's style of beach-breeze indie rock. Fittingly, a ukulele appears on the record, but it is used sparingly (on the dreamy, woozy "Meet Me in the Moonlight").
Like many a young singer-songwriter performing under his own name, Schimpf shows the traits of a young man trying to hack out a meaningful path. Opening track "The Art of Carrying On" hints at that struggle, even in its title, but as Schimpf delivers the song's central question -- "Where do I go from here?" -- he sounds full of playful hope instead of angst. He tempers these existential questions with songs about life's pleasures; "Santa Cruz" is a shuffling road-trip tune, while "Inhaling the Pumpkin" is a short slice of bucolic reverie.
On "Santa Cruz" in particular, Schimpf's pickup band earns its keep. Drummer Kaleb Kirby, recently profiled in this column alongside his jazz band Animal Children, keeps a brisk but loose pace, while keyboardist Mason Baran coaxes burbling harmonics from his synth. But any good singer-songwriter has to be able to hold the center of his or her songs with little outside help, and Schimpf proves himself in the spare but loaded "Loose," which ebbs in its introspective verses and flows in its full-hearted chorus. Onward, We Go would probably have worked as a purely solo effort, but the combination of pop-oriented songwriting, smart production and an intuitive backing band push the EP into the sunshine.
Listen to the album in its entirety below:
Want your CD to be considered for a review in this space? Send music c/o Riverfront Times, Attn: Homespun, 6358 Delmar Boulevard, Suite 200, St. Louis, Missouri, 63130. Email music@riverfronttimes.com for more information.
---