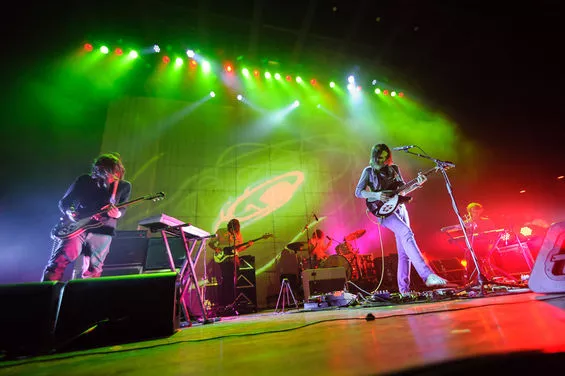 Photo by Jason Stoff
Tame Impala returns to St. Louis tonight with openers Kuroma. See more photos from its 2013 concert at the Pageant in RFT Slideshows.
This week, St. Louis says goodbye to beloved rock outfit Via Dove who, in the past two years, added Mike Tomko (the brains behind An Under Cover Weekend) and Charlie Brumley (of the Educated Guess) to its lineup. Hot off the heels of its latest LP Foil Deer, Speedy Ortiz returns to St. Louis for the first time since 2013. Did you know that the band donated $1,000 to the Ferguson Public Library back in November on Black Friday? What a class act.
There's more to see all week long. Go on, go out every single night. We double-dog dare you.
MONDAY, JUNE 1
Tame Impala w/ Kuroma Monday, June 1 The Pageant 8 p.m. | $28-$32 By Jaime Lees Tame Impala is the recording project of Australian dream pop super-genius Kevin Parker. Known for his work with Pond and Melody's Echo Chamber, Parker embraces his deeper psychedelic side when constructing Tame Impala songs. With critically acclaimed releases like Innerspeaker and last year's Lonerism (Modular Records), Parker has been exploring new territory. His new, heavier sound lands somewhere between the Flaming Lips and later era Beatles, including spacey laser zaps, thick harmonies and chugging blues riffs. On Tame Impala's breakthrough album, Lonerism, each song bleeds into the next and between layers of trippy atmospherics and interludes of clean, bright vocals. Parker also squeezes in bursts of shimmering blissed-out pop, producing mind-expanding extended grooves. Free your mind, man.
TUESDAY, JUNE 2
Speedy Ortiz w/ Alex G, Palehound Tuesday, June 2 The Firebird 8 p.m. | $12-$14 From Jeremy Essig's interview with Speedy Ortiz, published in last week's print edition:
The Fantagraphics comic-book series Love and Rockets once featured a young man named Speedy Ortiz. The comic character started as combative gang member, but later became more introspective. The Massachusetts-based band has done the opposite from a lyrical standpoint.

On Foil Deer, Speedy Ortiz's latest album, the band's familiar guitar melodies are accompanied by aggressive, almost combative lyrics -- a departure from the lamentations threaded though the liner notes of the group's previous releases.

"I'm just older," says singer/guitarist Sadie Dupuis of the lyrical shift. "The things that seem worth writing about are on a larger scale."

Much of the material on earlier releases, Dupuis explains, was culled from demos that she hadn't initially planned to release with a full band. But as her group began touring, Dupuis says, she began meeting people -- specifically younger fans -- who were forming their own projects, citing her work as an inspiration. It was a revelation.
WEDNESDAY, JUNE 3
Scott Bradlee's Post-Modern Jukebox Wednesday, June 3 The Pageant 8 p.m. | $29.50 By Daniel Hill There's a lot about this group that simply shouldn't equate to good music, according to conventional wisdom. For starters, there's the fact that it peddles primarily in YouTube virality -- not a medium typically known for producing quality art. Strike two is the "covers act" aspect of it all; Post-Modern Jukebox pumps out other peoples' songs rather than writing its own. And then there's the rotating lineup -- a harbinger of inconsistency in most cases. But throw all those preconceived notions away. Scott Bradlee, leader of the group, uses all of the aforementioned qualities to his benefit. His YouTube channel has been cited as one of the best by those who track new media stars. His covers are reworked versions of modern hits -- Radiohead's "Creep," for example, re-imagined as a sultry '20s jazz number, bringing new life to an old favorite. And what of the constant lineup shifts? Those are intentional, it turns out, enabling Bradlee to hand-pick the musicians most suitable for each song. The end result is an exercise in nostalgia with a modern day twist -- or is it the other way around?
THURSDAY, JUNE 4
Control w/ Willis, CaveofswordS Thursday, June 4 Foam Coffee & Beer 9 p.m. | $5 By Joseph Hess New bands need to take care to not be "un-Googleable," but Control is not concerned with such matters. Seemingly frozen in time around 1985, this Iowa trio propels beyond simple synths by forcibly cramming enough new-wave nostalgia into its sound to kill a hip-ass horse. Vocalist Joseph Mayfield bellows from the gut, singing down a tunnel of warped beats and bent keys. The guitars take on subtle drive with the faintest bit of reverb, landing somewhere between punk and surf. This tone lends a jagged edge to the smooth operation, making for a noir vibe that feels dark enough but never pitch black. Hot off the trail blazed by its recent LP Sigils, CaveofswordS closes the show with synth-induced fever dreams. Opener Willis is best taken chilled, as a coldwave summer treat.
Follow through for more great shows happening this weekend. FRIDAY, JUNE 5
David Cook w/ Briar Rabbit Friday, June 5 Old Rock House 8 p.m. | $20 By Annie Zaleski From the RFT Music archives: Although you don't have to win American Idol to have a viable singing career -- heck, for some contestants, losing the show has been a reputation boost -- the exposure certainly doesn't hurt. Just ask Kansas City resident David Cook, who made the entire state of Missouri proud after being crowned Idol's seventh-season champ. His influences are akin to hard-rocker/fellow Idol heartthrob Chris Daughtry -- some of Cook's song choices on the show included Collective Soul, Our Lady Peace and Bon Jovi -- and his range also extends to sensitive-dude ballads (i.e., the windswept hit "Light On," which Chris Cornell cowrote).
SATURDAY, JUNE 6
Via Dove's Final Show w/ The Feed, Hidden Lakes Saturday, June 6 The Firebird 9:30 p.m. | $10 From Christian Schaeffer's review of Via Dove's last release, 2014's Fugue State:
In reviewing the band's first release, 2008's Twilight, for this column, I heard a mix of amorphous, suggestive shoegaze and more square-shouldered rock. Any traces of softness were obliterated on 2010's El Mundo Latino, a KSHE-fired batch of strident rock & roll. On Fugue State, the original quartet added Mike Tomko (guitar) and Charlie Brumley (piano) to the mix; the expanded lineup flexes its collective muscles best on opener "You & Me Alone," with its twin-guitar riffage and minor math-rock syncopations. The song is a strong opener and shows what the band can do when it hammers out a tune but takes time to add smart, surprising quirks. To wit: Brumley's electric piano arpeggios, along with some synthy oscillations, give a shimmering backdrop to the closing song "So Deep," and coupled with Aaron Vaught's chunky, searching solo, the song stands as the clearest marriage of Via Dove old and new. When the tempo slows down, as on "Borderland," the band still sticks to rock conventions (hard-hitting drums, eight-bar guitar solos), leaving the song somewhere between The Joshua Tree and Slippery When Wet. Shadburne's vocals are strong when backed by swift musicianship but falter somewhat in the upper register here, though his expressiveness shows an intuitive link to the core of each song on this EP. Fugue State is further proof that Via Dove is a good rock outfit, and that's no small thing. Luckily, there are enough flashes here to suggest that it can be a restless, challenging rock band as well.
SUNDAY, JUNE 7
David Liebe Hart w/ Tim Convy, Ben Johnson Sunday, June 7 Off Broadway 8 p.m. | $15 By Joseph Hess From inane skits on Tim and Eric Awesome Show, Great Job! to his puppeteering on public access television in L.A., David Liebe Hart isn't quite a comedian, musician or spiritual mentor; he's an entertainer to the bone and works through raw art forms like punk rock to riff on religion, alien abduction and the importance of abstinence. Like a Sunday school teacher from an alternate dimension, Hart is many things to many people, not to mention a master of Dadaism.
Note: Though we wish we could, we can't feature every great show happening in town in just one post. Look for plenty more recommendations this Friday in our weekend shows post, peruse the St. Louis concert calendar for more ideas and let everyone know what else you're looking forward to seeing this week in the comments below. To be considered for coverage in RFT Music, submit show info online or drop us a line anytime.
RFT MUSIC'S GREATEST HITS
Remembering STLPunk.com -- How to View the Site Today and Find Your Old Profile Page "Where Did My Dick Go?" The Gathering of the Juggalos' Best Overheard Quotations The Ten Best Dive Bars in St. Louis The 15 Most Ridiculous Band Promo Photos Ever
---