Screenshot from the video.
"I definitely don't want to come across as a preachy anti-alcohol crusader," insists Gene Starks, guitarist of St. Louis' Letter to Memphis, of his band's video for "Thursday Night Blues." "If you're a happy day-drinking man, by all means, do what you do. I wanted to just share a little bit of my story."
See also: Letter to Memphis Releases Debut LP at the prestigious Sheldon Concert Hall
Starks serves as the new video's chain-smoking protagonist, up in the morning on a Thursday and already hitting the bar. The concept is somewhat auto-biographical.
"The song is based on that itch to start the party early -- not the usual fun and social party that normal people participate in, but the self-destructive and dangerous party the addicted mind craves," he explains. "When that was me, Thursday nights were always my hardest-partying day. I could easily get through a Friday with even the most massive hangover, so why not tear it up the night before? That was the night I made most of my worst decisions."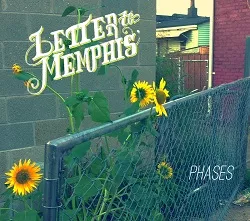 Letter to Memphis' Phases, on which "Thursday Night Blues" appears.
As vocalist Devon Cahill sings the song's chorus -- "Do you see that you are running from you, chasing you?" -- we see Starks starting his day at the Livery on Cherokee Street, already drinking even as the rest of his band members gather at a pavilion. "You should free your body and your soul," she continues.
"I wanted the story to be told from a second person's perspective to highlight all the things I didn't consider while in the midst of that life," Starks says. "When Brian [McClelland, Blip Blap Video] came on board to do this video, it was clear he had a vision about it right off the bat. My interpretation of his vision takes the Thursday night partyer to the next logical step -- the Thursday 'day-drinking man.' That's me lighting up cigarettes, drinking before noon and isolated from the rest of society."
The story does have a happy ending, however, when Starks shows up at the pavilion.
"I apparently heed the advice of the song and break free, joining Devon and the rest of the band for a lovely jam in the park," Starks says. "I really wish someone could have sung this to me in my twenties!"
Watch the video for yourself below:
---