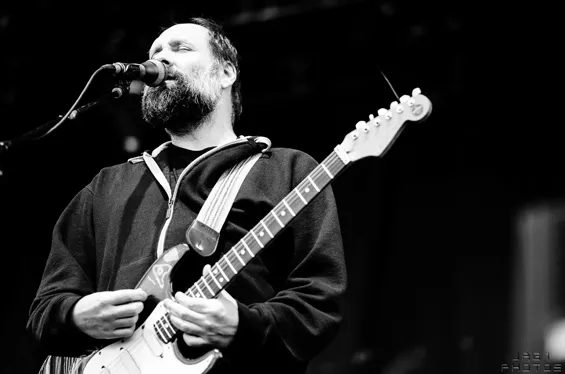 Photo by Jessy Gonzalez
Built to Spill's Doug Martsch performs with a new lineup tonight at the Ready Room.
The dream of the '90s is alive in St. Louis. While most trends tend to move in twenty-year cycles, that particular decade has particularly fun doomsday bookends: The Cold War ended in 1991, while nearly ten years later, not ready to hang up the idea of a good 'ol apocalypse, society predicted doom at the hands of Y2K.
Now that we're in the present and back to real issues like civil rights, St. Louis gets to enjoy the soundtrack to those Clinton years all weekend long.
FRIDAY, MAY 22
Built To Spill w/ Wooden Indian Burial Ground, Clarke and the Himselfs Friday, May 22 The Ready Room 8 p.m. | $22-$25 Some would say Built to Spill's heydey was in the mid '90s -- those people would be wrong. Frontman and founder Doug Martsch brings a new lineup along with a fresh set of songs from this year's Untethered Moon to the Ready Room for a return to form with a fresh perspective in tow. The show is worth scoping out, if only to see an "indie rock" band that inspired 20 million or so other groups of that ilk.
See also: Built to Spill's Doug Martsch Presses On with a New Lineup on Untethered Moon
Bum and Possum Combination w/ The Jaded Millennials, Patrick Junior Friday, May 22 The Heavy Anchor 9 p.m. | $5 Through bent synth and scattershot drums, Bum and Possum Combination brings a stripped down kind of free jazz with all its naughty bits laid bare. The result feels minimalist but never too thin or disparate, despite the band's humble trappings of just a few key instruments.
Joe Jack Talcum w/ Samuel Locke Ward, Googolplexia, Daren Gratton Friday, May 22 The Firebird 8 p.m. | $8-$10 Joe Genaro of the legendary Dead Milkmen brings out endearing and deeply personal songs broken up only by irreverent stage banter. Although his home recordings sat backseat to his full band's fame until recent years, Joe Jack Talcum has grown from a hidden gem to a true national treasure. This is one of America's strongest songwriters today, bar-none.
New Kids On The Block w/ TLC, Nelly Friday, May 22 Scottrade Center 7 p.m. | $29.50-$92.50 New Kids On The Block had a bunch of hits, Chinese food makes me... wait. If only LFO could actually be here today, performing alongside the band whose name made them famous. This lineup sells itself really -- even if you're not one to go gaga over groups that predate "Now That's What I Call Music!" Although Nelly came years later, NKOTB and TLC both bring a tidal wave of total '90s nostalgia. Come dressed to impress.
SATURDAY, MAY 23
Onewayness w/ Hylidae, Eric Hall, Travis Bursik Saturday, May 23 Foam Coffee & Beer 9 p.m. | $5 Adam Holquist drives cyclical ambient work through a layered smattering of keys and warm tones. Dubbed Onewayness, he hones in on calming vibes, but provides nuance through an ample use of sampled sounds that trickle in. Hylidae promises a more laid back affair than his usual upbeat mashing of strings and synth amid samples and layered voicing. This show is anything but business as usual.
The Pat Sajak Assassins w/ The Tennis Lesson, Syna So Pro Saturday, May 23 The Heavy Anchor 9 p.m. | $5 This is technically a "t-shirt release show," to which we say: that shirt better be a work of wearable art. Through dueling keys and a heady post-punk approach to bass and drums, Pat Sajak Assassins approaches light prog-rock. Frantic beeping and glitchy riffs build up songs that invoke a video-game vibe without the cheesy exposition. If you saw Built to Spill the night before and need more, the Tennis Lesson builds on indie rock idioms with a jazz-tinged darkness.
Pointfest 2015 w/ Breaking Benjamin, Seether, Chevelle, The Used, Greek Fire, Yelawolf, Young Guns, Shaman's Harvest Saturday, May 23 Hollywood Casino Amphitheatre 11 a.m. | $29.50 Never mind the fact that Pointfest 2015 is and has been sold out. Scalpers exist, online and in person, and late is better than never. The return of Breaking Benjamin amongst Chevelle and Seether should be enough to stoke the fire, but fans of the alt-rock genre shouldn't overlook the locals either. Greek Fire is on the rapid rise, and for good reason. They've won their own share of RFT awards in the past -- these things are voted on by you, the reader, of course.
Whiskey Fest BBQ Pig Roast w/ The Barn Mice, Beth Bombara, The Maness Brothers, Tok, Old Capital Square Dance Club, Redheaded Strangers, W.T. Newton (of County Graves), Zacksquatch, Fred Friction Music, Patrick Eagan Saturday, May 23 Off Broadway 2 p.m. | $7 Think of it this way: Whiskey Fest brings homegrown, honest acts without the frills and fuss of big-name stadium acts. Whether you need rock mainlined, stat, or you're looking to sample the local flavors of folk, Americana, blues and all the rest, this fest provides a look into new St. Louis music. Also the "BBQ Pig Roast" isn't some ironic name -- this is some serious pork consumption.
SUNDAY, MAY 24
Mark Dew Sunday, May 24 Hideaway Restaurant & Lounge 8 p.m. | free From the RFT Music Archives: To walk into the Hideaway is to enter a place that seems frozen in time, where the dozen or so seats around the piano are packed with your grandparents' friends, decked out in chunky jewelry and tilted fedora hats. Ostensibly, they're here to listen to Mark Dew play -- he's here Wednesday, Friday, Saturday and Sunday nights -- but you're just as likely to hear one of those old-timers sitting around the piano trill Charlie Rich's "The Most Beautiful Girl." And when Dew finally has his turn at the mic, he'll say something humble, like, "I apologize; it should have been in the key of F." No matter. Dew is the conductor of this time-traveling train, and everyone's on board. Dew, who is blind, has been the piano man here for nearly a quarter-century and jokes that the best part about working here is, well, getting paid. He marvels at the younger set trickling in and its knowledge of the Cash and Sinatra songbooks: "The more the crowd gets into it, the more I play," Dew says. And that's enough to keep him around. "I'm not quite ready to be out to pasture," he says. "Yet."
Superheaven w/ Diamond Youth, Rozwell Kid, Bike Path Sunday, May 24 The Demo 7:30 p.m. | $12-$14 There's a fictional '90s movie where high school factions form gangs that extend to a post-apocalyptic society and the emo kids, grunge rockers and indie dudes (and dudettes) all fight for the same piece of pure land. By the end, leaders from each group meet in secret to form one band to unite their clans for a common cause. Superheaven definitely banks on '90s nostalgia, but here it feels genuine, ripping shoegazey jams right out from the Cold War era and into the present.
Note: Though we wish we could, we can't feature every great show happening in town in just one post. Peruse the St. Louis concert calendar for more ideas, and let everyone know what else you're looking forward to seeing this weekend in the comments below. To be considered for coverage in RFT Music, submit show info online or drop us a line anytime.
RFT MUSIC'S GREATEST HITS
Remembering STLPunk.com -- How to View the Site Today and Find Your Old Profile Page "Where Did My Dick Go?" The Gathering of the Juggalos' Best Overheard Quotations The Ten Best Dive Bars in St. Louis The 15 Most Ridiculous Band Promo Photos Ever
---