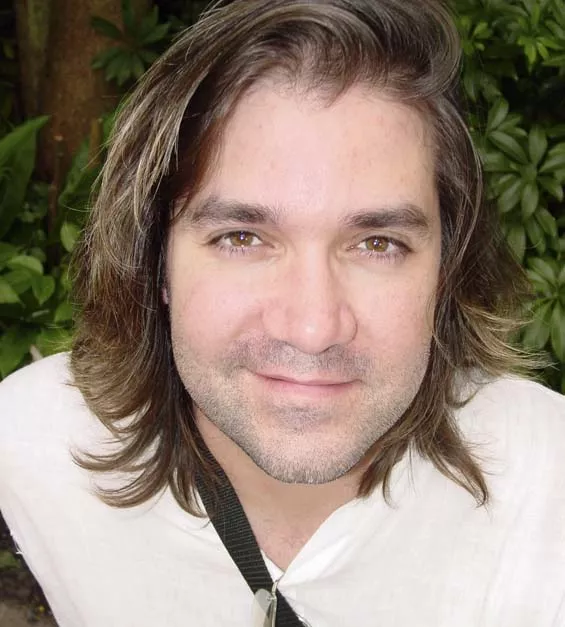 Jason Hayes of Critical Hit.
Get ready, St. Louis -- a sea of zombies, superheroes and aliens is once again about to take over the America's Center on Washington Avenue. When pop-culture/sci-fi convention Wizard World Comic Con returns to the Gateway City this weekend, the Rams' home will swap out AstroTurf and tear-filled beers for a wall-to-wall assault of celebrities and comic-book references that even ace reporter Lois Lane would have trouble sussing out.
And even if spandex and endless rows of Doctor Who merchandise aren't your bag, you at least should check out the tunes.
St. Louisans may be surprised to learn that live music has become a key element to Wizard World and similar conventions. Formerly thought to be a realm only for those obsessed with comics, many cons now are large-scale, general-entertainment meccas that also focus on blockbuster movies, television shows, fine art, video games and songs. It just so happens that the music is often about saving a princess from another castle or slaying an orc with a special sword.
"What's nice is we've made various themes that provide context, and we've woven all the music together into a continuity," says celebrated video-game composer Jason Hayes, who will perform at Wizard World with his video-game-tribute band Critical Hit.
Some fans may not recognize Hayes' face, but many know his work. The award-winning musician was the lead composer for the original release of Blizzard Entertainment's World of Warcraft, a massively multiplayer online role-playing game (MMORPG) that, since its release in 2004, has set a world record for subscribers and is considered the highest-grossing video game of all time. Hayes says there's more than 52 hours of music in World of Warcraft, and though there are specific themes for the game's various cities, realms and characters, his team works hard to bring the elements together.
"The music serves different purposes," Hayes says. "There's a lot of music in the game, but we've got this great underpinning of certain thematic references we can make that keep the music sounding cohesive throughout the entire experience."
Hayes, who professes a love for adventure games, kicks that big-picture musical storytelling into high gear at events like Wizard World when he performs with Critical Hit. Comprised of Hayes and a host of other notable musicians and composers, Critical Hit bills itself as a symphonic rock band that plays exclusive arrangements of music primarily from video games, but also from popular television shows and films. Hayes revels in the reaction his band gets from gamers and non-gamers alike when it performs songs from Halo, MegaMan, Tetris and even Angry Birds.
"We'd do the theme from Pokémon, and we've had people just burst out into song, singing along with that music. It really is great," Hayes says. "It's an incredible energy when everyone's joining together, so we have some great reactions from people with the music they know.
You probably know this song.
"Of course, we also play classics for people who don't even play games very much, because they still at least know about Tetris, right? And it's really fun to have people like, 'Wait, I've heard this before.' I mean, Tetris goes from full-on rock to almost tango at one point. We really have a fun time putting an eclectic twist on games that are very well-known."
Indeed, many people finally are discovering that video-game themes aren't simply throwaway music. In fact, pieces from Warcraft and other popular games often are as tightly arranged and layered as award-winning scores from films. And as game music has become more ubiquitous, so have concert events that celebrate it. In recent years, St. Louisans have turned Video Games Live (an orchestra that performs while popular video games are played on a theater-size screen), Sonic Boom (a convention celebrating Sonic the Hedgehog games and music) and the Nintendo Fusion Tour (wherein national acts such as Fall Out Boy perform as fans test new flagship games and consoles) into sold-out affairs.
"Many people don't realize that much of the music which accompanies video games can be quite complex, with many layers and tones," says Erika Ebsworth-Goold, publicist for the St. Louis Symphony. "That's something that lends itself particularly well to an orchestral setting. There are so many colors and timbres that a live symphonic performance can bring, and the symphony really helps bring this music to life in a new, brilliant way."
The Grammy Award-winning St. Louis Symphony has embraced the melodies that video games provide. The orchestra recently wrapped up a two-night stand performing pieces from the Final Fantasy games, and its 2015-16 season promises selections from Legend of Zelda and Pokémon as part of its recently announced "Live at Powell Hall" series (see our story on page 40). And while these concerts formerly may have been considered unconventional, Ebsworth-Goold says that they're now treasured by symphony subscribers and have have attracted new faces.
"The audience reaction has been amazing. As we've come to discover, many of these games have incredible enthusiasts, and it's fun to see their enthusiasm and energy here at Powell Hall," Ebsworth-Goold says. "A large amount of patrons for these concerts will come dressed as their favorite characters and really immerse themselves in the performance.
"It's terrific to see, and that appreciation absolutely spills over for the musicians of the orchestra," she continues. "We've had lots of standing O's and lots of love for them displayed at game concerts, which is always appreciated."
The musicians in Hayes' band Critical Hit have had a hand in the music's growth in orchestral popularity, as many of them come from a classical background and have performed with symphonies and special groups worldwide. But Wizard World is bringing a bit more rock & roll to the weekend. Actor Christian Kane, who currently stars in The Librarians and is known for his long-time villainous role on Angel, kicks off the weekend with an acoustic set at the Hard Rock Cafe on Thursday, while Hayes and Critical Hit will perform both general and VIP shows during the three-day convention. Hayes says he also has a few exclusive treats in store for his St. Louis audience.
"I've even written a special composition that's unpublished and not used in any game, but that I was really inspired to share to commemorate this adventure we're on with Wizard World," Hayes says. "They're a great fit for what we do, and we've been really thrilled to be part of this with them."