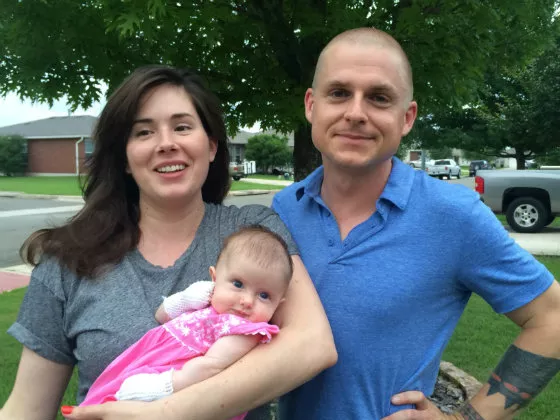 Courtesy of Jason Holler
Rowan Holler with her parents, Kate and Jason.
As the vocalist and lyricist of Kentucky Knife Fight, Jason Holler enjoyed both critical and popular acclaim. Even if the band never quite hit it big nationally, its following in St. Louis and the greater Midwest was passionate -- and its distinctive blend of alternative rock, blues, Americana and garage-punk won it the RFT Music Award for best rock band for four years running.
But just a few months after notching its fourth consecutive award last summer, the band announced it was breaking up, and Holler moved to Austin. Not to hit it big, but be closer to his wife's family for the birth of the couple's first child.
"The baby wasn't the only factor in Knife Fight calling it quits, but it did force me to make a decision," he says. "I was running on empty near the end and was no longer feeling fulfilled in the band."
On March 25, Rowan Splendoria Holler was born -- a beautiful baby with chubby cheeks and her father's intense eyes. But within just a few days, it became clear something was wrong.
"We noticed blisters and wounds on her body," Holler recalls. "It concerned the attending pediatrician, so she brought it to the attention of the NICU. Once in the NICU, they hooked her up to an IV and started running tests. At one point we had a children's dermatologist, an infectious disease doctor and a group of medical students looking Rowan over. It was frustrating to watch."
It was the dermatologist who first mentioned something called E.B. -- but she told Holler and his wife Kate not to Google it. The search results, she said, would be too upsetting.
"It took about five days to get the preliminary diagnosis," Holler says. "Neither Kate nor I slept much during that time. We didn't know much about the disease. What we did know was bad. I broke down several times in the hospital. I still do."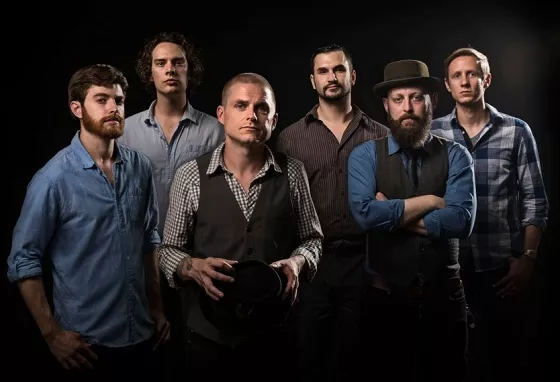 Photo by Corey Woodruff
Kentucky Knife Fight. Jason Holler is third from left.
E.B. -- or Epidermolysis Bullosa -- has been called "the worst disease you've never heard of." Only about 200 babies are born with the congenital skin disorder each year, but those children suffer excruciating pain, with skin that blisters so easily that wounds can cover three-fourths of their body. There is no cure. There's not really any treatment -- just a grueling cycle of caring for wounded skin and changing bandages.
There's a wide range in severity. Mild cases result in blisters on hands and feet; people with more severe cases may find it difficult to eat, see and even form teeth. Severe cases, Holler says, can be lethal -- since children tend to have open wounds, infection is a constant threat.
It's still not clear where Rowan's case falls. "Rowan's biopsy results are showing it may be more severe than anticipated, but we are awaiting results from a genetic screening for definitive results," Holler says. "I try not to think about it, but I'm not always successful. The thought of my daughter not having a 'normal' childhood is hard enough. The idea that this might be life-threatening is devastating."
Holler's sister-in-law, Danielle Splendoria, created a GoFundMe page to help the family during this difficult time. Insurance is covering some of Rowan's treatment, but there are a host of supplies that aren't covered -- modified diapers to keep her skin from injury, special medical supplies designed for burn victims to help dress her wounds. She also needs 24/7 care to keep her from injuring herself. Day care will not be an option, even when she's older.
"I'm a stubborn person who doesn't like to admit when he needs help," Holler tells Riverfront Times. "This has been a humbling experience, to say the least."
He adds, "Our mission is to ensure our precious daughter has the most kick-ass life imaginable -- E.B. be damned."
To assist the Holler family, please visit its GoFundMe page. For more information about E.B., see debra.org. We welcome tips and feedback. Email the author at sarah.fenske@riverfronttimes.com.