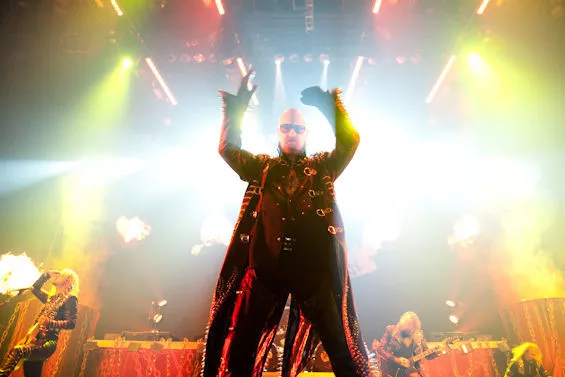 Photo by Jon Gitchoff
The almighty Judas Priest graces us with its presence this Tuesday. See more photos from the band's 2011 concert at the Family Arena in RFT Slideshows.
Stone Temple Pilot fans across the bi-state region will now a shed single, solitary tear for their fallen angel Scott Weiland. It seems the '90s singer can't catch a break after being caught botching "Vasoline" at a gig in Texas last month. This YouTube video, if you haven't seen it already, shows the poor guy stumbling through his own song like a heroin-soaked cover band crooner reliving the glory days at Tuesday night karaoke.
Needless to say, his show at the Pageant has been canceled. Alt-rock diehards can still find solace in Pointfest 2015 this weekend with Breaking Benjamin, Seether and many more.
MONDAY, MAY 18
Merchandise w/ Bug Chaser, Maximum Effort Monday, May 18 Off Broadway 8 p.m. | $8 By Joseph Hess This band bears the mark of post-punk scrawled across its collective forehead in fresh blood. The Florida trio prides itself on clean, driven pop riffs atop a rhythm section that tends to bare its teeth before each song's end. Remember the 1985 film Weird Science, wherein two archetypal nerds make a modern genie by accident? If they had wished instead to be in the coolest band possible, Merchandise would have made its debut in the mid-eighties.
TUESDAY, MAY 19
Judas Priest w/ Saxon Tuesday, May 19 Family Arena 7:30 p.m. | $33-$83 By Daniel Hill This should really go without saying, but we'll say it anyway: You should go see Judas Priest, you idiot. Apologies for the adversarial tone, but come on -- this one is a no-brainer. Oh, sorry, you thought Priest was past its prime? A forgotten relic of a bygone era? Kindly cram the band's 2010 Grammy win for "Best Metal Performance" right up that thought-hole of yours, will you? Make sure you leave room for 2008's Nostradamus -- the group's highest-charting album of its entire career -- and last year's Redeemer of Souls as well. Washed up? Man, sometimes you can be really dense.
WEDNESDAY, MAY 20
Joe Ely w/ Jack Grelle Wednesday, May 20 Off Broadway 7 p.m. | $25 By Roy Kasten In the beginning, Joe Ely was there. He was the guy who picked up a hitchhiking Townes Van Zandt and heard the legend's debut masterpiece for the first time. The Flatlanders, a band he founded with Jimmie Dale Gilmore and Butch Hancock, may not have been the Big Bang of cosmic country, but like the Velvet Underground before them, everyone who heard its music picked up a guitar (or tried to). The Amarillo, Texas native went on to tour with the Clash and has created an enduring, Latin-influenced form of country-rock music, which should be recognized as a greater influence on alternative-country and Americana than it is. He's major and he's still riveting on stage.
THURSDAY, MAY 21
Tim Barry w/ Two Cow Garage, Lizzie Weber Thursday, May 21 Off Broadway 8 p.m. | $12/$14 Roy Kasten Richmond, Virginia troubadour Tim Barry releases records on the Suburban Home label, though the arrangement is likely ironic. Barry's music, from his time in the hardcore punk band Avail to his prolific solo career, is as far from suburbia as a tattoo of a can of Stag beer circled with barbed wire, or of a train trestle crossing Virginia's James River. He's got the latter on his arm and the former should be next. Powered by three chords and the sharpest edges of Southern working class life, Barry's songs tell of personal and social desolation -- from industrial pollution to Civil War ghosts, from Iraq War stories to hobos strung out in the dark. You can't dance to his music, but you can most definitely drink, think and sing along to every plainspoken truth.
Follow through for more great shows happening this weekend. FRIDAY, MAY 22
Built To Spill w/ Wooden Indian Burial Ground, Clarke and the Himselfs Friday, May 22 The Ready Room 8 p.m. | $22-$25 By Daniel Hill For nearly 25 years, Doug Martsch has been keeping the oft-stale genre of "indie-rock" fresh with Boise, Idaho's Built to Spill. Influenced heavily by Dinosaur Jr.'s thunderous-but-catchy guitar riffs, the band has become an elder on the scene, with relatively younger groups including Modest Mouse, Death Cab for Cutie and Brand New citing its output as inspiration for their own. This year's Untethered Moon, released in April, is Built to Spill's first album without long-time collaborators Scott Plouf and Brett Nelson since its breakthrough in the mid '90s. That it is as vital and listenable as ever only serves as proof that Martsch still has some tricks up his sleeve.
See also: Built to Spill's Doug Martsch Presses On with a New Lineup on Untethered Moon
SATURDAY, MAY 23
Whiskey Fest BBQ Pig Roast w/ The Barn Mice, Beth Bombara, The Maness Brothers, Tok, Old Capital Square Dance Club, Redheaded Strangers, W.T. Newton (of County Graves), Zacksquatch, Fred Friction Music, Patrick Eagan Saturday, May 23 Off Broadway 2 p.m. | $7 By Joseph Hess So Pointfest 2015 is sold out and you need rock 'n roll mainlined, stat. While Whiskey Fest doesn't bring big bolded names sponsored by Bud Light and the US Army, it does offer a quality roster of honest, straight-ahead acts without the frills of stadium rock. Beth Bombara, the Maness Brothers, Tok and Fred Friction are all past winners of an RFT Music Award. That means St. Louis music lovers have agreed on one thing: This is some of the very best music in town. Speaking of which, have you voted for your favorites this year?
SUNDAY, MAY 24
Mark Dew Sunday, May 24 Hideaway Restaurant & Lounge 8 p.m. | free To walk into the Hideaway is to enter a place that seems frozen in time, where the dozen or so seats around the piano are packed with your grandparents' friends, decked out in chunky jewelry and tilted fedora hats. Ostensibly, they're here to listen to Mark Dew play -- he's here Wednesday, Friday, Saturday and Sunday nights -- but you're just as likely to hear one of those old-timers sitting around the piano trill Charlie Rich's "The Most Beautiful Girl." And when Dew finally has his turn at the mic, he'll say something humble, like, "I apologize; it should have been in the key of F." No matter. Dew is the conductor of this time-traveling train, and everyone's on board. Dew, who is blind, has been the piano man here for nearly a quarter-century and jokes that the best part about working here is, well, getting paid. He marvels at the younger set trickling in and its knowledge of the Cash and Sinatra songbooks: "The more the crowd gets into it, the more I play," Dew says. And that's enough to keep him around. "I'm not quite ready to be out to pasture," he says. "Yet."
Note: Though we wish we could, we can't feature every great show happening in town in just one post. Look for plenty more recommendations this Friday in our weekend shows post, peruse the St. Louis concert calendar for more ideas and let everyone know what else you're looking forward to seeing this week in the comments below. To be considered for coverage in RFT Music, submit show info online or drop us a line anytime.
RFT MUSIC'S GREATEST HITS
Remembering STLPunk.com -- How to View the Site Today and Find Your Old Profile Page "Where Did My Dick Go?" The Gathering of the Juggalos' Best Overheard Quotations The Ten Best Dive Bars in St. Louis The 15 Most Ridiculous Band Promo Photos Ever
---