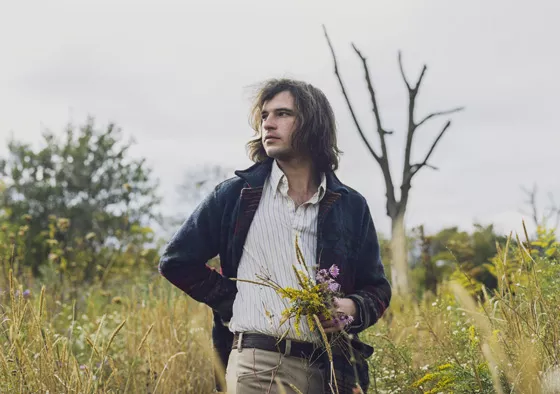 Shitty punk shows, underground noise, experimental jazz, Drag City records spilled out on a floor -- these are not the first sources that come to mind when encountering the music of Ryley Walker. This year the 25-year-old guitarist and singer released Primrose Green, a vibes, electric piano and open-tuned guitar-based exploration of the jazz side of British folk-rock, with undeniable echoes of Tim Buckley, Pentangle and Nick Drake.
But the punk soul is just as undeniable: Walker delivers his songs with an inchoate wail and grouse, and if the melodies ever get too pristine, they don't stay that way for long. His guitar attack is hypnotic and violent at once, whether he's pushing through a solo 12-string passage or surrendering to a rhythm section that knows not where it's headed -- and can't wait to get there.
Not everyone gets it. Walker has enjoyed plenty of glowing press and received a rising-star's treatment at this year's SXSW, but Pitchfork (whose Chicago festival he'll play this summer) recently
dismissed
Primrose Green
as a failed imitation of Van Morrison and John Fahey, as if the reviewer never got past the hazy psych-folk album art. But there's nothing imitative about the music inside. The fuck-it-all fury, the sense that nothing matters except the sound -- unscripted and unduplicable -- of what's happening between the musicians is what sets Walker's folk-jazz deconstructions apart.
A Chicagoan (who grew up 70 miles west of the city in Rockford, Illinois), Walker is no stranger to St. Louis. He has played the Lemp Neighborhood Arts Center in the past, and on Thursday, May 7 he performs a few blocks away at the Luminary. Walker is currently completing his fifth (or sixth) European tour, and took some time out from a drive through the Swiss alps to chat with us about the conceptions and misconceptions of his music.
Roy Kasten: Do you get a sense that people relate to your music differently in Europe? Do you sense they're bringing different musical contexts?
Ryley Walker: Over here there's a bigger response. I don't know if it's the music or the press. Maybe people want to hear guitar music more over here. In the UK, it tends to be older guitar guys, people who saw and heard the music that I like a whole lot. That happens all the time.
Can you talk about the development of your guitar style, but also about the development of your voice? Did the two mature together?
I played guitar a lot longer than I did before I started taking singing seriously. I didn't really write songs, folk tunes or whatever, until 2009. I was writing punk songs before, just playing guitar. With these newer songs, the voice definitely came later. I'm still learning. I feel like the voice is something I'm getting better at. I'm trying to put the vocals more in the forefront.
Next: Walker talks about finding the Chicago music scene as a teenager -- and explains his shift to punk.
Tell me about the Chicago music scene as you found it when you moved there as a teenager.
I grew up about an hour outside of the city. I came into Chicago on weekends to see crappy punk shows as soon as I had friends who could drive. There were bands like Jesus Lizard, Big Black, the Chicago punk bands, Tortoise, those Thrill Jockey, Drag City and Touch and Go Records bands. That was pretty big when I was growing up. It sounds stupid to talk about a golden age, but 2007-2011, it was really happening in Chicago. There were these shows in houses and weird spaces that I went to in Chicago at that time. For me there was nowhere better.
Did you have a sense of how the genres were coming together, the jazz and experimental scene?
There was the weird underground stuff with kids, but the experimental jazz scene was always big in Chicago. There was this hybrid between popular jazz and the underground. That was my scene. Just bumming around Chicago, any night of the week there were a hundred different venues where you could hear some kind of jazz.
What inspired the shift from punk to the music you're doing now?
I started writing tunes on the acoustic guitar. It came naturally. You get older, develop more taste. And I got records that really spoke to me. Touring all the time, and having the support of the weird noise community. But these kinds of songs just came naturally to me.
When you were working on the new record, Primose Green, did the songs simple not exist beforehand? Did they come together through improvisation?
Ninety-four percent came together in the studio, maybe the other six percent were figured out. There was just a lot of jamming in the studio. I got lucky. I don't know if I could do it again or not. It just worked out that time.
Your press bio says, "This is not a jazz record."
[Laughs.] Yeah.
I'm not sure that's true.
There is the spirit of jazz. But to call me a jazz player would be an insult to people who are really good at jazz. There are some jazz players on there, and the arrangements, the melodies we were playing with are inspired by jazz. Some people call it folk music, but the energy is inspired by jazz.
I got to see you in Austin during SXSW for a show in a church. It was all very trance like. Do you feel like that on stage? Or are you just really focusing on the song?
When I play solo it can get monotonous. My brain just gets so fried. When I have the band, we can change it up every night. It can also depend on whether we're drunk or sober, or whether we're having a good day or a bad day. It can all change.
I'm loathe to end the interview on a sour note, but did you read the Pitchfork review of Primrose Green?
Yeah, for sure.
I wonder if the reviewer got the same album I did.
It's fine, whatever. It's just that guy's opinion. I don't have much to say about it. Those things can sting or be embarrassing, but you wake up the next day and it's fine. If the worst thing that happens to me is I get a bad Pitchfork review, I've got it pretty good.
RFT MUSIC'S GREATEST HITS
The 15 Most Ridiculous Band Promo Photos Ever "Where Did My Dick Go?" The Gathering of the Juggalos' Best Overheard Quotations I Pissed Off Megadeth This Week, My (Former) Favorite Band The Top Ten Ways to Piss Off Your Bartender at a Music Venue
---