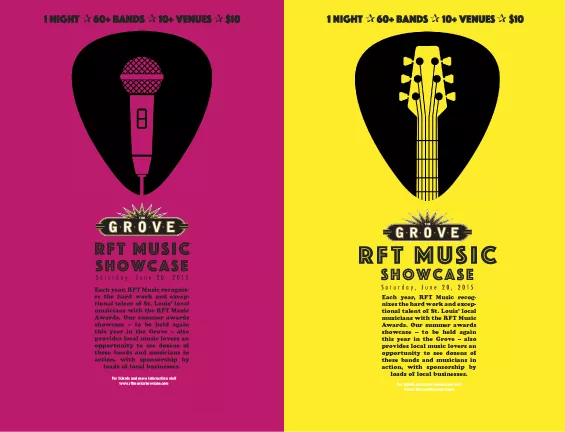 It's that time again! Each year, we present the RFT Music Awards, an annual celebration of the best and brightest musical acts St. Louis has to offer. The nominees are chosen by a panel of venue owners/employees, promoters/talent buyers, record store staff, dedicated diehards and other musical minds from organizations all over the city -- and then the winners are chosen by you, the readers.
Important: If you are one of this year's nominees, that means that you are invited to perform at the RFT Music Showcase, to be held this year in the Grove on June 20. Space is limited, so slots are first come, first serve. Fill out this form by May 11 to participate. See you there!
The polls will open for voting by the week of May 18, so check back to riverfronttimes.com in two weeks. In the mean time, congratulations to all our nominees!
Americana Beth Bombara Brothers Lazaroff Cara Louise Band CharFlies Loot Rock Gang
Blues The Jeremiah Johnson Band The Maness Brothers Rich McDonough & Rough Grooves Rum Drum Ramblers Soulard Blues Band
Country Cree Rider Family Band The Hobosexuals Jack Grelle Old Salt Union Trigger 5
Cover Band Diesel Island Jukebox Hooligans Queens Blvd The Town Drunks We Bite
DJ Billy "Billy Brown" Brown DJ Boogieman DJ Crucial DJ Mahf Nappy DJ Needles
Electronic (Dance) Abnormal Black James D-M-Y Parisian Rai
Electronic (Eclectic) 18andCounting .e Hands & Feet Hylidae Syna So Pro
Emo Carte de Visite Early Worm Foxing I Could Sleep In The Clouds Old State
Experimental Darin Gray Demon Lover Eric Hall Travis Bursik Yowie
Folk The Aching Hearts Arthur and the Librarian Cassie Morgan and the Lonely Pine Grace Basement Letter to Memphis
Hard Rock Bug Chaser Fumer Hell Night I Actually Tok
Hardcore Everything Went Black Life Like Lumpy & the Dumpers Q RUZ
Hip-Hop (Group) Domino Effect Doorway Jah Orah & KD Assassin Mathias and the Pirates M.M.E.
Hip-Hop (Solo) Arshad Goods Con Indiana Rome Tef Poe Tiffany Foxx
Turn the page for more....
Jam/Dub Fanny Pack Jake's Leg The Schwag The Stone Sugar Shakedown Unifyah
Indie Pop Dots Not Feathers The Educated Guess Scarlet Tanager Spectator The Sun and The Sea
Indie Rock Bear Hive Bo and the Locomotive Sleepy Kitty Town Cars Whoa Thunder
Jazz The 442's Animal Children Erin Bode Peter Martin Trio Tommy Halloran's Guerilla Swing
Metal Black Fast Fister Lion's Daughter Path of Might Tropical Storm
New Band American Wrestlers Blank Generation Endora The Jockstraps Traveling Sound Machine
Noise Beauty Pageant Ghost Ice Kevin Harris Kingston Family Singers NNN Cook
Pop CaveofswordS Jon Hardy and the Public Golden Curls Middle Class Fashion Vanilla Beans
Pop Punk Better Days Breakmouth Annie Facing Infamy Guy Morgan and the FT Crew The Haddonfields
Post Hardcore Blight Future Jr. Clooney Laika LifeWithout Mariner
Psych The Brainstems Kadu Flyer Magic City Mother Meat Strong Force
Punk Animal Teeth Antithought Little Big Bangs Maximum Effort Trauma Harness
R&B Aloha Mi'Sho Brian Owens Coultrain Love Jones "The Band" Theresa Payne
Rock Banks and Cathedrals Brother Lee & the Leather Jackals Bruiser Queen Cal and the Calories Shitstorm
Singer-Songwriter Emily Wallace Little Falcon Lizzie Weber Tawaine Noah Zak Marmalefsky
Soul/Funk Al Holliday & the Eastside Rhythm Band Funky Butt Brass Band The Jungle Fire Nikki Hill Rhythm Section Road Show
If you have been nominated for an RFT Music Award, please fill out the form on the next page and let us know if you would like to be part of the 2015 RFT Music Showcase.
If you have been nominated for an award, please fill out this form as soon as possible, so we can make sure to include you in our upcoming coverage, as well as the Music Showcase on June 20 in the Grove. Thanks!