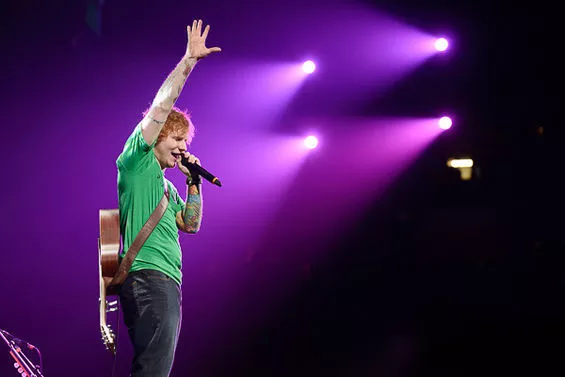 Photo by Todd Owyoung
Ed Sheeran returns to the Scottrade Center this Sunday. See more photos from his 2013 appearance opening for Taylor Swift in RFT Slideshows.
For those unlucky folks who missed out on tickets to Wilco's twentieth-anniversary show at the Pageant tonight, there's an odd yet totally appropriate alternative: Darin Gray, who plays bass in Jeff Tweedy's group Tweedy, will be performing on the roof of the Kerr Foundation building downtown with jazz drummer Tyler Damon.
Hardcore fans might recognize Gray's name from his experimental jazz duo with Wilco drummer Glenn Kotche, On Fillmore. Maybe this family tree is a bit much, but both shows tonight are a sure bet, even if they sit on far sides of the musical spectrum.
Speaking of Tweedy, that group will perform a free show today at Vintage Vinyl, but access to the event seems a bit trickier than all of the above.
MONDAY, MAY 4
Darin Gray and Tyler Damon w/ Timeghost, Ora Iso, What We Won't See Monday, May 4 William A. Kerr Foundation 7:30 p.m. | $10 By Joseph Hess From his duo with Wilco's Glenn Kotche (known as On Fillmore) to collaborations with Japanese percussionist Tatsuya Nakatani, bassist Darin Gray keeps good company with stellar drummers across the globe. Indiana-native Tyler Damon is yet another powerful player who brings jazz-tinged fury through the sticks and skins, which happens to merge perfectly with Gray's sense of scale and texture. The two can command the tiniest noise with total control and, in the same breath, build to cacophonous waves that seem to constantly crash. Arrive on time, because the so-called headliners (every act could be considered as such) perform on the roof at 7:30 sharp.
TUESDAY, MAY 5
DJ Mahf Tuesday, May 5 (and every Tuesday) Pin-Up Bowl 10 p.m. | free By Blair Stiles From DJ: Meet the 2014 RFT Music Award Nominees: The style which makes Mahf popular is a kinetic blast of throwback samples that spread from '70s disco-funk to the pioneers of West Coast hip-hop. Mahf juxtaposes his old-school aesthetic with conspicuous club burners -- the resulting sound can be found in venues as disparate as the Pin-Up Bowl to a basement rave located inside the cheapest set of headphones. His latest mixtape Sonic Trauma shows Mahf has still got it, and that all the attention and critical acclaim has been well-deserved.
WEDNESDAY, MAY 6
Darsombra w/ Kevin Harris, Tory Z Starbuck, Eric Hall Wednesday, May 6 Koken Art Factory 8 p.m. | price TBA By Joseph Hess Baltimore natives Brian Daniloski and Ann Everton command a perpetual motion machine of beaming keys and rock riffs to invoke hippie vibes from the future. The cyclical sounds of synth blend in with subtle guitar crunch in a way that feels less industrial and more organic, like a soundtrack to actually traveling through time via wormhole. Forget to plug your ears and Darsombra happens.
THURSDAY, MAY 7
Ray Wylie Hubbard w/ Ronnie Fauss Thursday, May 7 Off Broadway 8 p.m. | $20-$35 By Roy Kasten A preacher who refuses to preach, a rounder who quit drinking, a Zen poet who finds transcendence in a MOSFET distortion pedal, a Texas bluesman who quotes Rilke and Lightnin' Hopkins like they were blood brothers -- Ray Wylie Hubbard is all these things and more. With his just-released album The Ruffian's Misfortune, the Austin-based alchemist melts down primitive rock & roll and spiritual country-blues into sound as loose and grungy as the rough mixes for Exile on Main St. and as real as a cyclone. (And only Hubbard could get away with namedropping Sylvie Simmons and Joan Jett in the same song.)
Follow through for more great concerts in and around St. Louis throughout the weekend. FRIDAY, MAY 8
New Music Circle presents: Tim Berne's Snakeoil Friday, May 8 The Stage at KDHX 7:30 p.m. | $10-$20 By Christian Schaeffer Fans of experimental, boundary-pushing jazz music should bring two floral bouquets to this show: one for headliner Tim Berne's Snakeoil and one for the heads at New Music Circle, who have brought the likes of Black Host and Matthew Shipp to town in recent weeks. Berne's outfit can hold its own amid such august company; the alto saxophonist crafts melodically dexterous charts and leads an able combo through their twists and turns. Oscar Noriega serves as Berne's woodwind foil, matching him on clarinet and bass clarinet on these propulsive numbers. Expect to hear a live airing of the group's just-released album You've Been Watching Me.
SATURDAY, MAY 9
Tom Russell Saturday, May 9 Off Broadway 8 p.m. | $28-$30 By Roy Kasten From the RFT Music archives: You could say he's a Brooklyn cowboy, a restless traveler, an insatiable observer or, after more than 30 years of recording, a purveyor of the songcraft of the masters -- starting with Woody Guthrie and Hank Williams, and on to Bob Dylan and Lucinda Williams. Heavy names, but at his best, as on his latest album, Blood and Candle Smoke, Russell merits the comparisons. He's dedicated to songwriting, to getting the lines right, framing images with poignant and dry wit and finding stories where less sharp eyes would never look.
SUNDAY, MAY 10
Ed Sheeran Sunday, May 10 Scottrade Center 7:30 p.m. | $24-$263 At the ripe old age of 24, singer-songwriter Ed Sheeran has already done more in his life than most pop stars twice his age. In addition to touring with Taylor Swift, he has written songs for One Direction in addition to his own music, which gets more plays on Spotify than anyone else. Kind of insane but understandable, because unlike most breakout acts in the last decade or so, Sheeran's work remains distinctly his own, without the hands of countless execs shuffling around behind the scenes. Not that Sheeran is completely old-fashioned -- his records bring a dense backline of beats and bass -- but the end result is a polished gem of pristine pop rock.
Note: Though we wish we could, we can't feature every great show happening in town in just one post. Look for plenty more recommendations this Friday in our weekend shows post, peruse the St. Louis concert calendar for more ideas and let everyone know what else you're looking forward to seeing this week in the comments below. To be considered for coverage in RFT Music, submit show info online or drop us a line anytime.
RFT MUSIC'S GREATEST HITS
Remembering STLPunk.com -- How to View the Site Today and Find Your Old Profile Page "Where Did My Dick Go?" The Gathering of the Juggalos' Best Overheard Quotations The Ten Best Dive Bars in St. Louis The 15 Most Ridiculous Band Promo Photos Ever
---