Photo by Kelly Glueck
South-city rock outfit Bug Chaser performs at Cherokee Street's Cinco de Mayo party this Saturday. See more photos from the band's recent show at Blueberry Hill in RFT Slideshows.
While Cinco de Mayo is technically next Tuesday, business owners on Cherokee Street celebrate the holiday this Saturday with performances from more than twenty local bands across three stages. What other concert in town has live Lucha Libre wrestling and a mechanical bull? That's a rhetorical question.
Regardless of what shows happen in the evening, there's enough to wet every whistle both day and night. While this might be only a blip for music fans far and wide, Free Comic Book Day also takes place on Saturday, and two new comic shops, AM Trading Co and Wizard's Wagon, celebrate with live music. Margaritas mix well with Marvel.
FRIDAY, MAY 1
Andrew W.K. w/ Thor Axe Friday, May 1 The Firebird 9 p.m. | $20-$23 Andrew W.K. hasn't performed in St. Louis with a full band since the mid-aughts, but that shouldn't turn anyone off from the man's infectious, non-stop posi-vibes. And they are nonstop -- Andrew W.K. is known for being a perpetual party machine for good reason. Thor Axe kicks off the night of ham-fisted fun by melting faces with a big-ass blowtorch of triumphant metal. (JH)
In Flames w/ All That Remains, Final Drive Friday, May 1 Pop's Nightclub 6:30 p.m. | $25-$28 Jokes about melted faces aside, In Flames is the kind of Swedish metal band that created the cliches that fueled shows like Adult Swim's Metalocalypse. While it's hard to recommend a band that unironically released a record titled Whoracle, In Flames is unabashedly extreme, something often overlooked in favor of simpler songs from simpler bands. (JH)
James McMurtry w/ Max Gomez Friday, May 1 Off Broadway 8 p.m. | $22/$32 Complicated Game, the new album by James McMurtry, begins with a deer hunter cleaning his gun and the blood from his tailgate; it ends with a ballad called "Cutter," about an abandoned soul who does precisely as the song title says -- to his or her own flesh. In short, this is not a record for poptimists. (RK)
The Ottomen w/ Accelerando, The Deciders Friday, May 1 Schlafly Tap Room 9 p.m. | free The Ottomen have weirded out local rock fans for years now, bringing sly twang to otherwise succinct songs that could be mistaken for lighter punk fare, if not for the vocal approach. The band is full of odd quirks like that -- none of which detract from simple, stellar songwriting. (JH)
SATURDAY, MAY 2
Alejandro Escovedo & the Sensitive Boys Saturday, May 2 Blueberry Hill 8 p.m. | $25 Alejandro Escovedo is a survivor. The Mexican-American singer suffered from hepatitis-C for years but he also lived through the first waves of several seminal movements in American music. He's a living, breathing history book on every alternative form of punk, country and, of course, good ol' rock n' roll. (JH)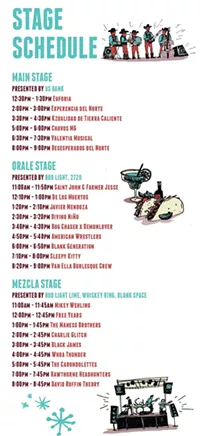 Cinco de Mayo - Cherokee Street 2015 w/ Bug Chaser, American Wrestlers, Blank Generation, Sleepy Kitty, DJ Mikey Wehling, The Maness Brothers, Black James, Whoa Thunder, The Carondolettes, Hawthorne Headhunters and many more Cherokee Street 11 a.m. | free See that flyer to the right? That's a comprehensive schedule of more than twenty local acts across three stages stationed between Gravois and Jefferson on Cherokee Street. Many of those bands are past recipients of RFT Music Awards, so this street-wide event is sure to be a great primer on local music. Really, this is a mini-festival taking place in south city and it's technically free. Did we mention the Lucha Libre wrestling and mechanical bull? Of special note on this show is Bug Chaser, who will be performing a double set with their own renditions of songs from Demon Lover, yet another beloved local band. (JH)
Hell Night/Cathedral Fever Split Release Show w/ The Lion's Daughter, ThorHammer Saturday, May 2 The Firebird 9 p.m. | $8-$12 Hey, remember last week's print feature story, wherein we told you all about how great St. Louis' metal scene is nowadays? Here is your chance to catch a glimpse of that in action. Though Hell Night and Cathedral Fever both fall a little closer to the hardcore end of the spectrum, their dark sounds and unbridled anger will certainly perk up the ears of even the most jaded of metal heads. (DH)
Last In The American League Release Show w/ Blackwater '64, Volcanoes, Arthur and the Librarian, Via Dove, Letter to Memphis Saturday, May 2 The Ready Room 7:30 p.m. | $10 From Ambitious Last in the American League Project Will Finally Be Released This Week:
If the eyes are truly the windows to the soul, Chuck Crittenden's betray the passion behind his normally stoic nature. "I don't usually show a lot of emotion," Crittenden says, his blue eyes pulsating with energy, "but I'm really excited."

His enthusiasm is well-justified. After sixteen months of persevering through a multitude of roadblocks, Last in the American League -- a compilation of local music and visual art Crittenden curated -- is finally being released. A party, celebrating both the project and the artists who contributed, will be held this Saturday, May 2, at the Ready Room.
SUNDAY, MAY 3
Hurray For The Riff Raff w/ Daniel Romano Sunday, May 3 The Sheldon 8 p.m. | $20-$25 No shortage of songwriters have taken an idiosyncratic swing at the American folk tradition -- hell, it's practically a requirement for membership into musical MENSA -- but there's something beautifully transgressive about Alynda Lee Segarra and her indie-folk outfit Hurray for the Riff Raff. Her Puerto Rican heritage and Bronx upbringing have been filtered through the many tributaries that run through her adopted hometown of New Orleans, and her band's musical roots reach deep and wide. (CS)
Wolf Alice w/ Made Violent Sunday, May 3 The Demo 8 p.m. | $12-$14 From London Quartet Wolf Alice Will Be Getting Your Attention:
The first thing that may strike you about My Love Is Cool, the forthcoming debut album by North London quartet Wolf Alice, is how remarkably self-assured it is. Starting in 2010 as the duo of singer/guitarist Ellie Rowsell and guitarist Joff Oddie and growing from there, the band spent half a decade refining its sound. Wolf Alice released a series of EPs and spent a lot of time playing to empty rooms, all the while making its sound bigger and fuller.
Note: Though we wish we could, we can't feature every great show happening in town in just one post. Peruse the St. Louis concert calendar for more ideas, and let everyone know what else you're looking forward to seeing this weekend in the comments below. To be considered for coverage in RFT Music, submit show info online or drop us a line anytime.
RFT MUSIC'S GREATEST HITS
Remembering STLPunk.com -- How to View the Site Today and Find Your Old Profile Page "Where Did My Dick Go?" The Gathering of the Juggalos' Best Overheard Quotations The Ten Best Dive Bars in St. Louis The 15 Most Ridiculous Band Promo Photos Ever
---