Photo by Steve Truesdell
Jeff Tweedy performing at LouFest in 2013.
UPDATE: We've got details on how you can get in to the show. Oh, and best of all, it's free! See bottom of the post for more information.
Originally posted at 1 p.m. on Wednesday, April 29. Original post follows....
This is going to be huge.
Wilco's Jeff Tweedy will play a show with his son at Vintage Vinyl at 2 p.m. on Monday, May 4 -- the afternoon of his band's sold-out twentieth-anniversary show at the Pageant. Tweedy will also sign autographs for those lucky fans who manage to get into the record store for what should be a mad crush of an event.
The Delmar Loop record store scored the honor after winning a prize for the best window display promoting Tweedy's new album, Sukierae.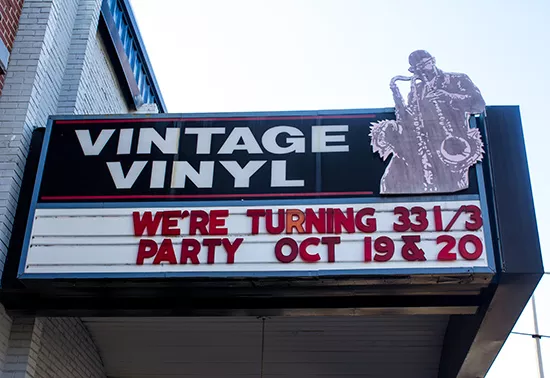 Vintage Vinyl.
Photo by Mabel Suen
Sukierae is the first album from a side project for Tweedy, a new band that the Belleville, Illinois, native formed with his son Spencer. The band's inaugural tour last summer saw the rocker and his son playing a half-set of the new material, followed by Uncle Tupelo and Wilco classics that Tweedy performed solo.
At the in-store, Tweedy the musician will play with Tweedy the band -- meaning this is a joint appearance for Jeff and Spencer Tweedy, plus the other four musicians in the band, and not a solo performance.
Vintage Vinyl has hosted a long list of musical luminaries over the years, including Insane Clown Posse, Queens of the Stone Age, Black Eyed Peas, Linkin Park, Apples in Stereo and Tenacious D. The shop has gained national recognition, including a citation as one of USA Today's 10 Best Record Stores in America last year.
Tweedy has a soft spot for record companies: As he was starting Uncle Tupelo, he clerked at Euclid Records here in St. Louis.
UPDATE: Here's the latest from Vintage Vinyl on how to get access to the show:
The Tweedy instore will be a "wristbanded" event and Vintage Vinyl will be giving out wristbands on the following dates/times (while supplies last):
4/29 Wednesday 6:00PM 4/30 Thursday 10:00AM 5/1 Friday 1:00PM 5/2 Saturday 7:00PM 5/3 Sunday 11:00AM
For more details please call Vintage Vinyl at 314-721-4096
See also: Wilco Is Coming to the Pageant This May
Editor's note: This post was corrected just after publication to reflect that Spencer Tweedy and the other members of Tweedy the band will be joining in the performance, and also to clarify that the May 4 show is the same date as Wilco's Pageant performance.
RFT MUSIC'S GREATEST HITS
The 15 Most Ridiculous Band Promo Photos Ever "Where Did My Dick Go?" The Gathering of the Juggalos' Best Overheard Quotations I Pissed Off Megadeth This Week, My (Former) Favorite Band The Top Ten Ways to Piss Off Your Bartender at a Music Venue
---