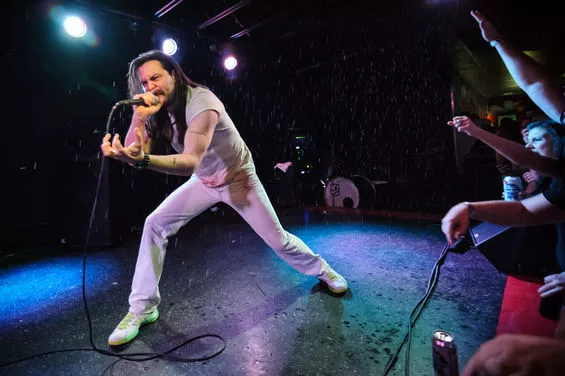 Photo by Jason Stoff
Andrew W.K. returns to St. Louis on May 1 as a one-man band. Check out photos from his 2013 performance in RFT Slideshows.
Although Andrew W.K. might never return with a full band as he did during his MTV glory days in the early aughts, he has since become something of a self-help guru. Remember his column "Ask Andrew W.K.?" If not, just know that his live show this week at teh Firebird should be relentlessly positive, barring any surprise mental breakdowns (which could make for an even more entertaining night).
Any reader with a keen eye will notice that most of our top gigs this week take place at one of two venues. We're not playing favorites; both the Firebird and Off Broadway are killing it lately, and the staff at both spots deserve props. Tip your bartender, alright?
MONDAY, APRIL 27
Soulard Blues Band Every Monday Broadway Oyster Bar 9 p.m. | $5 From the 2014 RFT Music Awards: One day, dear reader, the Soulard Blues Band will be no more. It's just a fact. And one day you'll wonder why, despite all the opportunities just about every day of the week, you never saw this St. Louis institution in its prime -- and no, the band's prime ain't over. If somehow you've never danced your ass off while Art Dwyer lays down a bass line as smooth as crushed velvet, or while Marty Abdullah swings his phrasing on "Kansas City Blues" or "Dust My Broom," or while Tom Maloney plays a solo that would make his mentor (the late, great Benny Smith) smile, well, you really should. Don't take this band for granted. Pay your respects soon; they've been earned.
TUESDAY, APRIL 28
Amy LaVere w/ Yankee Racers, Miss Jubilee and the Humdingers Tuesday, April 28 Off Broadway 8 p.m. | $10-$12 By Roy Kasten From the RFT Music archives: Amy LaVere could have been the honky-tonk angel to end all honky-tonk angels, but the pull of the blues, soul and rock & roll was too strong. There's still plenty of country in her wickedly raspy voice and pumping bass, only she never plays the twang straight; she always bends it toward the jukes and the swamps. A student of the late Jim Dickinson and collaborator with his son Luther, LaVere isn't just a pretty face with a pretty voice. She's guided by the spirits of her native Memphis, and she'll take you all the way there.
See also: Amy Lavere Talks About Sadness, MTV and St. Louis
WEDNESDAY, APRIL 29
Von Strantz w/ Town Cars, Cassie Morgan and the Lonely Pine, Ryan M Brewer Wednesday, April 29 The Firebird 8 p.m. | $8 By Joseph Hess Soul isn't exclusive to big bands and singers playing backup -- no, Indiana natives Jess Strantz and Kelsey Horton manage to pile harmonies atop strong organ as a duo stripped down to the barest essentials. Despite its humble trappings, Von Strantz comes across more succinct and complete than groups five times its size, never mind the constant nods to both dark synth-pop and classic hymns. The list of locals on this show reads like a primer on St. Louis indie-pop, so showing up late won't be too fashionable.
THURSDAY, APRIL 30
Local H w/ Battleme Thursday, April 30 The Firebird 8 p.m. | $12-$14 By Bob McMahon From the RFT Music archives: It's easy to take Local H for granted. After decades of pumping out consistently entertaining hard rock and maintaining a hard-work touring ethic, the Chicago duo often gets overlooked by critics more interested in covering the latest sound than promoting no-bullshit rock. This is a shame, but it's not like the band or its army of devoted fans needs them.
Follow through to page two for the best shows in and around St. Louis this weekend.
FRIDAY, MAY 1
Andrew W.K. w/ Thor Axe Friday, May 1 The Firebird 9 p.m. | $20-$23 By Daniel Hill First off, yes, this is another Andrew W.K. solo show. And while that may be a disappointment for some -- indeed, St. Louis hasn't seen a full-band AWK performance since May 2004 at Mississippi Nights -- it should be noted that Andrew himself is, and always has been, the entire creative force behind his music: Those band members he drags around the country with him are just hired guns. And besides, this is a night of ham-fisted party music, not an evening of lush, intricate compositions. Drink enough before the show starts, and your blurred vision may just fill out the stage for you.
James McMurtry w/ Max Gomez Friday, May 1 Off Broadway 8 p.m. | $22/$32 By Roy Kasten Complicated Game, the new album by James McMurtry, begins with a deer hunter cleaning his gun and the blood from his tailgate; it ends with a ballad called "Cutter," about an abandoned soul who does precisely as the song title says -- to his or her own flesh. In short, this is not a record for poptimists. Nor is it for anyone unwilling to follow the most prickly and prolific songwriter in Austin down the darkest and most revealing paths of human struggle. There's rarely any light at the end of McMurtry's soul-tunneling songs, but along the way there are flashes of hopeful truths.
SATURDAY, MAY 2
Hell Night/Cathedral Fever Split Release Show w/ The Lion's Daughter, ThorHammer Saturday, May 2 The Firebird 9 p.m. | $8-$12 By Daniel Hill Hey, remember last week's print feature story, wherein we told you all about how great St. Louis' metal scene is nowadays? Well, here is your chance to catch a glimpse of that in action. Though Hell Night and Cathedral Fever both fall a little closer to the hardcore end of the spectrum, their dark sounds and unbridled anger will certainly perk up the ears of even the most jaded of metal heads. Add to that the sheer brutality of the Lion's Daughter and the guitar-shredding technical prowess of ThorHammer, and you have yourself a night fully worthy of tomorrow's bangover. More than anything else, these bands share in common the fact that it would be really satisfying to beat the hell out of someone while listening to their music. But don't do that, you dick.
See also: St. Louis' Thriving Metal Scene is Catching International Attention
SUNDAY, MAY 3
Hurray For The Riff Raff w/ Daniel Romano Sunday, May 3 The Sheldon 8 p.m. | $20-$25 By Christian Schaeffer No shortage of songwriters have taken an idiosyncratic swing at the American folk tradition -- hell, it's practically a requirement for membership into musical MENSA -- but there's something beautifully transgressive about Alynda Lee Segarra and her indie-folk outfit Hurray for the Riff Raff. Her Puerto Rican heritage and Bronx upbringing have been filtered through the many tributaries that run through her adopted hometown of New Orleans, and her band's musical roots reach deep and wide. When she was in St. Louis last February, she introduced "The Body Electric" as a recourse to the tradition of murder ballads and the high body count of women slaughtered therein. That her challenge to masculine violence sounds like a pretty good folk song is just part of her particular musical genius.
Note: Though we wish we could, we can't feature every great show happening in town in just one post. Look for plenty more recommendations this Friday in our weekend shows post, peruse the St. Louis concert calendar for more ideas and let everyone know what else you're looking forward to seeing this week in the comments below. To be considered for coverage in RFT Music, submit show info online or drop us a line anytime.
RFT MUSIC'S GREATEST HITS
Remembering STLPunk.com -- How to View the Site Today and Find Your Old Profile Page "Where Did My Dick Go?" The Gathering of the Juggalos' Best Overheard Quotations The Ten Best Dive Bars in St. Louis The 15 Most Ridiculous Band Promo Photos Ever
---