Ask any hip-hop head in the local scene, and they'll tell you each January that this year will be the one when St. Louis is put back on the music map. Yet 2014 came and went with a whimper, aside from the events in Ferguson where our communities gained national buzz for something other than our artists.
Fast forward to April, and some of the year's most anticipated new releases have yet to come. Will 2015 be our year? Here are five upcoming hip-hop releases that have a chance of making some noise.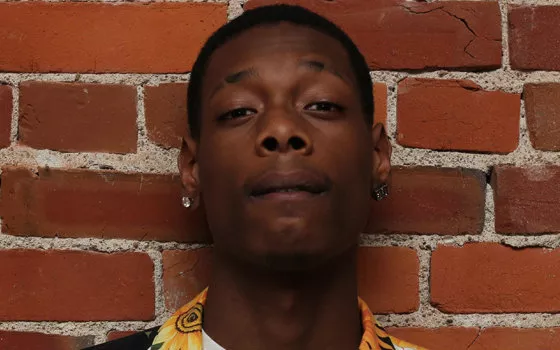 Courtesy of Stereo Assault
J'Demul
J'Demul St. Louis Avenue Though only 19 years old, North City native J'Demul is practically a veteran in the local hip-hop community. With several mixtapes and EPs under his belt, the young MC continues to consistently produce retro-fresh projects. His newest effort, entitled "St. Louis Avenue," will expand his savvy as a captivating storyteller, divulging the darker details of his life.
"I'm mad at the world, but trying to find a balance," J'Demul states, acknowledging his frustration and anger in a city that has become a national epicenter for injustice and racial tensions -- even as he keeps a positive mindset and refuses to become a victim of his circumstances. Look for this full-length mixtape sometime in late Spring, early Summer.
Twitter: twitter.com/Jdemulmusic Soundcloud: soundcloud.com/jdemulmusic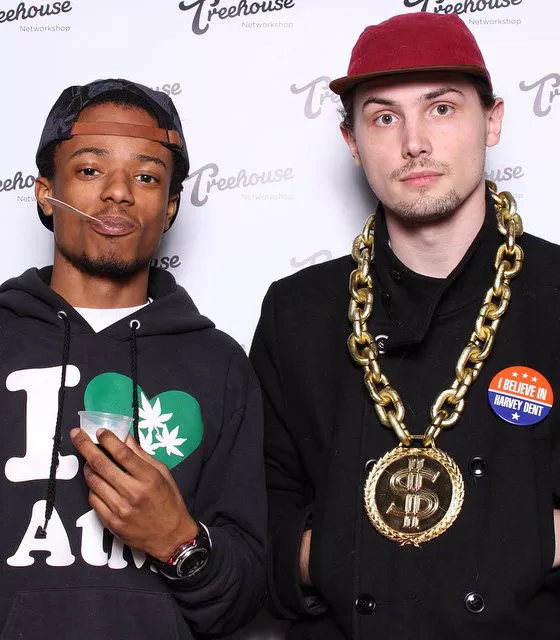 Photo taken at a Treehouse Photobooth event
Con/Franco
Con / Franco She EP "We're going to give the people want they want," Con confidently declares, speaking to his upcoming collaboration with master producer Michael Franco. And Con has reason to be confident, with his last album Solstice Part 2 receiving a Best Of nod.
Holed up at the Leather Artist Trade Lofts downtown all winter, Con and Franco went on a recording spree, putting more than 30 tracks to wax in anticipation of creating something special.
Departing from their comfort zones of blues and jazz influence with pointed lyricism, the duo enters uncharted musical waters in an attempt to prove versatility and to get put on. Heavy bass, harder drums, and a point to prove will dominate their next effort, which is scheduled to be released in two parts: a shorter EP in May, followed by an album later in the year.
Twitter: twitter.com/minthemiddle and twitter.com/MPFranco Soundcloud: soundcloud.com/michael-franco
Personal photo courtesy of the artist
Saint Oeaux
Saint Oeaux Via Dolorosa The new year brought a new name to New Orleans transplant Saint Orleans. Plagued by the success of his 2011 single "We Don't Luv Em," Saint Oeaux has distanced himself from others' expectations, instead focusing on a new, more personal sound. Last year brought the death of his father and a serious disease diagnosis for his best friend and wing-man M-Eazy, all of which brings a dark, intimate style to his music. As Saint Oeaux puts it, "This album means something."
With beats from his long-time producer Wiz as well as local mainstays Trifeckta and Beau Willie, the album will feature ten or eleven original tracks that Saint Oeaux hopes will pull him back into the spotlight. "Via Dolorosa" drops in spring and will be accompanied with a tour.
Twitter: twitter.com/SAINTOEAUX Soundcloud: soundcloud.com/saintorleans
Turn the page for two more St. Louis artists with anticipated hip-hop albums coming out soon.
Indiana Rome Dope Dealers 2 Cosigned by the newly formed Delmar Records, Indiana Rome aims to build upon the success of his last album, saying, "It's like the original 'Dope Dealers' on steroids." A combination of old school R&B mixed with new trap influences, his sound aspires to be as good for the soul as it is for the trunk. Indiana Rome will produce most of the album himself, though he has tapped fellow artists Black Spade and Jackpot to make his production really thump.
Lyrically, Dope Dealers 2 will hit on the familiar motifs of the average man's plight of love, life, and the pursuit of prosperity, and it is currently slotted for a late April release.
Twitter: twitter.com/indianarome Soundcloud: soundcloud.com/indianarome
Photo Courtesy of Studio 6
Nick Menn.
Nick Menn Kush & Kung Fu 2 Having stockpiled a treasure trove of unreleased tracks, Nick Menn is scheming for several big releases in 2015, the first being a sequel to his 2012 mixtape "Kush & Kung Fu." With DJ Sno at the helm and features from the Doorway collective (amongst others), Nick explores multiple styles of hip-hop, from house parties to the street. "I want the mixtape to be a summary of me as an artist," says Nick, who is known to be equally psychedelic as he is serious.
The release, coming between April and May, will be a fresh start for the artist formerly known as WhiteOut who has yet to return to form since his previous successes that earned him RFT's award for Best Hip-Hop Artist of 2013.
Twitter: twitter.com/nickmenndoorway Soundcloud: soundcloud.com/doorwayent
RFT MUSIC'S GREATEST HITS
The 15 Most Ridiculous Band Promo Photos Ever "Where Did My Dick Go?" The Gathering of the Juggalos' Best Overheard Quotations I Pissed Off Megadeth This Week, My (Former) Favorite Band The Top Ten Ways to Piss Off Your Bartender at a Music Venue
---