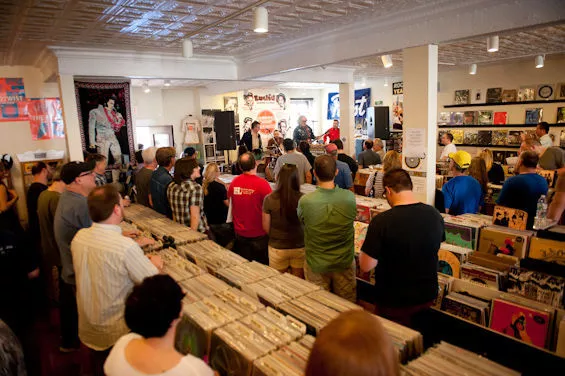 Photo by Jon Gitchoff
Euclid Records celebrates national Record Store Day this year with a full weekend of live performances Friday through Sunday. See more photos from last year's festivities in RFT Slideshows.
For those who doubt the revival of vinyl, the hoards crowding shops on Record Store Day should be proof enough that people still love the buzz and pop of a needle on wax.
This holiday isn't one for dad rockers sick with nostalgia. No, this day celebrates new bands with new albums while bringing out-of-print favorites back into circulation for fresh ears to hear. Break it all down and Record Store Day isn't just the latest in consumer holidays, it's a time for loving and for sharing.
There are great concerts all weekend, and some of them take place in your favorite brick-and-mortar.
FRIDAY, APRIL 17
The English Beat Friday, April 17 Blueberry Hill 8 p.m. | $27.50 Dig through the DNA of any modern ska band and you'll find hints of the English Beat's seminal classic I Just Can't Stop It, first released in 1980. Yes, that was roughly 35 years ago but this group still brings the finest of genre conventions by blending dub, reggae and post-punk in inventive ways, as it first did more than three decades ago.
Pile w/ Sewingneedle, Laika, Con Trails, Early Worm Friday, April 17 Foam Coffee & Beer 8 p.m. | $5 Pile has been a mainstay in the Boston (specifically Allston) basement scene for the better part of a decade, providing support for acts such as Speedy Ortiz, Guerilla Toss and Krill in their fledgling days as fresh new bands. That's not to say Pile doesn't deserve the same spotlight but its earnest, sullen sound keeps the band firmly left-of-center, and so far, out of the limelight. Guitarist Rick Maguire fires off rootsy riffs over downtrodden rock that weaves in and out of indie idioms with whimsy. While these songs are strong enough to be stripped down to their nudest, most acoustic birthday suit, the drive of Pile's overblown rhythm section would be lost -- and so would the band's rough yet lovable edges.
Tef Poe w/ T-Dubb-O, Bates Asylum Friday, April 17 The Ready Room 9 p.m. | $10-$15 Maybe you've heard of Tef Poe. He's the local rapper who became a key figure in the Ferguson movement last August. Then he subsequently motherfucked four public officials, wrote a letter to the President that actually got him a meeting with said President and an invitation to Geneva to speak about police brutality in St. Louis. And prior to all of this Tef released one of our favorite records of 2014, Cheer For The Villain.
Tree Blood w/ Kneegrowpleez, The Brainstems Friday, April 17 Melt 9:30 p.m. | $7 Minneapolis' Tree Blood is a different kind of power trio. The band abuses its drum machine, squeezing out crunchy, distorted beats for dystopian punks. At their core, the songs are solid rock 'n roll with every little piece either bent, chopped or screwed. This sonic apocalypse worships at the altar of Big Black and Suicide, but does so with lungs filled by smog.
SATURDAY, APRIL 18
Euclid Records - Record Store Day w/ Neil C. Luke, Drew Sheafor, Beth Bombara, The Wilderness, Hilary Scott, *repeat repeat, Yankee Racers, Sleepy Kitty, The Feed, Middle Class Fashion, Foster and Lloyd, Bible Belt Sinners, Kristeen Young, Jans Project, Jon Hardy and The Public, The Bottle Rockets Saturday, April 18 Euclid Records 10 a.m. | free Euclid Records traded in Record Store Day for a three-day music fest tightly packed with power pop, indie rock, Americana and every other genre cross-species under the Arch. While Friday night brings eclectic heavy hitters like Hands and Feet and CaveofswordS, it's the actual Record Store Day lineup that elicits the kind of wide-eyed excitement that's usually reserved for pricier (and sweatier) summer fests.
Music Record Shop - Record Store Day w/ Durango, Pat Sajak Assassins, The Vanilla Beans, Letter to Memphis, DinoFight!, Rival Brothers Saturday, April 18 Music Record Shop 10 a.m. | free One of 2014's biggest bummers was the closure of Apop Records on Cherokee Street. While Music Record Shop doesn't stock the same sonic oddities, it did reopen in the Grove at just the right time. Nestled between the Ready Room and the Demo, this tiny shop is a sliver of vinyl paradise, providing the latest in quality wax from wall to wall. Honestly, we're just excited to see how they manage to cram five different bands inside the store's cramped confines. A word to the wise: Bring earplugs. There's not much room for the sound to travel, and the noise will pierce your ears and pummel your poor brains -- if you let it.
Record Store Day After Party w/ Matt Harnish's Pink Guitar, Brother Lee and the Leather Jackals, Moseley, We Are Hex Saturday, April 18 The Heavy Anchor 8 p.m. | $7 Matt Harnish's Pink Guitar might have been the best kept secret of last year's RFT Music Showcase. Harnish himself was beer belly out, crooning with a straight up porn-stache while shirtless under a black vest. There's no telling what antics are in store tonight, but even if he doesn't decide to go, uh, "buck wild," Indiana's We Are Hex provides a rumbling, dissonant rock that really begs the question: "How do we dance to this?"
Saul Williams w/ Sons of an Illustrious Father Saturday, April 18 Blueberry Hill 9 p.m. | $20 Saul Williams is an absolute force of nature. His singular take on spoken word brings out the sheer power of the human voice, blending hip-hop vibes with soulful beat poetry. He's worked with big names like Nas and De La Soul as well as the late Allen Ginsberg, but his presence doesn't come from some degree of fame. Williams' grassroots approach to lower key shows has earned him respect in a world where lyrical skill is currency and he's rolling in riches.
SUNDAY, APRIL 19
Endora w/ Middle Class Fashion, Kristeen Young Sunday, April 19 The Demo 7:30 p.m. | $10-$12 While Ellen (formerly "the Felon") Cook cut her teeth on solo shows and duets with drummer Matthew Reyland, her newest endeavor Endora explores the depth of a few key elements, namely guitar and cello. By blending keys with the kind of dense layers typically reserved for a full-bodied rock band, Endora weaves a strong web built with simple yet effective songs.
THIS WEEK'S FEATURED PICK OF THE LITTER
The Rime of the Ancient Mariner w/ Sleepy Kitty Friday, April 17 (8 p.m.) Saturday, April 18 (8 p.m.) Sunday, April 19 (3 p.m.) Kranzberg Arts Center $20-$30 Preview by senior music writer Christian Schaeffer:
Samuel Taylor Coleridge's "The Rime of the Ancient Mariner" is a multipart meditation on guilt and redemption, and its central image -- the cursed seaman with an albatross hanging around his neck -- has long since become a byword for the burden of one's sins. But if you only remember the CliffsNotes version of the poem from lit class, allow Upstream Theater to school you on Coleridge's finer points with its musical, theatrical adaptation. St. Louis noise-pop duo Sleepy Kitty has adapted parts of the poem into song and will perform alongside the cast for this limited run.
Theatre critic and RFT editor Paul Friswold had this to say about the show's opening weekend:
The action is abetted by projections of Gustave Doré's engraved illustrations for the poem, which fill the sail behind the players. The band Sleepy Kitty (Paige Brubeck on guitar and keyboard, Evan Sult on drums and occasional guitar) enhances the proceedings immensely with music and unearthly sound effects.
The duo also play key roles in the onstage action. After seven days of starvation and dehydration on the windless sea, the ship is visited by Death and Life-in-Death. Sult, hooded and his face veiled by a tattered gray cloth, plays Death; Brubeck, veiled in white, is Life-in-Death. A menacing guitar riff that becomes a Peggy-Lee-cum-Bad-Seeds vamp presages their arrival. Behind her veil, Brubeck keens, "Who's it gonna be?" with ferocity.
Read the full review at Daily RFT.
Note: Though we wish we could, we can't feature every great show happening in town in just one post. Peruse the St. Louis concert calendar for more ideas, and let everyone know what else you're looking forward to seeing this weekend in the comments below. To be considered for coverage in RFT Music, submit show info online or drop us a line anytime.
RFT MUSIC'S GREATEST HITS
Remembering STLPunk.com -- How to View the Site Today and Find Your Old Profile Page "Where Did My Dick Go?" The Gathering of the Juggalos' Best Overheard Quotations The Ten Best Dive Bars in St. Louis The 15 Most Ridiculous Band Promo Photos Ever
---