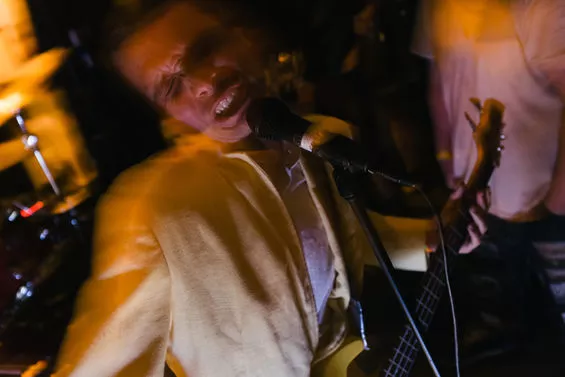 Photo by Bryan Sutter
Lumpy & the Dumpers' rockin' alter ego Cal and the Calories plays at Foam on Friday. View more photos from Cal's performance at last year's Acid Kat Fest in RFT Slideshows.
This weekend brings the kind of sweaty rock shows that should prepare us for the dank, humid summer to come. Kowabunga Kid hits all those punk vibes, while Jeff the Brotherhood harkens back to a simpler time in rock history. Lo-Fi Cherokee fills the south-city street with bands stretched across businesses from Broadway to Gravois, making for a full and free day of show hopping on Saturday.
And before anyone makes a fuss about how the Bosman Twins' album-release show was not included, just know that all four of its concerts for the weekend are already sold out -- and we suspect ticket scalpers have failed to see the jazz scene's lucrative business possibilities.
FRIDAY, APRIL 10
Jackson Howard EP Release Show w/ Letter to Memphis, Lizzie Weber Friday, April 10 Blueberry Hill 8 p.m. | $5 While singer-songwriter Jackson Howard doesn't reinvent the wheel, he knows how to roll with soul-infused acoustic rock. Album-release shows are like birthday parties for musicians, and the guest of honor here keeps good company -- Lizzie Weber and Letter to Memphis are set to open the night.
Kowabunga Kid w/ The Valenteens, Hoonbag Moonswag, Cal and the Calories, Soda Boys Friday, April 10 Foam Coffee & Beer 8 p.m. | free Kowabunga Kid is the punk equivalent of FUNYUNS® Onion Flavored Rings. The band's songs are short-lived but contain enough catchy hooks to keep any leather-jacketed bobblehead banging deep into the night. If Kowabunga Kid resembles a light, crispy snack, then opener Hoonbag Moonswag is mystery meat. Here is Hoonbag himself riding a jet-ski for two minutes.
mr. Gnome w/ Hello, Let's Go Friday, April 10 The Demo 8:30 p.m. | $10-$12 The duo of Nicole Barille and Sam Meister builds soulful layers through a mostly minimalist approach with guitar, drums and vocals. At first glance mr. Gnome seems to tiptoe around an ubiquitous indie-pop sound, but make no mistake, these songs feel dense, with an air of mystery -- no small feat for band in a post-Internet society where everyone has seen and heard just about everything.
The Rime of the Ancient Mariner w/ Sleepy Kitty Friday, April 10 Kranzberg Arts Center 8 p.m. | $20-$30 Sleepy Kitty lends original compositions to a live presentation of poet Samuel Taylor Coleridge's classic work. Drummer Evan Sult and guitarist Paige Brubeck have been labeled as "art rock" which may seem like yet another needless subgenre, but in this case the term makes perfect sense. While this is opening night, the event also runs on April 11 at 8 p.m. and again on Sunday, April 12, at 2 p.m. and 7 p.m.
SATURDAY, APRIL 11
.e Album Release Show w/ Van Buren, Hands and Feet Saturday, April 11 The Heavy Anchor 9 p.m. | $5 In 2007, .e occupied the odd space between early math rock and synth pop. Maybe those sounds don't go hand-in-hand, but this one-woman band made the sequencer scream with a strong backline of bass and drums. For the last five years .e has been reclusive, only appearing for the odd one-off show before retreating back into whatever portal from whence she came. For all her years spent squeezing brains with angular riffs, she has never released a full-length album. This night is both a rare sighting and a special treat -- fans of wave, synth, punk or an odd mix of any of the above should take notice.
HEARding Cats Collective presents: Extra and Extraction: The Myth of Static Geometry Saturday, April 11 William A. Kerr Foundation 8 p.m. | free It's hard not to view Extra and Extraction as anything but a sequel to last year's As Unstable As, featured in the video above. Formed by long-time friends and collaborators Kevin Harris and Chad Eivins (of Chizmo.TV), the concert brought four monstrous video projections working in tandem with striking, off-kilter ambient work to the Kranzberg Arts Center. This time, Ashley Tate and members of the Ashleyliane dance company will augment the show by presenting the human form atop images generated in real time by Harris and Eivins. The HEARding Cats Collective presents this audio visual event at the Kerr Foundation, a beautiful space nestled within the maze of one ways and gravel roads on the riverfront.
The James Hunter Six Saturday, April 11 Old Rock House 8 p.m. | $25 The James Hunter Six brings a sound hardened by the tragedies in its leader's life. Hunter's voice feels weathered by the ravages of time, but its gritty tone carries the band's rhythm and blues into a soulful rock territory. Everything here feels larger than life, even when his lyrics are there to remind you that, no, nothing is really larger than life.
Lo-Fi Cherokee 2015 w/ Grace Basement, Whoa Thunder, Trauma Harness, 18andCounting, Adria Nicole, Pat Sajak Assassins, Irene Allen, Last To Show First To Go, David and Sara Surkamp, Blank Generation, River Kittens, Lizzie Weber, iLLPHONICS, Brother Lee & the Leather Jackals, Crazy XXX Girlfriend, the Maness Brothers, Yowie, So Many Dynamos Saturday, April 11 Cherokee Street 9 a.m. | free RFT Music Editor Daniel HIll met with Lo-Fi Cherokee mastermind Bill Streeter earlier this week to talk about the event's fourth year and to reveal the final three performers slated for this Saturday. From punk bands like Trauma Harness to experimental hip-hop slingers like Blank Generation and 18andCounting, Lo-Fi Cherokee continues to grow firm roots in all reaches of the St. Louis music community.
Tigers Jaw w/ Lemuria, Somos Saturday, April 11 The Firebird 8 p.m. | $13-$15 After scaring everyone with a possible split in early 2013, the band went on hiatus before returning with a new album last year. This pop-punk comes tinged with heartfelt vocals and a penchant for heavy, lumbering breakdowns. The band writes snappy songs that arrive on point, wasting little time with exuberant intros or played out solos. After all, rock should be quick and dirty, right?
SUNDAY, APRIL 12
Jeff the Brotherhood w/ Bully Sunday, April 12 Off Broadway 9 p.m. | $15-$18 Speaking of dirty rock, Jeff the Brotherhood are Nashville's hometown heroes of sweaty, gas-powered garage jams. By offering songs that you might actually hear being played in a garage in '70s suburbia (the era that many consider to be the peak time for such rocking and rolling), Jeff the Brotherhood exceeds any expectations you might have for "just a two-piece" and fires off like it has the support of an arena rocker's arsenal of stage pyrotechnics. Just go see this damn band if you haven't already.
Note: Though we wish we could, we can't feature every great show happening in town in just one post. Peruse the St. Louis concert calendar for more ideas, and let everyone know what else you're looking forward to seeing this weekend in the comments below. To be considered for coverage in RFT Music, submit show info online or drop us a line anytime.
RFT MUSIC'S GREATEST HITS
Remembering STLPunk.com -- How to View the Site Today and Find Your Old Profile Page "Where Did My Dick Go?" The Gathering of the Juggalos' Best Overheard Quotations The Ten Best Dive Bars in St. Louis The 15 Most Ridiculous Band Promo Photos Ever
---