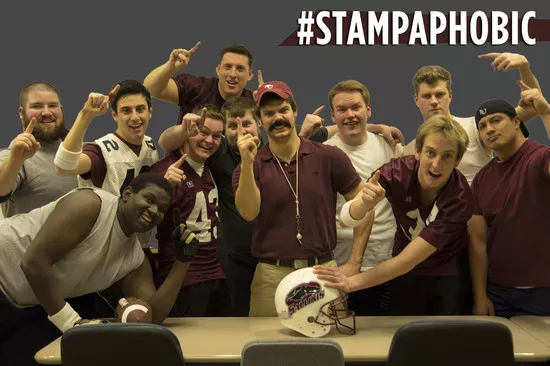 STL Up Late in a 2014 sketch lampooning homophobia in the NFL.
Local comedy powerhouse STL Up Late is back on for Season 4 at Satori Theater.
Actually, "back" may be too strong a word. In between seasons, the cast and crew of the sketch comedy show stayed more than busy with writing sessions, video production, a trip to LA to check out Jimmy Kimmel and, oh yeah, a live taping for a pilot episode. And that's only part of what they're up to: Many (and likely all) of the 30-plus cast and crew members not only have full-time jobs, but are also a part of an assortment of live productions across the city.
See also: STL Up Late Brings Comedic Relief to Your Saturday Night
With the taping wrapped and Season 4 just around the corner, RFT Music had a quick chat with executive producer Josh McNew and Eric Christensen, the show's host and director.
RFT Music: Last month you shot the pilot episode of STL Up Late. Was it everything you hoped it would be and more?
Josh McNew: We shot the pilot, and we're very happy. It was a scary process. None of us knew what we were doing, but we were patient with each other and worked as a team and pulled it off somehow. It reminded me a lot of our first few live theater shows.
Eric Christensen: It was incredible. The live audience was amazing, and I found out I need a lot of work reading cue cards. Hey, practice makes perfect, so now we just need a network that will pay for the practice.
Will it be available online, or will there be a public viewing?
Josh: For now it is being used more as content for pitching our show to local networks. Eventually we plan to release it. We are not sure how long the pitch phase will take, so we can't make any promises on a specific date. When we release it, we would like to have a viewing party, but again, nothing official at this time.
How specific can you get with details? Who are you pitching to and what's the goal...syndication?
Josh: I can say that we plan to pitch it to every local network and even some online distributors. Our goal is to find a good home for the show -- a place that believes in the show just as much as we do. The right home will show support for the show and give us a chance to make more people in St. Louis laugh.
Have there been any additions to cast and crew?
Josh: None at this time.
Eric: Nobody seems to want to quit yet. Maybe we need to work the writers harder.
Are there any guests, musical or otherwise, you are particularly excited for this season?
Josh: Our first guest is [alderwoman-elect] Cara Spencer. She is doing some great community work in the Cherokee area.
Eric: We are still waiting on Jon Hamm to get wind of the show. Seems like he would be a decent-size name.
And this one's just for Eric: Conan dyes his hair. Do you have any secrets to maintaining a consistent live -- and potentially a TV -- persona?
Eric: I actually wear a mask. The face you see isn't my own. I am, in reality, a 68-year-old woman. The masks give me and the show a fresh look.
Nearly every performance of STL Up Late sold out last season, so get your tickets before it's too late. Season 4 premieres Saturday, April 11, with 20th Ward Alderman-elect Cara Spencer.
Season 4 Premiere of STL Up Late 8 p.m. Saturday, April 11. Satori Theater, 3003 Locust. $10 in advance, or $15 day of show.