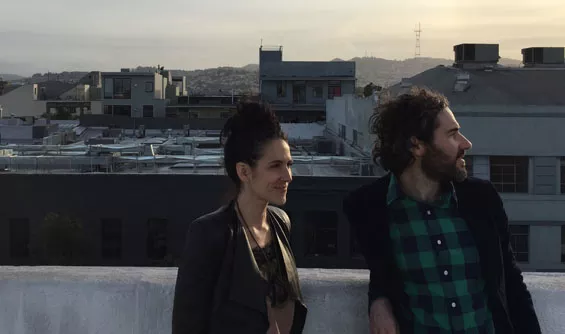 Ted Carstensen
Megan Rooney and Jeffrey Albert are the core of Spectator.
Even in the sketchy borders of rock music, a "St. Louis sound" should not, could not exist. And even if such a descriptor did present itself, the band Spectator would sound nothing like it.
Though Megan Rooney and Jeffrey Albert, the core of Spectator, are native St. Louisians, the music they make together and in collaboration with a host of musicians -- some local to the city, some from Columbia -- arises less from a region and more from personal experiments in an intimate laboratory. Songs are written, conceived, maybe even recorded; then they're deconstructed, revised, replayed, resung and rethought until they're distilled to a mysterious but irresistible essence.
And for Spectator, it doesn't matter how long that process takes.
Released this month and recorded over a three-year period, The Last Exchange is Spectator's sequel to 2012's In the Brick EP and its first full-length album. Beginning with sparkling notes from a classical harp and ending -- after a climax of cascading voices, electric guitars and drums -- in a spectral whir: The ten songs, some old and some very new, sound sui generis. The music of Spectator is simply as beautiful, adventurous and enigmatic as rock music gets -- in St. Louis or anywhere.
Rooney and Albert became involved, musically and romantically, nine years ago. They were introduced by a mutual friend. The two almost immediately began making music together.
"In the beginning, it was a lot of casual playing guitar together in our houses," Rooney says. "And we played some open mics together."
Rooney had experience working with a band in town, the neo-flamenco group Ginkgo Biloba (a mainstay on Saturdays at the restaurant BARcelona), but she was eager to begin recording with Albert. She quickly booked a few sessions with friend and producer Wil Reeves, who runs Centro Cellar Studio in Columbia, and who has recorded dozens of regional acts including Bockman, Joe Stickley, the Hooten Hallers and the Thin Dimes.
Those early experiments in Columbia and St. Louis resulted in the six songs found on In the Brick, a dreamy folk-rock record that captures the nascent Spectator sound, with jazzy rhythms and call-and-response vocals from Albert's foggy-bottom baritone and Rooney's soaring, plaintive phrasing. It's a lovely EP, well worth seeking out, but it barely presages the haunting, experimental sounds and darkly ruminative and exploratory themes of The Last Exchange.
In conversation about the new album, Rooney brings up her love of psychedelic music -- Pink Floyd and Damon -- and her connection to Latin music. Both genres fuse in Spectator's new vision -- with rich percussive grooves and silvery, elliptical guitars -- while still leaving ample space for the improvisational work of the musicians and keeping the crystalline melodies and timeless feel of the songs intact.
"My first love of music was Latin," Rooney says. "All sorts of different Latin styles. That's where I fell for music. And I really developed my singing voice with that flamenco band. Latin music was always in the back of my mind when we recorded. I was probably a pain in the ass: 'Give me more syncopation!' I was really picky about the rhythms, and we've found drummers who just sort of naturally do that."
For The Last Exchange, Rooney and Albert drew on the drums and percussion of Danny Carroll and Phylshawn Johnson, the harp playing of Ruth Acuff, the piano of Andrew Weir, the guitar of Dominic Puleo and the bass of producer Reeves. Rooney and Albert also turned again to the rhythm section of Luke Berry and Laren Loveless -- both helped form the most cohesive version of the band and continue to perform onstage with Spectator. But the nature of the group and the recordings that eventually became The Last Exchange remain fluid.
Rooney and Albert have been living in Oakland, California, since August 2014, as Rooney is completing a degree in social work at the University of California in Berkeley. (The two plan to return to St. Louis when her studies are complete.) Though the new album is grounded in live tracks, those recordings were mostly redone, often at a distance, via Skype and email.
"We tried to rush and finish before we left for California," Albert says. "But we had to redo a lot of things. All the drums were recorded before we left, but we had to re-track them all remotely. We recorded everything live back at home and then redid much of it because the sound quality wasn't good or the parts weren't quite right."
"But I do feel like this record has more live takes," Rooney adds. "We sat and listened to a full take of a guitar, a full vocal take, a full drum take. That was different from the first record."
Spectator, then, is principally the vision of Rooney and Albert. The two truly write together; a song may start with one or the other musician, but it's never close to complete until it passes through their personal feedback loop.
But the band, like the music it makes, will likely remain a changeable, elusive thing. "We just started to think about it more flexibly and creatively," Rooney says. "We didn't want to push against that and try to wrangle in this group that was going in different directions. Maybe we needed to redefine what a band means to us. But everyone is still super dedicated to the project."
"We were maybe trying to hold onto this vision of a band as one thing," Albert adds, "but it doesn't have to be that way. We can play as a duo, or with a drummer or with six people onstage if we want to. It's been freeing."