[image-10]
Two thousand years from now, historians will study our strange rituals like ass-shaking and pogo bouncing. Maybe by that time we will have evolved into emitting psychic vibes, or we'll all just quietly grunt in agreement. Or maybe there won't be any live concerts at all. Before humankind meets that kind of grim future, think of your grandchildren. Go to a show today and keep that part of human culture going, lest we all jack into the matrix and live our lives through whatever emoticons look like in the distant future.
MONDAY, APRIL 6
Trophy Wives w/ Lions Lions, Everyone Dies in Utah Monday, April 6 Fubar 7 p.m. | $13 By Joseph Hess Coming from Providence, Rhode Island, Trophy Wives brings solid pop-punk full of classic rock's guilty pleasures. The trappings are all here: Sweet riffs noodle over a clicky double-kick pedal while the vocalist croons in that middle ground between screaming and singing. Hints of emo from the early '00s peek through, but make no mistake: posi-vibes fuel these jams. This power-pop baby was clearly born after nine months of jamming Yellowcard and Sum 41 in the womb. Trophy Wives comes as part of a stacked bill led by Boston post-rock band Lions Lions. Everyone Dies in Utah is set to open the show with dancey synth-driven hardcore. Don't be late.
TUESDAY, APRIL 7
Jeff Zagers w/ Larva Lu, Hylidae, Zak M. Tuesday, April 7 Los Punk 7 p.m. | technically free, but donations are encouraged By Joseph Hess Savannah, Georgia, native Jeff Zagers elicits a heavy sway, bouncing beats on a lo-fi bed of disparate keys. Vocals creep their way through loaded layers of bobbing tones, commanding the sum of every murky part. At first glance this is a danceable mess of static and synths, but Zagers keeps enough control to induce a hot fever dream of sleazy lounge jams. It's an absolute treat of outsider pop music for those brave enough to hear it.
WEDNESDAY, APRIL 8
The Body w/ Shaved Women, Everything Went Black, Faultfinder Wednesday, April 8 Melt 9:30 p.m. | $7 By Josh Levi Since 1999 the Body has dragged its searing brand of sludge-metal from Hell (by way of the United States) and back again. Moving to Portland from Providence, the duo continues to wreak havoc with an electrifying crossover of noise and cacophonous doom. Often operating outside of the typical metal mindset, the Body's punk ethos has led to an unexpected release on indie staple Thrill Jockey as well as a collaborative recording and tour with the all-female Assembly of Light Choir. Mixing the beautiful with the ugly, the brutal with the opulent, the Body has always been able to weave an underlying pull of the senses with the heaviness of a plague of locusts. Last Slam Dance: St. Louis' Shaved Women will be calling it quits this spring. This show remains one of the last chances to catch the city's most dynamic punk outfit.
THURSDAY, APRIL 9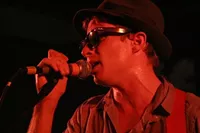 Dr. Dog w/ mewithoutyou Thursday, April 9 The Pageant 8 p.m. | $22.50-$25 By Roy Kasten In consideration of the strange, funky and poetic music of Dr. Dog, the word "psychedelic" is common, but mostly because other genre descriptors won't suffice. Sure, its members have clearly studied the cosmology of Nuggets bands, Pink Floyd and even the Flaming Lips. But the Philadelphia group, led by Toby Leaman and Scott McMicken, is at its most adventurous in its fusion of rhythmic drive with sweetly surreal and exploratory lyrics, in which black holes, shadow people and distant lights are metaphors for rock n' roll that, for all its hipster trappings, really is physically and emotionally transcendent. Once a staple of classic-rock bands, the live album may be making a comeback, as witnessed by Dr. Dog's surprisingly listenable Live at a Flamingo Hotel from this year.
Follow through for more great shows in and around St. Louis this weekend. FRIDAY, APRIL 10
Bosman Twins CD Release Show Friday, April 10, and Saturday, April 11 Jazz at the Bistro 7:30 p.m. and 9:30 p.m. both nights | $10-$25 per performance From Best Jazz Artist St. Louis 2013 - The Bosman Twins: Dwayne and Dwight Bosman have been fixtures on the St. Louis jazz scene since they were teenagers, and though the twins could easily have become a novelty act, a footnote to this city's rich jazz history, they've more than made their mark. The Bosmans have collaborated or shared the stage with everyone from Lester Bowie and Fontella Bass to Roy Ayers and Branford Marsalis. Though most deeply indebted to beebop and post-bop, the twins have an experimental side as well: They have infused their sound with soul and funk, connecting with younger generations while working tirelessly in music-education programs. Their love of saxophones -- though they play a variety of wind instruments -- is best expressed through their complementary but feisty duets. It's a spiritual, wailing sound, deeply rooted in the call-and-response gospel tradition.
mr. Gnome w/ Hello, Let's Go Friday, April 10 The Demo 8:30 p.m. | $10-$12 By Christian Schaeffer There's a good chance that some of your showgoing friends have been bugging you to check out the guitar-and-drums duo mr. Gnome. It seems with every trip to St. Louis -- which number a few per year, lately -- the Cleveland-based twosome of Nicole Barille (vocals, guitar) and Sam Meister (drums) converts more and more fans to its richly layered but elementally tuneful songs. The band often pairs its music with ambitious, high-production-value videos that play like sci-fi fantasias, but onstage Barille and Meister whip their songs with twangy guitar, jazz-fusion drumbeats and witchy vocals.
SATURDAY, APRIL 11
HEARding Cats Collective presents: Extra and Extraction: The Myth of Static Geometry Saturday, April 11 William A. Kerr Foundation 8 p.m. | free It's hard not to view Extra and Extraction as anything but a sequel to last year's As Unstable As, featured in the video above. Formed by long-time friends and collaborators Kevin Harris and Chad Eivins (of Chizmo.TV), the concert brought four monstrous video projections working in tandem with striking, off-kilter ambient work to the Kranzberg Arts Center. This time, Ashley Tate and members of the Ashleyliane dance company will augment the show by presenting the human form atop images generated in real time by Harris and Eivins. The HEARding Cats Collective presents this audio visual event at the Kerr Foundation, a beautiful space nestled within the maze of one ways and gravel roads on the riverfront.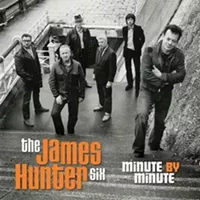 The James Hunter Six Saturday, April 11 Old Rock House 8 p.m. | $25 By Roy Kasten Forget the stone-strolling rhythms, the fog-horning horns, the uncanny mono mix (courtesy of Daptone Records maestro Gabriel Roth), even the vigorous songwriting. Minute By Minute, the James Hunter Six's 2013 album, is defined by the voice of its leader. And that means it's defined by the loss Hunter has known, specifically the death of his wife Jacqueline in 2011 after an agonizing struggle against cancer. Hunter sounds like he has wept and howled a thousand nights, and he probably has, yet the ravages of his voice infuse even pre-soul juke-rockers like "Chicken Switch" with impossibly hard-earned power. May this music soothe his soul as much as it will yours.
SUNDAY, APRIL 12
Jeff the Brotherhood w/ Bully Sunday, April 12 Off Broadway 9 p.m. | $15-$18 Since the late aughts, Jeff the Brotherhood has been firmly seated as a "no brainer" for many fans of garage and psych rock. Even in 2010, former RFT Music contributor and intrepid show reviewer Liz Deichmann had this to say: Be it the brotherly love or the self-professed "thirteen months" of being on tour, the duo seamlessly connected to one another and the audience, creating a palatable tension and featuring powers fused together into a raw force. The culmination of the show came with "I Don't Need Your Tas-t" as Jake stalked toward his brother Jamin and arrived at the mic (and by his brother's side) in time for a heavy instrumental freakout. The young crowd was captivated by the immediacy of the duo, prompting them to shimmy and shake till the last reverbed out note punched the air.
Note: Though we wish we could, we can't feature every great show happening in town in just one post. Look for plenty more recommendations this Friday in our weekend shows post, peruse the St. Louis concert calendar for more ideas and let everyone know what else you're looking forward to seeing this week in the comments below. To be considered for coverage in RFT Music, submit show info online or drop us a line anytime.
RFT MUSIC'S GREATEST HITS
Remembering STLPunk.com -- How to View the Site Today and Find Your Old Profile Page "Where Did My Dick Go?" The Gathering of the Juggalos' Best Overheard Quotations The Ten Best Dive Bars in St. Louis The 15 Most Ridiculous Band Promo Photos Ever
---