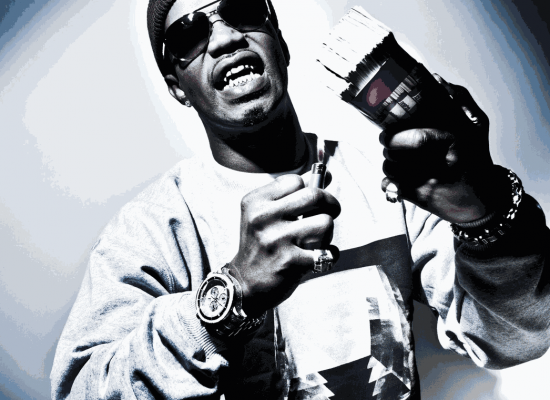 Press photo
Juicy J, performing at Pop's Nightclub April 26.
Tour season is starting to rev up, bringing a lot of acts through St. Louis. All the way from the very local to the big-name national -- yes Juicy J, we're looking at you -- we've got you covered during the beginning, the middle and end of the month. Some are free, some are cheap, and some are a little pricier, but hey, that's just how the cookie crumbles. Regardless, April is bringing some heat, which is good.
FarFetched Label Showcase Part III at Music Record Shop April 4 2 p.m. / Free
St. Louis' indie music and art imprint FarFetched is hosting the last showcase of its Music Record Shop series this Saturday with Blank Generation, the rapper-producer duo LooseScrewz and Hearskra-Z. FarFetched goes by the motto "Creating thought-provoking, honest and innovative content for all," and certainly lives up to it. Blank Generation is rap fusion at its best; LooseScrewz and Hearskra-Z serve up a little something for everybody with their special blend of punk rock, hip-hop, funk, soul and pop.
Iamsu! with Rome Fortune at the Ready Room April 13 8 p.m. / $15-$20
The young California native IamSu! began his musical career as the frontman for hip-hop group the Heartbreak Gang, and while he is still part of that collective, he has had success as a soloist as well. His music is notably bass-heavy, with a forward-thinking sound indicative of its roots in the Bay Area's progressive scene. IamSu!'s eclectic style is a grab bag of hip-hop's stylistic riches, with songs that include everything from pop to California hyphy to club-bangers to R&B love songs.
His debut studio album, Sincerely Yours, dropped last year with a battery of guest stars, including 2 Chainz, Sage the Gemini, Wiz Khalifa and Too $hort. IamSu! even flexed his own production muscles on a few of the tracks, including the hit single "I Love My Squad," a reference to his affection for the HBK Gang.
Arrive early to catch Rome Fortune, Atlanta's crop-top-wearing, turquoise-bearded sweetheart.
Tef Poe with T-Dubb-O and Bates Asylum at the Ready Room April 17 9 p.m. / $10-$15
St. Louis rapper and activist Tef Poe doesn't really require an introduction. After traveling the world to speak on behalf of St. Louis and discuss racism in the U.S., he's still able to come back home and play a show for y'all. With hard-hitting bangers and booming bass, Tef's show isn't one to miss.
Continue to page two for more.
Saul Williams with Sons of an Illustrious Father at Blueberry Hill April 18 9 p.m. / $20
Saul Williams is not only an emcee but a poet, even appearing on HBO's Def Poetry Jam. He's collaborated with artists and rappers including Nas, the Fugees, Erykah Badu, KRS-One and De La Soul, and even with the poet Allen Ginsberg. Williams' career is well-rounded, proving that there is indeed a connection between hip-hop and poetry -- as if there was ever any doubt.
Juicy J with TBA at Pop's Nightclub April 26 7 p.m. / $35-$40
A few years ago, Juicy J shifted away from Three 6 Mafia -- now known as Da Mafia 6ix -- to focus on himself. Since then, he's released three solo albums and is slated to drop his fourth, Pure THC: The Hustle Continues, this coming July. But lately, what Juicy J has become best-known for are his poppin' features, including Katy Perry's "Dark Horse" (it's OK, you can admit you like this one), Ne-Yo's "She Knows" and A$AP Rocky's "Multiply."
RFT MUSIC'S GREATEST HITS
The 15 Most Ridiculous Band Promo Photos Ever "Where Did My Dick Go?" The Gathering of the Juggalos' Best Overheard Quotations I Pissed Off Megadeth This Week, My (Former) Favorite Band The Top Ten Ways to Piss Off Your Bartender at a Music Venue
---