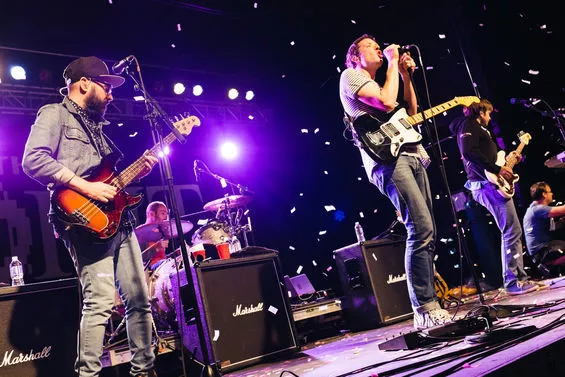 Photo by Bryan Sutter
OK Go returns to St. Louis on Saturday, April 4 at the Pageant. Check out more photos from the band's 2014 concert in RFT Slideshows.
SXSW ended roughly one week ago, but St. Louis still enjoys the side effects from all those bands being out and about nationwide. March has been the busiest month for music in recent memory, and April shows no signs of slowing down. Hip-hop collective Turquoise Jeep kicks off the month ahead with a stacked bill at the Firebird -- arrive on time for Superfun Yeah Yeah Rocketship, who just debuted an absurd video for its equally absurd song The Undertaker Joins The Avengers. Are you a fan of Radiolab on NPR? If so, chances are you've heard On Fillmore's music laying down ambient beds behind hosts Jad Abumrad and Robert Krulwich. The experimental jazz duo of bassist Darin Gray and drummer Glenn Kotche will perform in St. Louis for the first time in over a decade this Saturday.
MONDAY, MARCH 30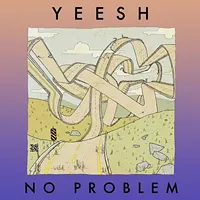 Yeesh w/ Antithought, Blight Future, LifeWithout Monday, March 30 Foam Coffee & Beer 10 p.m. | free By Joseph Hess Shoegaze has always been a tongue-in-cheek subset of indie rock. After all, gazing at one's shoes out of boredom doesn't exactly paint a positive picture, but the genre has always been about the slow burn rather than instant gratification. Chicago's Yeesh takes a raw approach, managing to elicit the same dreamy vibes through its static-drenched howl of punk songs. The band applies a glossy sheen, tricking the naked ear into thinking these might be pop songs. Luckily, the rough edges keep Yeesh from sounding too clean or straight-forward. Check out the band's latest, No Problem, released just last week through Already Dead Tapes.
TUESDAY, MARCH 31
Supersuckers w/ Carriage House Tuesday, March 31 Off Broadway 9 p.m. | $15 By Roy Kasten What the Supersuckers lack in subtlety and originality it makes up for in testosterone and comedic timing. Only its biker-wannabe following took the "Greatest Rock & Roll Band in the World" marketing seriously, but the band's highly head-bang-able and equally unlikely cult hits for Sub Pop -- "Creepy Jackalope Eye," "On the Couch," "Pretty Fucked Up" (as in "she used to be pretty, but now she's...you know what") -- still rock harder and come off less dated than most of the band's grunge-era peers. With the years, the group has added more and more country to its leather-and-shades attitude, and absurd as it sounds, the fusion of metal and twang sticks.
WEDNESDAY, APRIL 1
Turquoise Jeep w/ DJ Billy Brown, Superfun Yeah Yeah Rocketship Wednesday, April 1 The Firebird 8:30 p.m. | $12-$15 By Tara Mahadevan From the RFT Music archives: Turquoise Jeep is a record label known for its hilariously satirical YouTube videos, including its 2010 single "Lemme Smang It," which popularized the label. Signed artists include Flynt Flossy, Pretty Raheem, Slick Mahony, Tummiscratch, Whatchyamacallit and Yung Humma. If you want to laugh for most of the night while concurrently busting some moves (these dudes are some seriously great dancers), then don't miss Turquoise Jeep with DJ Billy Brown.
THURSDAY, APRIL 2
Shovels & Rope Thursday, April 2 The Ready Room 8 p.m. | $18-$20 By Nicholas Pell From 10 Country Artists You Should Be Listening To: They're a married two-piece band, but unlike the White Stripes, they're not the worst thing to happen to music in the last twenty years. Country, folk and blues all blend in to catchy tunes you'll be spinning over and over again.
Follow through for more great shows this weekend. FRIDAY, APRIL 3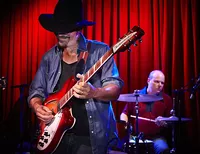 Diesel Island Friday, April 3 Blueberry Hill 9 p.m. | $6 From Best Country Band (Traditional) St. Louis 2013 - Diesel Island: It's easy to take Diesel Island for granted, to forget that it's still one of the strongest purveyors of classic country music in town. Once a regular at the long-gone Frederick's Music Lounge, the band -- led by veteran singer Kip Loui and the Bottle Rockets' Brian Henneman, and featuring new members Tim McAvin and Spencer Marquart -- Diesel Island now finds a home and gigs in a catch-as-catch-can fashion. And though its setlist is still anchored in '70s twang, the band doesn't need to stretch out. Nobody plays the great songs of '60s and '70s country music -- from Waylon to Merle to Buck to all outlaw points in between -- quite like these veterans.
New Music Circle presents: On Fillmore Friday, April 3 The Stage at KDHX 7:30 p.m. | $10-$20 By Ryan Wasoba From Impermanent Vacation: Darin Gray and Glenn Kotche reactivate their instrumental project, On Fillmore (2009): "Cinematic" is a descriptor often assigned to instrumental bands, a catchall term that frequently serves as a polite way of saying "background music." Although On Fillmore creates sparse, mysterious sonic landscapes that occasionally function as film scores, the duo of Darin Gray and Glenn Kotche hates background music. Eschewing traditional structures, the band lulls, intrigues, startles and grinds, while crafting works with an illustrative quality. Some instrumental music feels like a soundtrack searching for a film, but Gray and Kotche create songs that invent their own images.
SATURDAY, APRIL 4
Nora Jane Struthers w/ Beth Bombara Saturday, April 4 Old Rock House 8 p.m. | $10-$12 By Roy Kasten When last we heard from Nora Jane Struthers, the Virginia-born, New Jersey-raised Nashvillian was making accordion-, fiddle- and banjo-anchored Americana that was as bittersweet as a Gillian Welch outtake and yet fully distinguishable -- the force of her alto voice is undeniable -- from the host of young, acoustic bands scratching after the crumbs of the No Depression table. On her new album, Wake, Struthers throws in her lot with the Party Line, a fully electrified ensemble that serves as a dynamic, bluesy foil for her radio-ready (in the best sense of the phrase) songs of newfound mettle and spirit. Widely noted as one of St. Louis' finest Americana songwriters, Beth Bombara opens the evening with a sneak preview of her self-titled album, due out in June.
OK Go w/ White Arrows Saturday, April 4 The Pageant 8 p.m. | $20/$22.50 By Scott Heisel From the RFT Music archives: Yes, OK Go is "that treadmill band" -- you know, the video your mom forwarded to you oh-so-many moons ago. But as the band's fan base can attest, OK Go is so much more than that. Over the past decade, the Los Angeles-via-Chicago quartet's music has evolved from slickly produced radio pop (2002's self-titled debut) to grittier, T. Rex- and Pixies-influenced rock (2005's Oh No). This year's brilliant Of the Blue Colour of the Sky is even more out there: It can only be described as Prince making a Flaming Lips record -- or maybe the Flaming Lips making a Prince record. These stylistic left turns have been well executed, but, of course, they've also resulted in some puzzled looks from dudes in Delta Omega Nu T-shirts and Reef sandals (i.e., the type of fan who jumped onboard because of said treadmill video). While pandering might've earned the band a tour or two in larger rooms than where it is tonight, OK Go displays a certain level of exuberance on a small stage that just can't be duplicated.
SUNDAY, APRIL 5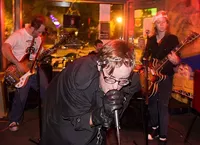 Animal Teeth w/ Kool 100s, Shitstorm, Boreal Hills, Big Blonde Sunday, April 5 Foam Coffee & Beer 9 p.m. | $5 By Mabel Suen From Meet Self-Proclaimed C.H.U.D Punks, Animal Teeth: Animal Teeth channels late '70s and early 80's LA punk, citing influences including the Germs, Circle Jerks, Big Boys and the Screamers. In darkened bars, the group trudges through crunchy power chords, funky bass lines and straightforward drumbeats. Austin sidles around in a black trench coat, chugging chocolate milk, swinging metal chains and spitting a sermon of flippant lyrics like some kind of punk-rock preacher.
Note: Though we wish we could, we can't feature every great show happening in town in just one post. Look for plenty more recommendations this Friday in our weekend shows post, peruse the St. Louis concert calendar for more ideas and let everyone know what else you're looking forward to seeing this week in the comments below. To be considered for coverage in RFT Music, submit show info online or drop us a line anytime.
RFT MUSIC'S GREATEST HITS
Remembering STLPunk.com -- How to View the Site Today and Find Your Old Profile Page "Where Did My Dick Go?" The Gathering of the Juggalos' Best Overheard Quotations The Ten Best Dive Bars in St. Louis The 15 Most Ridiculous Band Promo Photos Ever
---