Photo by Jon Gitchoff
Earl Sweatshirt returns to St. Louis this Tuesday at the Ready Room. Check out RFT Slideshows for more photos from his 2013 show with Mac Miller at the Pageant.
Spring has sprung, and the next seven days bring the best in hip-hop, indie rock and more. The Ready Room has a hat trick of shows this week with Earl Sweatshirt, Tycho and the Gaslight Anthem on Tuesday, Wednesday and Thursday, respectively. Ambient artist Tim Hecker plays the Kranzberg Arts Center on Friday while free-jazz legend Matthew Shipp takes the Stage at KDHX with bassist Michael Bisio on Saturday night. Peruse our picks below, and let us know what you're looking forward to.
MONDAY, MARCH 23
Soulard Blues Band Monday, March 23 Broadway Oyster Bar 9 p.m. | $5 By Roy Kasten From the 2014 RFT Music Awards: One day, dear reader, the Soulard Blues Band will be no more. It's just a fact. And one day you'll wonder why, despite all the opportunities every other day of the week, you never saw this St. Louis institution in its prime -- and no, the band's prime ain't over. If somehow you've never danced your ass off when Art Dwyer lays down a bass line as smooth as crushed velvet, or when Marty Abdullah swings his phrasing on "Kansas City Blues" or "Dust My Broom," or when Tom Maloney plays a solo that would make his mentor (the late, great Benny Smith) smile, well you really should. Don't take this band for granted. Pay your respects soon; they've been earned.
TUESDAY, MARCH 24
Earl Sweatshirt w/ Vince Staples, Remy Banks Tuesday, March 24 The Ready Room 8 p.m. | $25-$30 By Tara Mahadevan Earl Sweatshirt came up as a member of the Odd Future collective, but stood out from its ranks with his underground, raw sound and unmatched lyricism. After releasing his debut studio album, Doris, in 2013, Earl is now slated to drop his latest offering, Home Alone with Reggie, sometime this year. Doris was a critical darling upon its release -- even regarded by some outlets as one of the best hip-hop albums of the year -- so we're pretty much waiting with bated breath for what the young rapper has in store for us.
WEDNESDAY, MARCH 25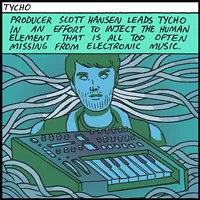 Art by Curtis Tinsley
Read more about Tycho in our weekly comic.
Tycho Wednesday, March 25 The Ready Room 8 p.m. | $20 By Joseph Hess Tycho's live show brings a cross-section of guitars and percussion with prepared loops and analog synthesizers. The result stays true to the band's classy studio production but contains enough headroom to aurally explore. And the band does just that. Remember Toonami? Cartoon Network's hours-long block started airing in the late '90s, bringing action shows and anime to an after-school audience. When Adult Swim filled the niche for outsider animation on the same network, Toonami was cancelled -- Tycho's "Cascade" played at the end of the final broadcast in 2008. Nerd cred.
THURSDAY, MARCH 26
The Gaslight Anthem w/ Northcote, Sammy Kay Thursday, March 26 The Ready Room 8 p.m. | $30 By Roy Kasten "Most of my heroes don't appear on no stamps," intoned Chuck D on 1989's "Fight the Power," and the same could be said for Gaslight Anthem -- a band, like Public Enemy, for whom heroes mean everything. The Clash, the Ramones and, above all else, fellow Garden Stater Bruce Springsteen -- who has been the group's most conspicuous champion -- would all be stamp-worthy in the band's eyes. But hero worship seldom makes for great rock & roll. Gaslight Anthem's strategy is to celebrate and subvert the sacred sound of its all-guitars-blazing anthems and its relentless backbeat that's as fist-pumpable as it is crowd-surfable. And rest assured, there will be plenty of both when these latter-day heroes take the Ready Room stage. Fellow followers of Springsteen-esque songwriter rock, Northcote and Sammy Kay, set the tone as openers.
Follow through for more great shows Friday through Sunday. FRIDAY, MARCH 27
KSLU, KWUR (90.3 FM) and the Billiken Club present Tim Hecker w/ Travis Bursik Friday, March 27 Kranzberg Arts Center 7 p.m. | $15 By Joseph Hess Montreal, Canada, native Tim Hecker keeps good company. In addition to touring with Godspeed You! Black Emperor and Sigur Rós, he has collaborated with Oneohtrix Point Never, Nadja and Isis. His work spans the spectrum of electronic music, ranging from subtle, minimalist beats to a lumbering, expansive stretch of ambient noise. Despite being lauded on hype sites such as Pitchfork and Noisey, Hecker still remains an unsung hero of experimental sound. This show is a joint effort brought to you by Washington University's KWUR (90.3 FM) and St. Louis University's KSLU. When two college radio stations known for their friendly rivalry team up to bring an artist to town, music fans should take notice.
Humdrum w/ Good English, Army Of Infants, Shitstorm, Sole Loan Friday, March 27 Foam Coffee & Beer 8 p.m. | free By Michael Dauphin At this point, one could make the argument that Humdrum is basically a St. Louis indie-rock supergroup. The quintet is composed of members from local stalwarts Syna So Pro, Union Electric, Née and Pat Sajak Assassins. But to throw the "supergroup" tag on it would almost cheapen its merit and completely overlook the innovative vision of core singers/songwriters Dan Meehan and Paul Maguire. Altogether, the group has a remarkable ability to craft accessible pop songs that are layered with angular hooks, cockeyed timing and timeless, undeniable melodies. These compositions particularly shine on the band's newest Steve Albini-recorded and Tiny Telephone-mixed EP, We Are Electricity.
SATURDAY, MARCH 28
Cree Rider Family Band w/ Hilary Scott, Emily Wallace Saturday, March 28 Off Broadway 7:30 p.m. | $8-$10 By Christian Schaeffer From Country: Meet the 2014 RFT Music Award Nominees: Consider Cree Rider this city's pre-eminent practitioner of modular folk. Rider works well in any setting he chooses -- as a solo act, accompanied by his fiancée Cheryl Wheeler, as a member of the trio ARR!, or fully formed with his Family Band. It's to Rider's credit that his voice, gentle and rooted, is convincing and compelling regardless of who plays alongside him. Both on album and in concert, Rider and Wheeler are joined by some of St. Louis' most apt and empathetic players, including Dave Grelle, Bryan Ranney, Andy Coco and Jordan Heimberger. But on last year's One Night Stand, Rider takes center stage, singing story-songs with wit and empathy.
KDHX 88.1 FM and New Music Circle present Matthew Shipp w/ Michael Bisio Saturday, March 28 The Stage at KDHX 7:30 p.m. | $10-$20 By Christian Schaeffer Consider Matthew Shipp as a musician caught between traditions: too experimental for straight-ahead jazz and too beholden to melody for free-jazz. Shipp has been content to forge his own path as a bandleader, collaborator and solo artist. So, sure, he'll do a pass at "Summertime" on his latest LP, I've Been to Many Places, but he treats the final movement like a horror-film score, punishing his piano's lower octaves with insistent, dark-hued intervals. The wide-ranging album pairs standards from the jazz and pop realm (Coltrane's "Naima," the Roberta Flack/Donny Hathaway jam "Where Is the Love"), but even the most recognizable songs are treated as mere points of entry for Shipp. The pianist will be joined by long-time bassist Michael Bisio for this duo performance.
SUNDAY, MARCH 29
Red Jumpsuit Apparatus w/ A Skylit Drive, Wolves At The Gate, For the Win, A Promise To Burn, Make Room, Eurydice Sunday, March 29 The Firebird 6:15 p.m. | $15-$17 By Jonah Bayer From the RFT Music archives: Middleburg, Florida, doesn't seem like the locale that would birth one of today's most popular screamo bands, but that's exactly the case when it comes to the Red Jumpsuit Apparatus. Propelled by the ubiquitous anti-violence anthem, "Face Down," the band's major-label debut, Don't You Fake It, has made the unfortunately monikered act a household name for FuseTV viewers worldwide -- and after a largely sold-out stint on the Take Action! Tour, be prepared for the band's buzz to reach deafening levels. Those of you looking for the successors to Story of the Year's throne, look no further -- but please just refer them to RJA.
Note: Though we wish we could, we can't feature every great show happening in town in just one post. Look for plenty more recommendations this Friday in our weekend shows post, peruse the St. Louis concert calendar for more ideas and let everyone know what else you're looking forward to seeing this week in the comments below. To be considered for coverage in RFT Music, submit show info online or drop us a line anytime.
RFT MUSIC'S GREATEST HITS
Remembering STLPunk.com -- How to View the Site Today and Find Your Old Profile Page "Where Did My Dick Go?" The Gathering of the Juggalos' Best Overheard Quotations The Ten Best Dive Bars in St. Louis The 15 Most Ridiculous Band Promo Photos Ever
---