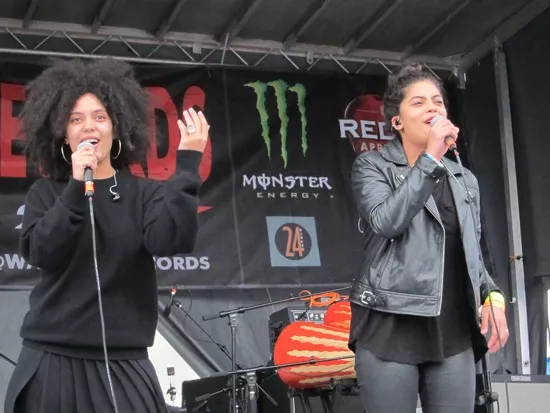 Dana Plonka
Ibeyi at Waterloo Records
"There's no use in wishing and hoping," chanted poet, songwriter, actor and Native American activist John Trudell. He stood with his band in the sanctuary of a church in the final hours of SXSW 2015. "No use in coulda, woulda, shoulda. It's a waste of tears."
"It is what it is."
Of course he wasn't talking about SXSW. And of course he was.
"He is extremely eloquent," the FBI once noted of the 69-year-old visionary and onetime leader of the American Indian Movement. "Therefore [he is] extremely dangerous."
Of course the memo wasn't talking about music. And of course the memo was.
In Austin, Texas, this past week, the eloquentia of music was everywhere, in every imaginable way, if you only listened hard enough through the din of propaganda, poseurs and the pessimism of the cold rain -- it was South By's worst weather in my sixteen-some years of attendance -- that yet couldn't cleanse the bacterial incubator that is Sixth Street at midnight. The marquee hip-hop acts -- J. Cole, John Legend, Run the Jewels, Travis Scott, YG and of course Snoop Dogg -- spoke out to the 300,000 (that's not a typo) who descended on the ten full days of SXSW this year. For its part, Songhoy Blues, a rising Malian blues-rock-funk band, communicated in a language no one and everyone and their asses knew.
Ditto for Ibeyi, Yoruba for twins, the sisters Lisa-Kaindé Diaz and Naomi Diaz, who were more than a highlight of my SXSW 2015. They were as eloquent in their French and Afro-Cuban song poems, looped and chorded and thumped on a cajon with a freshness that restores hope and faith and, to quote John Trudell again, intelligence to this dizzying, mind and liver-numbing beast that began in Austin 28 years ago.
Over the course of five days, I took in a conservative estimate of 50-odd bands, counting only those that persuaded me to surrender more than fifteen precious SXSW minutes. Musical and free-booze quantity is the dumbest reason to attend, but quantity is also part of the story. The ever-expanding confines of this capital city offer a panorama of the state of popular music today that would be unimaginable without it. Idle talk by city-planners and consultants of moving the event is just that. For better or worse, SXSW built the Austin known to the world today.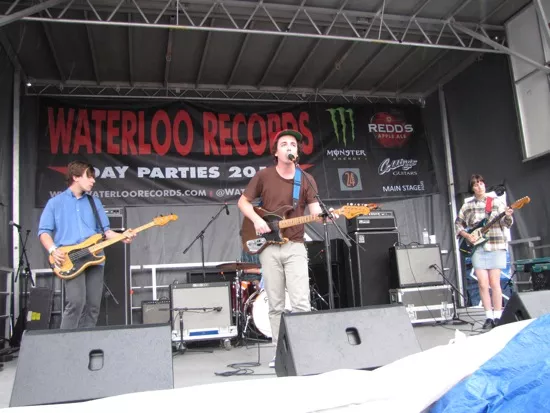 Dana Plonka
Twerps at Waterloo Records
Standing in the rain outside Waterloo Records on Friday afternoon, I let Aussie band Twerps begin my round of day parties with a short, modest but fetching set of indie pop, followed by Ibeyi, who apologized for the rain, and then charmed the rain-ponchoed crowd into keeping time with its grooves. The twins are nineteen. Who can say what will happen to them in the coming years; I can say they have a joy and talent that just might inure them to all the bullshit.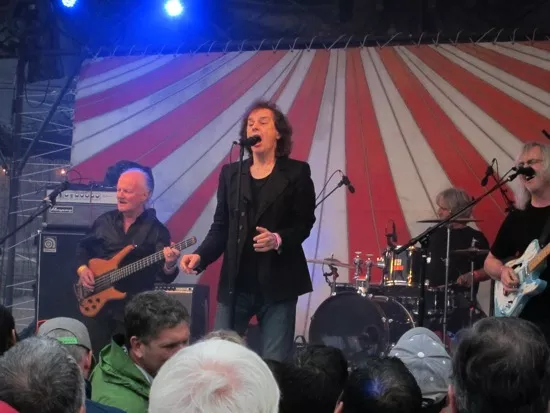 Roy Kasten
The Zombies at South By San Jose
Outside the San Jose Hotel on South Congress, the rain finally let up on Friday for my first live encounter with the Zombies. Rod Argent and Colin Blunstone still lead the band that scored its first hit in 1964, and they can still make magic on stage. Blunstone, especially, sang his 70-year-old body out, and the jazzy progressions and melodies of "Time of the Season," "Care of Cell 44" and "Tell Her No" were pristine.
Dana Plonka
Laura Marling at Central Presbyterian Church
By nightfall on Friday I returned to one of at least four churches that host SXSW events. Those spaces are reason enough to come to Austin in the spring (though the now-ubiquitous T-shirts that read "Austin: Don't move here" are eloquent enough), and the fact that Laura Marling was performing a full set in one meant not only seeing her for the first time but seeing her in the finest way imaginable. With a blanket draped across one shoulder, Marling seemed a bit tired and struggled with a few songs, but she still drove home the best of her withering confessions with the furious, intricate acoustic guitar work of a punk Joni Mitchell.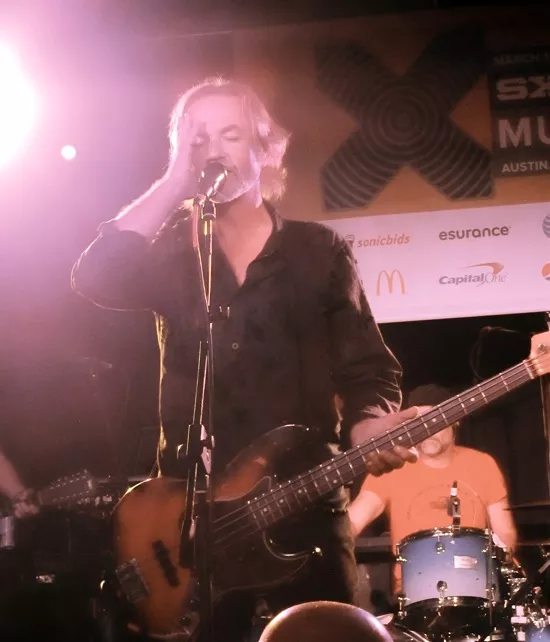 Dana Plonka
The Church at Buffalo Billiards
Coulda, woulda, shoulda. That's how I felt about seeing the Church, or what is left of the Church sans Marty Willson-Piper, in the 500-person capacity Buffalo Billiards (not that fire code was enforced). If the band wasn't having a disastrous SXSW it coulda fooled its audience. We endured a truncated set (late start, shit for sound) of dirge after dirge without a single recognizable hit. Steven Kilbey ended the fiasco on Sixth Street by nearly face-planting after tripping over his instrument cable. The next day the band would join the chorus of outdoor show cancellations and bail on its headlining gig at South By San Jose.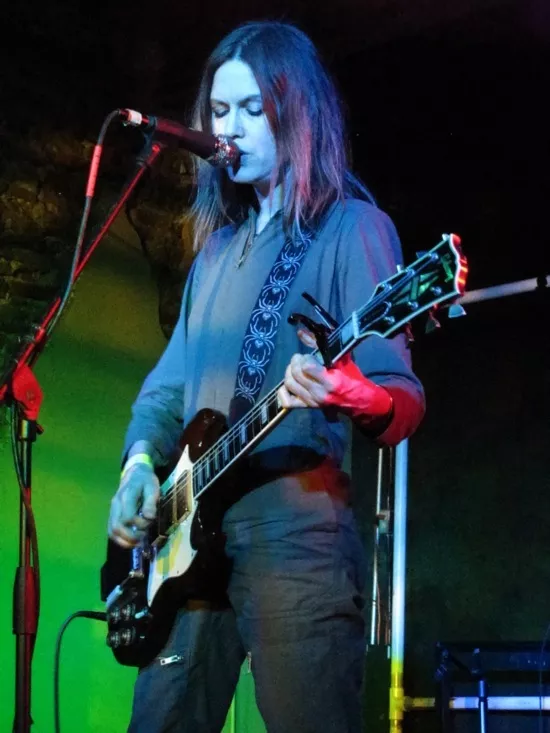 Dana Plonka
Juliana Hatfield at Buffalo Billiards
I ended Friday night back at the billiards hall to see the Juliana Hatfield Three storm through a moving and impressively tight set that reminded a good crowd of why she is a trailblazer, and why songs like "Feelin' Massachusetts" and "President Garfield" and "I Got No Idols" define the dark, honest eloquence of alternative rock. Though she looked gaunt, as if she hadn't slept (or eaten) in days, she delivered one of the most powerful sets of the week.
Continue to page two for more.
Dana Plonka
Thee Oh Sees at the Mohawk
The rain continued on Saturday and may have contributed to a late start by another trailblazer, Thee Oh Sees, who still managed to whip the House of Vans party at the Mohawk into a drenched mosh pit, via two drummers and venomous guitar and vocals from John Dwyer. "Who is smoking a fucking cigar?" he seethed. "Makes me want to vomit!" But he and the crowd were having too much fun to puke.
Dana Plonka
Rubblebucket at Empire Garage
Dana Plonka
Palma Violets at Empire Garage
Other Saturday party highlights included Rubblebucket, who brought the confetti and balloon art-disco party to Empire Garage, and the Palma Violets, who brought the Clash-esque (at their best) to the same location.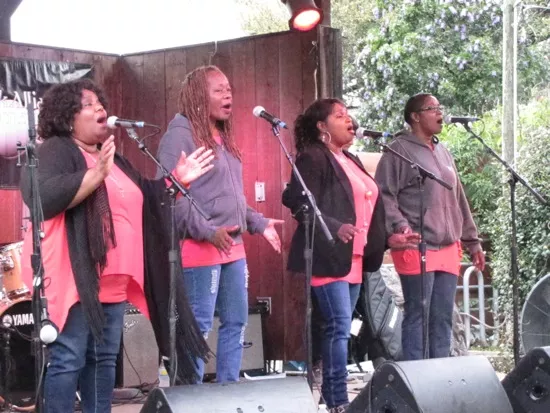 Dana Plonka
The McCrary Sisters at Threadgill's
Just half a mile away Nashville gospel legends the Fairfield Four and the McCrary Sisters (who have an excellent new album produced by Buddy Miller) revived the spirits of the sextuagenarians (present company nearly included) seeking shelter from the storms at Threadgill's. To hear the onetime Dylan soulmate Regina McCrary and her sisters take on Gillian Welch's "By the Mark" and the Staple Singers' "I'll Take You There" was to hear the eloquence of those songs as I've never heard it before.
Dana Plonka
Honeyblood at Latitude 30
And then the end: Saturday night I checked in on the progress of one of last year's best discoveries: Honeyblood from Glasgow is gaining some confidence (but there's more of that to come I hope) and some welcome, raspy anger in singer Stina Tweeddale's voice.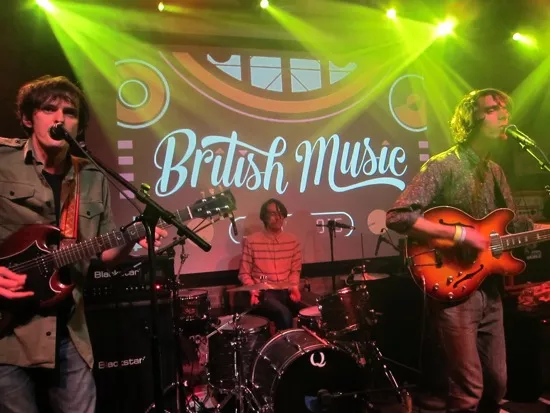 Dana Plonka
Ultimate Painting at Latitude 30
Also on stage at the British Music showcase, the awkwardly named Ultimate Painting (Penultimate Sketch woulda been more clever, but I was not consulted), led by James Hoare (Veronica Falls) and Jack Cooper (Mazes), played a satisfying set of gently drummed psych, with effortless harmonies and pedal-less guitars linking up in melodic spirals and supporting at least one excellent song, "Talking Central Park Blues," a silver-tongued stream-of-insights that would make Courtney Barnett, if not Woody Guthrie, proud.
Dana Plonka
Hinds at Latitude 30
The same cannot be said of buzz band Hinds, four women from Madrid (formerly called Deers), who may have understandably caught the eye of Carl Barât and Robert Rodriguez (both in attendance) but who are ill-advised to caterwaul their way through Billy Childish's "Davey Crockett" or anything else. I'd rather be locked in a Taco Cabana john listening to the Church drone on about beheadings than spend five minutes with this cynical, tuneless girl-group ploy.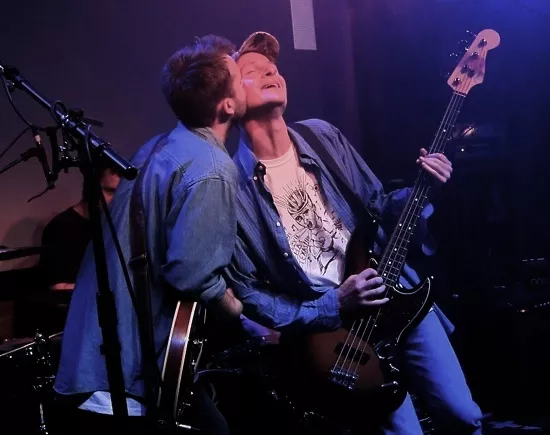 Dana Plonka
Happyness at Latitude 30
Happyness closed out my stay at the British Music showcase, and I'm glad for that, as they shifted between crunchy jams and jazzy sway and even dude-smooched sweetly on stage. The songs didn't speak to me, but the presence somehow did.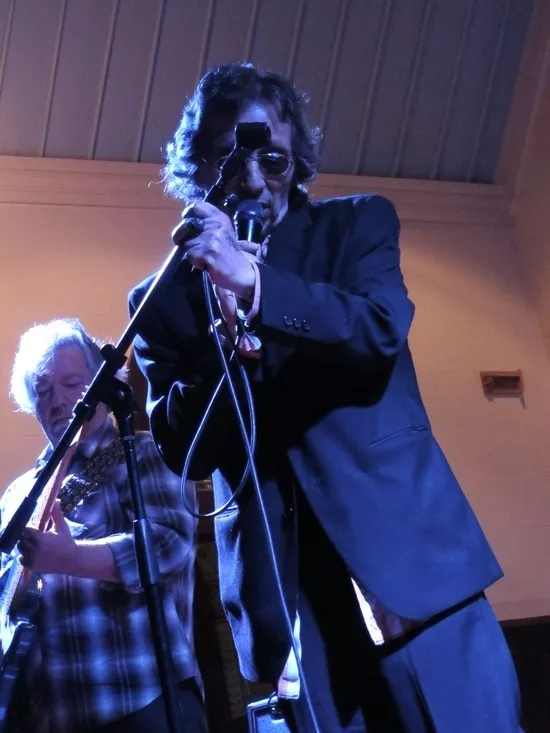 Dana Plonka
John Trudell at St. David's
Some might call John Trudell the Santee-Sioux Leonard Cohen; they would not be wrong. At St. David's Episcopal Church he spoke deeply and directly of matters of the heart and mind, of ancestors and unanswerable but necessary questions, the words spilling out with gravitas, danger and zero histrionics. His band Bad Dog spoke with a dual guitar and electronic-beat fluency; an elder chanted in the spaces between words and sounds.
When Trudell finished, the congregation stood and applauded for three minutes before an impromptu procession of hand drums filled the aisles. A group embrace, involving everyone in the church, formed as naturally as a mosh pit. Save the chanting of an elder, it was an eloquence that needed no words, an ideal ending to a SXSW that was what it was.
RFT MUSIC'S GREATEST HITS
The 15 Most Ridiculous Band Promo Photos Ever "Where Did My Dick Go?" The Gathering of the Juggalos' Best Overheard Quotations I Pissed Off Megadeth This Week, My (Former) Favorite Band The Top Ten Ways to Piss Off Your Bartender at a Music Venue
---