Kelly Glueck
King Khan looks out over his kingdom.
By Jenn DeRose
The King Khan & BBQ Show has had a rough couple of years as a band in general, but its relationship with St. Louis seems especially complicated. After an infamous run-in with the police before a show at Off Broadway in 2009, the duo went through a very well-documented breakup that lasted close to six years, devastating devoted fans.
See also: Our Full Slideshow of the Event
Arish Ahmad Khan and Mark Sultan released several stellar albums independently, but their reliably excellent collaborations as a duo were sorely missed. The news of its reunion and subsequent tour with the Black Lips in the fall of 2014 was well-received by fans and critics alike. The duo played St. Louis in September 2014 at the Ready Room to a sizable crowd, racing through its set as the Black Lips' opening act.
This weekend, the King Khan & BBQ Show returned, this time to Blueberry Hill's Duck Room on March 14 to support Bad News Boys, its first album in six years.
Khan first interacted with the crowd at the Duck Room when he came onstage to introduce his touring opener: the sultry, mildly psychedelic, country-flavored Milk Lines, hailing from Khan and Sultan's native Toronto. Wearing a coonskin cap and sunglasses, Khan assured the crowd that Milk Lines "drank from the same teat Chuck Berry gave to the world." This was his stamp of approval, summoning the name of the founding father of rock & roll, and was the first of several mostly reverential references to Berry during the evening.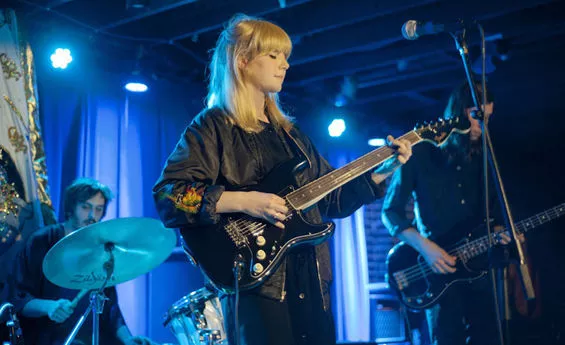 After Milk Lines finished, the King Khan & BBQ Show entered the stage to Queen and David Bowie's "Under Pressure," clad in elaborate costumes -- Khan and Sultan's stage outfits have evolved from the whimsical to the absurd over the years. This tour, Khan was dressed in crisscrossed leather bondage straps, fully studded (much like Bo Diddley's outfit on the cover of The Black Gladiator) with a golden mirrored codpiece and a matching golden cape made of shiny satin. Sultan dressed in a black jumpsuit with nipple holes cut out and what looked to be a golden oversize diaper covering his loins. Both wore leather masks and short blonde wigs that, coupled with their round, proud bellies, magnified the disturbing effect of their costumes.
The two began the set with "Chuck a Muck," a tribute to Chuck Berry composed of licks lovingly lifted from a few of Berry's songs, while Khan duck-walked across the stage, obviously delighting in the meta experience. The tribute morphed into "Fish Fight," a punk anthem from the group's first album. There would few reprieves for the rest of the relentless set.
The amount of noise this duo is able to make is impressive. Khan played a Guild Starfire copy (the same guitar Muddy Waters played on his eclectic classic Electric Mud) while Sultan performed on a drum kit composed of a snare drum set on its side -- played by a pedal on his right foot -- with a tambourine wedged underneath, a bass drum on his left foot and a Supro guitar in his lap. They divided their vocals pretty evenly during the set. Khan fronted most of the strictly punk songs and Sultan sang most of the ballads; Khan provided bass lines through doo-wop vocal harmonies. Sultan backed Khan-heavy songs with his uncanny ability to mimic the sound of an electric jug as played by the Thirteenth Floor Elevators, using only his mouth.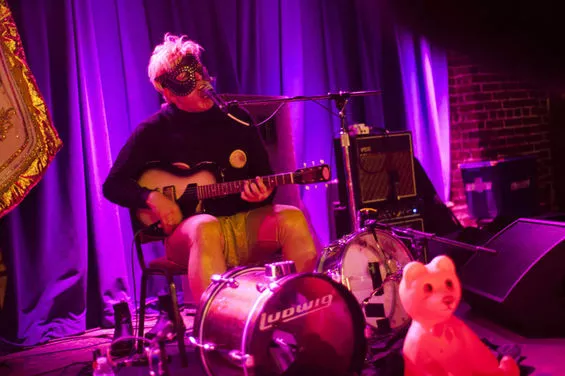 Kelly Glueck
Mark Sultan, a.k.a. BBQ, a one-man band.
Sultan was trapped by his one-man-band setup, unable to dance, but he made up for it with Sid Vicious snarls and frantic, Exorcist-style head-twisting. Khan, on the other hand, was free to move -- and move he did, shaking his barely dressed booty at a crowd that squealed in delight, propping up his legs suggestively on the monitors, shimmying like a snake and occasionally vanishing into the audience as though he was walking into a deep pool.
His antics, unfortunately, eventually led to bloodshed. Between "Hold Me Tight" (which began with the opening licks of Hasil Adkins' "She Said") and "Treat Me Like a Dog," Khan accidentally kicked a worshiper in the face with his shiny black boots, and blood streamed between his eyes.
"Now you have to kiss it," quipped Sultan.
Khan, although clearly upset for hurting a fan, could not resist a joke: "These boots were made for walkin'," he replied. Both of them stopped their set for a moment to apologize and give the injured fellow a three-foot plastic bear that was part of their stage set. The bleeding man seemed mollified, and proudly waved his bear in the air for the remainder of the show.
Continue to page two for more.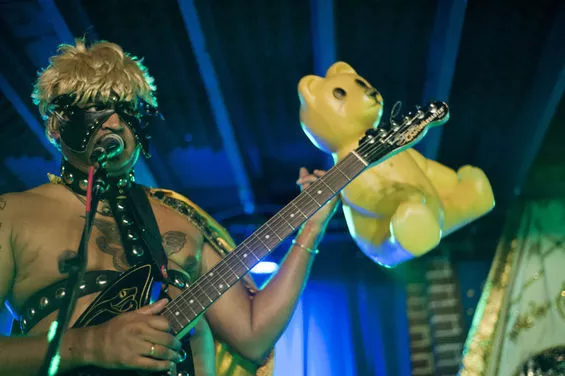 Kelly Glueck
The bear in question, mid-toss.
Following this incident, they dove into a new one from Bad News Boys, "Illuminations," then played one of their most beloved numbers, "Waddlin' Around." The crowd went bananas. What once was a collective dance party transformed into an undulating, low-impact mosh pit that continued for the duration of the show.
Sultan, seemingly impressed by the audience's enthusiasm, remarked, "We've had a weird time [in St. Louis] before, but this has been fun," and began "Invisible Girl," another crowd-pleasing favorite from 2009's release of the same name. The crowd did seem different than those from past visits to St. Louis -- quicker to dance and more determined to have a good time, singing along to even the new songs.
The King Khan & BBQ Show mostly played songs from its first two albums, some of which seem to take on deeper meaning after the breakup and subsequent reunion. Khan prefaced "Take Me Back," a song about the various definitions of success, by saying he felt like he'd "climbed the mountain" by playing on the stage that Chuck Berry has played so many times before. The two then dove into "Alone Again," the first track from the new album, to an audience response unusual for bands who try newer material on their fans. The overarching feeling seemed to be hunger for whatever Khan and Sultan were dishing out. "Tastebuds" had the room singing along to some of the most intentionally offensive lyrics ever written: "Taste buds on your shit/so you can taste a nugget on my prick/Taste buds on my nuts/so I can taste up inside your butt."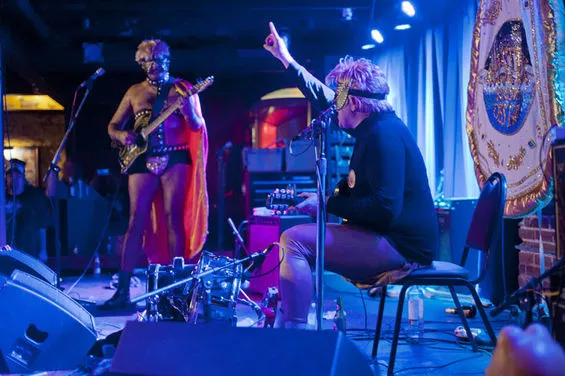 There were a few odd moments, such as Sultan preceding the sweetest, most heartbreaking song in the group's roster, "Love You So," by repeating," You gotta love life -- if you don't love your life...just...kill yourself," between swigs from a bottle of vodka. The mood was mostly euphoric for the crowd, though, and this weirdly negative sentiment was forgotten the second the unmistakable first riffs of the song rang out.
The set closed with the undeniably danceable "Shake Real Low" and a cover of the Circle Jerks' "Operation." Khan kissed the hands of the young ladies and men who cheered him on his way to the green room. Both men returned about thirty seconds later to play a slowed-down version of their devastating "Why Don't You Lie," before abruptly ending and walking offstage.
After the show, Khan chatted with the fellow whose face he smashed with his boot -- each seemed thrilled to be talking with the other. The man clung happily to his new plastic bear, shaking hands with the sorcerer of punk and soul, who was still wearing his bondage straps, leather mask and satin cape, looking as natural as a duck in water.
RFT MUSIC'S GREATEST HITS
The 15 Most Ridiculous Band Promo Photos Ever "Where Did My Dick Go?" The Gathering of the Juggalos' Best Overheard Quotations I Pissed Off Megadeth This Week, My (Former) Favorite Band The Top Ten Ways to Piss Off Your Bartender at a Music Venue
---