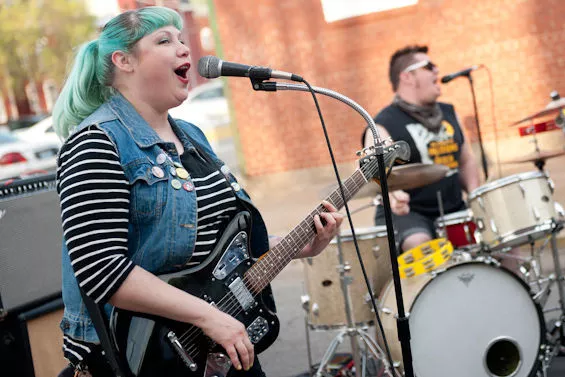 Photo by Jon Gitchoff
Bruiser Queen heads off the SXSTL Heavy Hitter Showcase this Friday at Blueberry Hill.
Has spring sprung? SXSW certainly has, and St. Louis gets the run-off from one of America's biggest festivals all weekend long. Start off with our city's own response to Austin's overblown event with the SXSTL Heavy Hitter Showcase featuring Bruiser Queen, Blackwater '64, Pretty Little Liars and the Maness Brothers. Continue to quench that rock thirst on Saturday night with the legendary King Khan & BBQ Show and Bug Chaser at Blueberry Hill. EDM fans should check out the Reboot event at Utopia while "hippy-hop" artist Mod Sun performs at the Firebird. If you're bored, you're boring.
FRIDAY, MARCH 13
Daniel Romano & The Trilliums w/ Jack Grelle, Ryan Koenig Friday, March 13 The Stage at KDHX 7:30 p.m. | $15 By Roy Kasten The peculiar elegance of Romano's sound -- an uncanny fusion of classic '50s honky tonk, late '60s Nashville studio lushness and Morricone soundtrack trips -- matches the peculiar sincerity of songs that are somehow decadent, bizarre, honest and heartbreaking all at once. (RK)
Reboot w/ DJ Hypergirl, Katscan, The Lighter Thief, N3ttles, Breaks Nation, DJ Boogie J, Brian Lathan, Cerebellum, Alex Jensen Friday, March 13 Utopia Studios 9 p.m. | $5/$10 Gogo dancing, dubstep and all manner of EDM comes together for a bass-driven time in the seedy underground of St. Louis music. The multi-level event features scene vets like DJ Hypergirl and a healthy helping of young players. (JH)
SXSTL Heavy Hitter Showcase w/ Bruiser Queen, Blackwater '64, Pretty Little Liars, The Maness Brothers Friday, March 13 Blueberry Hill 9 p.m. | $8 Truly, this show features four of St. Louis' best bands working today for a mere $8. Make sure to high-five the Maness Brothers for making it home safe from that spring tour! (DH)
Torche w/ Nothing and Wrong Friday, March 13 The Firebird 8 p.m. | $15 From Torche Gets Back Into Its Heavy Groove With Restarter: For just about a decade now, Torche has more or less locked down the dubious title of World's Heaviest Band. Hard to blame it, really. Torche is its own trip. Though thoroughly crushing, the band's music defiantly retains a sunnier disposition and a lot more heart than that some of its hairier contemporaries. (NS)
Working Class Dogs: A Tribute to Rick Springfield w/ Yankee Racers Friday, March 13 Off Broadway 9 p.m. | $10 From Working Class Dogs Pays Sincere, Irony-Free Homage to Rick Springfield: For Whoa Thunder singer/Middle Class Fashion bassist Brian McClelland, the admission of a fondness for Rick Springfield's music is made with tongue found nowhere in the vicinity of cheek. (JE)
SATURDAY, MARCH 14
The King Khan & BBQ Show w/ Bug Chaser Saturday, March 14 Blueberry Hill 9 p.m. | $15 The King Khan & BBQ Show brings garage rock baked in noisy squalor with a side of doo-wop. The duo's latest album Bad News Boys comes as a sigh of relief after the band scared the world with a possible split. Read more about them and openers Bug Chaser in our weekly comic. (JH)
Mod Sun Saturday, March 14 The Firebird 6:30 p.m. | $17-$50 From Mod Sun: "Hip-Hop Is Ready for Positivity Again": Minnesota-born rapper Mod Sun has released a ton of mixtapes and EPs since 2009, under the self-described genre "hippy-hop." Now he's on tour in support of his just-released debut album, Look Up, on Rostrum Records. (JS)
Red Elvises Saturday, March 14 Broadway Oyster Bar 10 p.m. | $10 The shtick behind the Red Elvises is as simple as it is endearing: Take a couple of California-by-way-of-Siberia ex-pats and have them play a delightfully skewed, Eastern Bloc version of American surf rock. (CS)
SUNDAY, MARCH 15
Coliseum w/ Maximum Effort, Nos Bos Sunday, March 15 Melt 9 p.m. | $7 Uhhhhh, Coliseum, at MELT. This is one of those shows that counts as a "no-brainer." But don't just take my word for it: http://coliseum.bandcamp.com/ (DH)
HEARding Cats Collective: INTO THE DARK TOO w/ Asako Kuboki, Timothy Myers, Rich O'Donnell Sunday, March 15 Regional Arts Commission 7 p.m. | free Legendary percussionist Rich O'Donnell heads an evening of sensory depravation. Yes, the lights will be turned off for a full set of improvised experimental music. Empty your bladder beforehand. Don't be that guy (or girl). (JH)
Note: Though we wish we could, we can't feature every great show happening in town in just one post. Peruse the St. Louis concert calendar for more ideas, and let everyone know what else you're looking forward to seeing this weekend in the comments below. To be considered for coverage in RFT Music, submit show info online or drop us a line anytime.
RFT MUSIC'S GREATEST HITS
Remembering STLPunk.com -- How to View the Site Today and Find Your Old Profile Page "Where Did My Dick Go?" The Gathering of the Juggalos' Best Overheard Quotations The Ten Best Dive Bars in St. Louis The 15 Most Ridiculous Band Promo Photos Ever
---