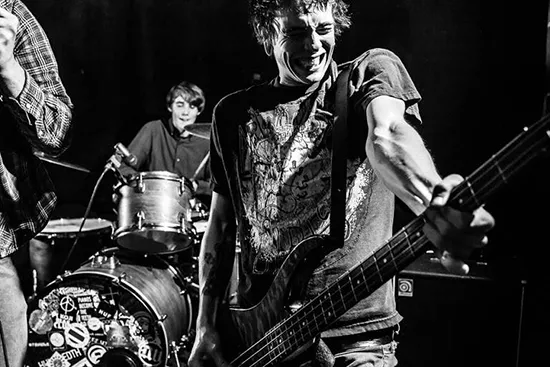 LifeWithout releases its new CD this Saturday at the Owl's Club in Alton, Illinois.
While most punk bands have hung up their collective axe, never to grind on current events or politics again, LifeWithout raises a defiant fist with deeply personal songs. The Alton-based band could be described as "emo," but the guitar comes addled with the sort of fuzz and delay one might expect to hear in spaced-out shoegaze. It's in that noisy approach that LifeWithout shines, especially on its debut album Uncertain Circles, now available in digital and CD formats.
See also: Fill In The Blank: Interviews With Local Musicians
"I try to make something that is personal to me, but relatable to you," says vocalist Randy Kinnikin, who starts off the new record speaking candidly on self doubt. "My vocals come directly from my roots being a pissed-off emo kid. I try to let the dynamic flow with the song and hit the right spots at the most aesthetically pleasing time," he adds.
LifeWithout formed early last year and recorded Uncertain Circles only a few months later. The band opted to take a raw approach, eschewing any heavy-handed studio magic like additional instruments or extra overdubs. Tracked at Bird Cloud Recordings last summer, the album feels more like a proper live show, minus the rough edges.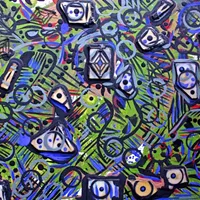 "The title was this theme of whether or not anyone would care about our art and where it would fit in. We tried to express themes of frustration, personal growth, progression, self-doubt and general lack of content. These are the things we feel and tried to communicate, although, we strive to leave it open-ended," Kinnikin says.
Although the album was made available for digital download back in January, LifeWithout is celebrating the release of a proper CD this Saturday at the Owl's Club in Alton, Illinois. The line-up reads like a primer on local post-hardcore and emo: Lobby Boxer, Einsam, Mariner, Jr. Clooney, Krelboyne and Loses The Mighty all join LifeWithout for a mini-fest of inventive music with an emphasis on energy and intensity.
Read on for more with LifeWithout as we ask the band to "fill in the blank."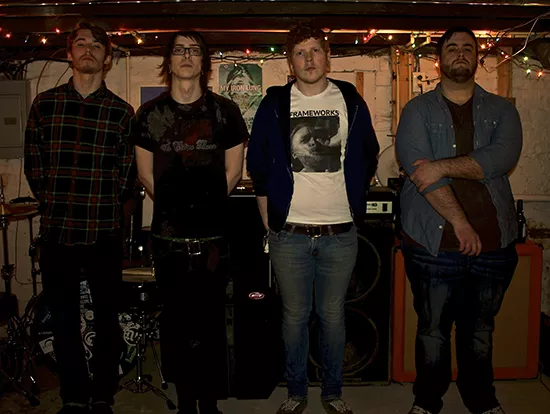 LifeWithout in its native habitat: the basement.
Brett Kutter (guitar)
I make music because... I love music, but it's also a great outlet that allows me to hang out with my friends and make loud noises.
The St. Louis music scene could use... More. Active. Show. Goers.
Randy Kinnikin (vocals)
My favorite aspect of being in a band is... the fact that you can take four totally different minds and bring them together to make this crazy sound that is unique to you and you alone. And then you can go out and go play on a stage and you get to witness people enjoying something that you created first hand -- I think that's my favorite aspect of it.
Rob Kinnikin (bass)
I've learned the most from... failure. Having to restart over and over helps you figure out what works and what doesn't. It helps you find what feels right in what you're doing. If there isn't heart behind what you're doing, then why do it? It sounds cliche because it's been said a million times, but it doesn't make it any less true.
Ian Whitmore (drums)
I'm most productive when... I catch a breath of inspiration. It can come at any moment and I have developed this process of picking up on inspiration, translating it and putting it down onto the drums. There's a process to it all that is very gratifying.
From the whole band:
The best post-show food in St. Louis is... the best post-show meal has religiously been an 18 pack of Rolling Rock or two. Hangs after shows are a must for us -- we're generally too full from beer to eat by the time the show ends even.
Listen to Uncertain Circles in full:
LifeWithout Album Release Show w/ Lobby Boxer, Einsam, Mariner, Jr. Clooney, Krelboyne, Loses The Mighty Saturday, March 14 The Owl's Club 227 Blair Avenue Alton, IL 62002 6:30 p.m. | $6 (or $10 with CD)
RFT MUSIC'S GREATEST HITS
The 15 Most Ridiculous Band Promo Photos Ever "Where Did My Dick Go?" The Gathering of the Juggalos' Best Overheard Quotations I Pissed Off Megadeth This Week, My (Former) Favorite Band The Top Ten Ways to Piss Off Your Bartender at a Music Venue
---