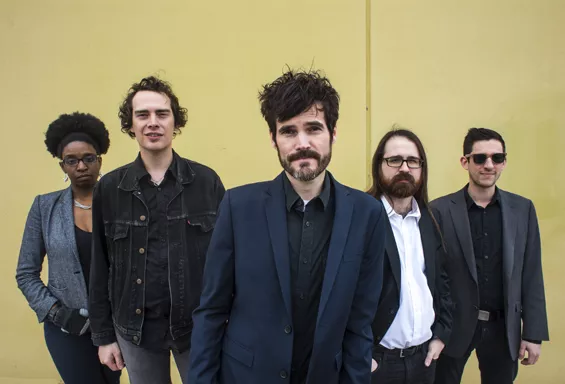 Jarred Gastreich
Working Class Dogs: A (100 percent sincere) Tribute to Rick Springfield
By Jeremy Essig
In an era where every piece of nostalgia seems to require a heavy wash of irony, admitting a connection to Rick Springfield sounds like a scene from a Seth Rogen movie -- a moment wherein the character reveals a softness while allowing the audience a feeling of hipper-than-thou smugness, all while providing the protagonist "nerd points," requisite currency in this period of inverse cool.
For Whoa Thunder singer/Middle Class Fashion bassist Brian McClelland, however, the admission is made with tongue found nowhere in the vicinity of cheek. After being introduced to Springfield's 1981 hit "Jessie's Girl," McClelland found a deeper kinship with the Aussie pop-star-turned-soap-heartthrob's "April 24, 1981." The song detailed Springfield's initial feelings about losing his father -- a traumatic set of emotions the young McClelland had also faced.
"I lost my dad at three and heard the song at ten," McClelland says. "It has a sweet and heartbreaking sentiment that impacted me in a very personal way."
Written the day of Springfield's father's death, according to his autobiography, the song "April 24, 1981" is notable for its brevity. Clocking in at only one minute and thirty-three seconds -- "all I could manage to get out," Springfield would later write in his book -- the song is a brief declaration of joy that his father now knows the "great unknown" as he nears heaven, accompanied by a synth figure and arppegiated guitar.
McClelland describes the concise song as possessing a "simple grace" that may not have been apparent had it been drawn out into a longer piece. This grace found and connected with the young McClelland, whose father was a St. Louis County Police detective killed in the line of duty by a drunk driver while attempting to assist a disabled motorist.
Now, decades after first being introduced to Springfield, McClelland recruited Yankee Racers' Curtis Brewer, Andy Hainz and Jerry Mazzuca, as well as Thor Axe's Kyle Work and Syna So Pro's Syrhea Conaway to pay tribute to the man. Dubbing the band "Working Class Dogs," after Springfield's breakthrough album, the group will make its debut Friday, March 13, at Off Broadway.
Fronting a Springfield tribute band has been a "lifelong dream," McClelland says. As a nine-year-old McClelland would perform "Jessie's Girl" into a mirror while strumming a tennis racket, a memory he now cites as his inspiration for becoming a musician. (Also on the setlist of his tennis-racket mirror concert series: ELO's "All Over the World" and the Knack's "My Sharona.")
Around this time, McClelland says he also organized a "neighborhood kids full tennis-racket band" homage to Neil Diamond's "America" -- perhaps an early indication of his love for tribute bands.
As McClelland moved from his tennis racket guitar to the actual instrument, though, admitting an affinity for Springfield had fallen out of vogue.
"By the time I was learning guitar stuff, peer pressure had already moved my Rick Springfield jones firmly to the closet," McClelland says. "I never stopped listening, though."
One reason for Springfield's fall from popular favor to ironic punch line in the mid-'80s may have been his acting turn as Dr. Noah Drake on General Hospital. According to his autobiography, the singer admits that at the time his record producer feared the soap opera would detract from his work as a musician. But nearing thirty and singing cover songs to tiny bar crowds for rent money, Springfield was taking every opportunity that came his way.
"People, especially dudes, definitely dismissed him for the soap-actor thing," McClelland says of Springfield's career choices. "I mean, I'm aware that his music in this period was aimed at teenage girls -- I get that. And a certain more serious-minded audience will never get behind straight-up pop like that."
Continue to page two for more.
But McClelland views the songs, especially those from '81 and '82, as "super tight pop gems," favorably comparing Springfield's work during this period to the Knack's Get the Knack.
After admitting his love for Springfield records -- and buoyed by confidence from fronting his own band again -- McClelland decided to form his second tribute band, this time with actual musicians.
Enter Curtis Brewer.
Guitarist for the now-defunct Kentucky Knife Fight, Brewer remembers meeting Brian McClelland a few years back during Record Store Day at Apop Records. Brewer recognized McClelland and the two began talking. The two would run into each other occasionally, but they still hadn't collaborated.
McClelland says he had been looking for a project for them, so when the idea of Working Class Dogs began formulating last fall, he contacted Brewer to see if he'd be interested. "He's incredibly talented," McClelland says of Brewer. "I knew of his aptitude for learning new stuff quickly, and that he could easily decipher some of the more subtle guitar stuff that was above my pay grade as a guitarist."
The only problem: Brewer wasn't familiar with Springfield's catalog.
"It's a cultural phenomenon I just missed," Brewer says. "Brian's a little older; it meant more to his generation."
As he dug his teeth into Springfield's albums, Brewer says, he found heartfelt pop songs with a voice.
"It's catchy," Brewer continues. "[Springfield] is to Brian's generation as Weezer is to us." The two began working out some of the songs as a duo before bringing in bassist Hainz. Then they brought in drummer Mazzuca and keyboard player Work and singer Conaway.
"To hear the five of us has been refreshing, getting us excited," Brewer says. "Brian's really nailing the vocals. When it's something he's loved for so long, he really puts his heart and technical ability into it."
McClelland's love is infectious. "The opening song is going to be so freaking cool," Brewer says, declining to name it. "I can't believe I hadn't heard that Rick Springfield song. It's really good."
In the same way hearing Working Class Dogs won over Brewer, McClelland hopes the group can do the same for those who may attend the show for a laugh.
"There's an '80s kitsch element to most major '80s pop music," McClelland acknowledges, but "we're definitely not going the '80s cover band wearing funny wigs and sunglasses' route. These songs are so great, and this band behind me is so topnotch, that hopefully you'll find it transcends kitsch."
Working Class Dogs: A Tribute to Rick Springfield 9 p.m. Friday, March 13. Off Broadway, 3509 Lemp Avenue. $10. 314-773-3363.
RFT MUSIC'S GREATEST HITS
The 15 Most Ridiculous Band Promo Photos Ever "Where Did My Dick Go?" The Gathering of the Juggalos' Best Overheard Quotations I Pissed Off Megadeth This Week, My (Former) Favorite Band The Top Ten Ways to Piss Off Your Bartender at a Music Venue
---