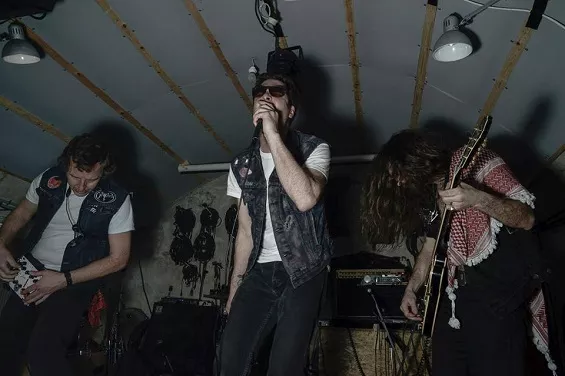 Press photo via the band.
Wolf Eyes brings its "trip metal" to the Luminary with Yowie and Brain Transplant on March 16.
For years now, the Michigan trio Wolf Eyes has been leading the American underground with its powerful brand of aktionist noise music. Conceived in 1996 by founding member Nate Young, the band has churned out more than 200 recordings, toured relentlessly and released two albums with the influential Sub Pop imprint. Characterized by its use of lurching synthesizers, fried electronics and minimalist drums, the noise unit's industrial dirge has burned the minds of punks, stoners and freaks alike.
In 2013, Young and fellow dementoid John Olson saw a changing of the guard as guitarist Mike Connelly (of Hair Police) traded places with long-time friend, "Crazy" Jim Baljo. It was through Baljo's influence, combined with Young and Olson's bizarre blues project, Stare Case, that "trip metal" was born.
Coined by Olson, the band's new sound reflects a focus on structure and music theory while simultaneously referencing every iteration of the band in its eighteen-year history. Evidence of this haunting precision can be found on the group's last full-length, 2013's No Answer: Lower Floors, an anxiety-inducing examination of tension and restraint.
---

The Best St. Louis Noise/Experimental Concerts: March 2015
Every month, we supply a short list of sure bets in St. Louis, ranging from needlessly complex to minimalist drone.
Read more
---
We caught up with Olson to talk about St. Louis hardcore, the importance of skating and what it's like to be a trip-metal father.
Josh Levi: The Wolf Boys are fresh off an overseas tour which included places like Israel and Tel Aviv. What was it like playing those spots halfway across the Earth?
John Olson: Totally mind-blowing. No place like it on Earth, and the locals were the toughest, most soulful cats I've met. Being radical or being an atheist means your life is in danger. We played with Liter of Sperm, and they are phenomenal. Did three gigs and watched a dance troupe do a piece off of [Wolf Eyes' 2002 full-length album] Slicer. The style is you eat one big hummus meal at 1 p.m. and that's it for the day. Super filling -- but Jerusalem was just insane. Whole country is crackling with tense energy. Even tough for the skaters to do their thing.
What role does skating play in Wolf Eyes? What skating advice do you have for Lil Wayne?
Huge role. It's all in our blood, and the individual style and history is firmly rooted from the skate world. I have a crew here in Lansing, and the squad keeps growing. Michigan has an amazing skate scene with tons of wild nut jobs. Lil Wayne: Learn the basics. Pumping on tranny -- whoops, "ramps" -- grinds, flow, speed with ease. Last footie I've seen of him doing a frontside 180 down a stair set was solid as fuck. Hang out and watch more, like chess. Have fun.
You have what appears to be an amazing daughter. How does being a parent affect Wolf Eyes? How does she inspire you?
Ah, man, it's the best. Being a parent gets you out of your head, and it's amazing to care for a little monkey and watch her grow. It's about as positive of an experience as you can get, and being a rocker, I'm lucky to get all the time with her. Her favorite music is death metal and reggae...and, er, Frozen. Kids rule, totally hardcore.
How are you able to juggle being a father, playing in the band, skating, writing, making art and cultivating trip metal?
I'm a fire-blooded Aries so energy is my M.O. Every day is amazing, hard to sleep at night. The day's possibilities are just too amazing.
Continue to page two for more.
In an interview, you once said that nothing compares to playing at a crazy house/in a basement. How do you translate that feeling and energy on a larger scale/stage?
Ah, well, being a musician means you gotta adapt to all environments and still entertain. So, yes, basements are killer, but other stages are still great. There you can really concentrate on the details and sink into the tones buzzing around. All are fun, and it's just killer to get a chance to perform anywhere. But being on ground zero eye line with the audience is fantastic. Like all the amazing Apop gigs.
---

Apop Records: An Oral History From the Local Music Community
Patrons of Apop Records found a wide range of intriguing things to peruse and amuse over the years, from half-naked...
Read more
---
You've been in Michigan seemingly forever. What makes the Midwest the best? How does it influence Wolf Eyes?
It's home. Each season is mind-wreckingly beautiful, and there is tons of space to be yourself. There are tons of skate parks nearby and you can disappear if that's what the cosmos require of you. Alice Cooper said, "In Detroit there is 100 people, but all of 'em are crazy active." So that rules.
I've heard you are a fan of St. Louis' Lumpy and the Dumpers. What is it about the resurgence of hardcore bands like the aforementioned that appeals to you?
Yeah, Lumpy and their label is totally phenom -- amazing snot-slime core. Even down to Ruz and the bizarre Cal & the Calories, Sweet Tooth, Black Panties -- tons of killer STL bands. Very fertile ground, it seems like. It's the constant turnover and constant flux of ideas and styles of the hardcore underground that rules. A band will put out a demo and disappear -- always changing, but subtle. I can totally get with that.
---

Lumpy & the Dumpers' New Music Video for "Sex Pit" is the Most Awesome Thing
St. Louis' premier purveyors of slime-covered, dirty punk rock just released a music video, and boy is it a doozy.
Read more
---
After eighteen years as a band, what does it mean to be in Wolf Eyes in 2015? What does "trip metal" mean in 2015?
Trip metal is being yourself and living fear-free. But by all means, start your own musical-social deviant group: It will only broaden the world in the best way.
Wolf Eyes 8 p.m. Monday, March 16. The Luminary 2701 Cherokee Street. $10 to $12. 314-807-5984.
RFT MUSIC'S GREATEST HITS
The 15 Most Ridiculous Band Promo Photos Ever "Where Did My Dick Go?" The Gathering of the Juggalos' Best Overheard Quotations I Pissed Off Megadeth This Week, My (Former) Favorite Band The Top Ten Ways to Piss Off Your Bartender at a Music Venue
---