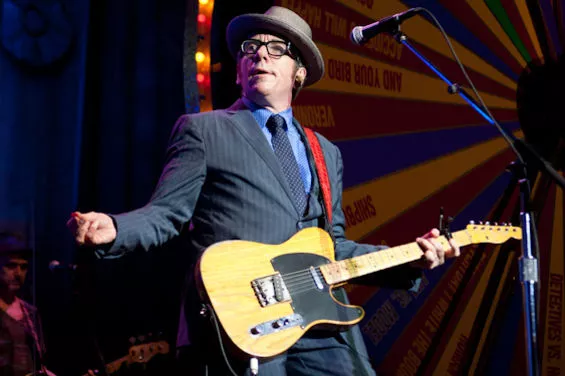 Photo by Jon Gitchoff
Elvis Costello returns to St. Louis tonight at the Pageant. View more photos from his 2011 concert in RFT Slideshows.
While St. Louis might be fly-over country for some, passing through Missouri is a must for many acts coming to and from SXSW in Austin, Texas. And where else are they going to go? Kansas City? Sure, heavy hitters like Elvis Costello and Marshall Crenshaw are coming to town, but what about the underdogs? Bouncy rap duo OCD: Moosh & Twist hit Fubar on Tuesday and somber indie rockers Forrister play the Demo on Wednesday. Fans of rock 'n roll have to make a hard choice between the King Khan & BBQ Show and the Red Elvises on Saturday night, but that's not a bad problem to have. Staying in? Not an option.
MONDAY, MARCH 9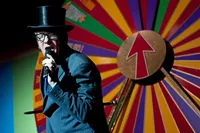 Elvis Costello w/ Larkin Poe Monday, March 9 The Pageant 8 p.m. | $65-$75 By Allison Babka Haven't bought tickets to Elvis Costello's show yet? Sorry, but you're definitely a man out of time, as the bloke himself might sing. A sold-out concert from Costello shouldn't come as a surprise, though, considering that his legions of St. Louis die-hards crowd venues year after year for a glimpse of the "Pump It Up" singer. And Monday's show promises to be one for the books, as Costello kicked off his "Detour" tour just a few days ago and is bringing a solo acoustic gig to the Gateway City. Treasure this one, St. Louis. If you miss Costello this time, you'll get another chance in July when he and the Imposters open for Steely Dan at Hollywood Casino Amphitheatre. No, we are not making this up.
TUESDAY, MARCH 10
OCD: Moosh & Twist w/ Ground Up, Nate Vibez, Walshy, Sean Young Tuesday, March 10 Fubar 7 p.m. | $15-$17 By Joseph Hess Legend has it DeQuincy "Moosh" Coleman McRae and Oliver "Twist" Feighan started off in junior high, recording songs after hours in the school's basement. It's been less than 5 years since the pair's first mixtape Up Before The World and, in that short time, Moosh & Twist have amassed millions of views on YouTube -- not to mention tens of thousands of followers through Facebook. At 21 years old, they're still just out of high school but already hit hard with a seasoned take on the poppy club sound. Last year's Living Out Loud quickly shot to the top five on iTunes' hip-hop charts and for good reason -- every piece fits together with tight production and the all-important catchy hook.
WEDNESDAY, MARCH 11
Forrister w/ Bike Path, Inferni, Down Swinging Wednesday, March 11 The Demo 7 p.m. | $8 By Joseph Hess Forrister twists the indie rock idiom by taking a sparse approach. Sweet melodies ebb and flow under airy percussion while vocalist Julien Baker's soft, deliberate howls drive the songs through somber storytelling. The band knows precisely when to fall back and take its time building ambient layers, but the pay off does eventually come -- and never too soon. The Memphis quartet comes off shoegaze-y but never too noisy, a credit to its careful restraint and attention to details. Fans of early emo, post-rock and alternative take notice -- Forrister squeezes the blood from every genre.
THURSDAY, MARCH 12
Rusted Root Thursday, March 12 Old Rock House 8 p.m. | $20-$25 By Michael Alan Goldberg From the RFT Music archives: It's been two lengthy, sob-filled years since Phish swam into the Great Beyond, and no single jam band has since emerged to fill their large, stinky Birkenstocks. Certainly not Rusted Root, the Pittsburgh sextet once favored to succeed the Grateful Dead following Jerry Garcia's death. Of course, the 'Root have never seemed interested in taking on that role, because they've never liked being called a "jam band" -- even if their mystical, meandering blues-folk-rock, which is pushed onward by West Asian, African and South American rhythms, surely fits that tag. In recent years, they haven't seemed all that interested in being a band, either, having cut back on touring and recording while members (particularly frontman Michael Glabicki and singers Liz Berlin and Jenn Wertz) pursued solo careers. But they're back on the road this summer, so noodle-dancing stoners can both rejoice and lament what might have been.
Follow through for the best concerts in St. Louis this weekend. FRIDAY, MARCH 13
Photo courtesy of Normaltown Records
Daniel Romano & The Trilliums w/ Jack Grelle, Ryan Koenig Friday, March 13 The Stage at KDHX 7:30 p.m. | $15 By Roy Kasten Gram Parsons isn't just an influence for Daniel Romano. The former couldn't be closer to a reason for the latter's existence even if he'd sired Romano himself (on a bed formerly occupied by George and Tammy), and then lent the kid all his Nudie suits and cocaine just for good luck. The peculiar elegance of Romano's sound -- an uncanny fusion of classic '50s honky tonk, late '60s Nashville studio lushness and Morricone soundtrack trips -- matches the peculiar sincerity of songs that are somehow decadent, bizarre, honest and heartbreaking all at once. For Romano, traditionalism is the new anti-traditionalism. When Romano isn't writing doomed country love songs, he's designing artwork for the likes of City and Colour and Ben Kweller, and tooling leather guitar straps that any honky-tonker would be proud to wear.
Torche w/ Nothing and Wrong Friday, March 13 The Firebird 8 p.m. | $15 By Rick Giordano Legend has it that a young Steve Brooks once attended a Beach Boys concert where the band was accidentally shipped Black Sabbath's monstrous backline instead of its own, and thus the idea for Torche was born. OK, probably not, but with its signature "bomb string" the band is about as thunderous as it gets, swapping the usual heavy-metal doom and gloom for upbeat riffs and sugary melodies. January marked St. Louis native Andrew Elstner's fourth year with the Florida-based band, who released the catchy and crushing Restarter earlier this month through Relapse Records. Opening the show is Hell Night, featuring Andy White of Elstner's other band, Tilts, on guitar. Hearing anything but a ringing in your ears for the rest of the night may be a challenge.
SATURDAY, MARCH 14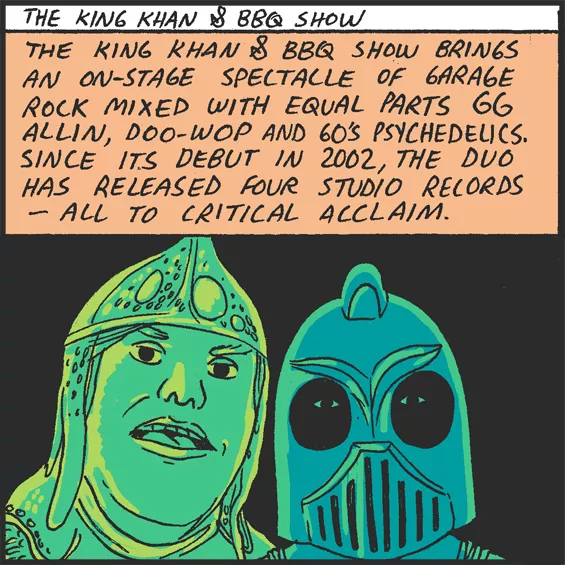 Art by Curtis Tinsley
Part 1 of a 3 panel comic featured in RFT Music.
The King Khan & BBQ Show w/ Bug Chaser Saturday, March 14 Blueberry Hill 9 p.m. | $15 By Jenn DeRose If a zombie James Brown and a mutant Sam Cooke started a garage band, it might sound a lot like the genre-twisting insanity that is the King Khan & BBQ Show. King Khan and Mark Sultan (a.k.a. "BBQ") are touring in promotion of Bad News Boys, their first full-length release in six years. Bad News Boys returns to the aesthetics of the duo's earliest albums: simple and satisfying combinations of jangly doo-wop, nasty punk and soulful deep cuts -- because even punks prefer slow-dancing to slam-dancing sometimes. The King Khan & BBQ show owes much of its style to the true king of rock & roll, Chuck Berry, so it's fitting that they're playing the Duck Room, Berry's stompin' grounds. King Berry would be well advised to see for himself just how fun and innovative his legacy remains.
Red Elvises Saturday, March 14 Broadway Oyster Bar 10 p.m. | $10 By Christian Schaeffer The shtick behind the Red Elvises is as simple as it is endearing: Take a couple of California-by-way-of-Siberia ex-pats and have them play a delightfully skewed, Eastern Bloc version of American surf rock. (The use of a huge, red balalaika bass helps sell the joke, too.) The hammy, deep-voiced Igor Yuzov has led the group for fifteen years, and in that time the Red Elvises has touched on early rockabilly, Russian folk music and yes, Elvis Presley-indebted rock & roll.
SUNDAY, MARCH 15
Marshall Crenshaw Sunday, March 15 Old Rock House 8:30 p.m. | $25-$28 By Roy Kasten From the RFT Music archives: Marshall Crenshaw is an American pop craftsman of the highest order. And though he's best known for early-'80s hits such as "Someday, Someway" and "Whenever You're On My Mind," singles which distilled the song-about-a-girl formula to a purely tuneful essence, he's continued to make exquisite and varied music for more than two decades.
Note: Though we wish we could, we can't feature every great show happening in town in just one post. Look for plenty more recommendations this Friday in our weekend shows post, peruse the St. Louis concert calendar for more ideas and let everyone know what else you're looking forward to seeing this week in the comments below. To be considered for coverage in RFT Music, submit show info online or drop us a line anytime.
RFT MUSIC'S GREATEST HITS
Remembering STLPunk.com -- How to View the Site Today and Find Your Old Profile Page "Where Did My Dick Go?" The Gathering of the Juggalos' Best Overheard Quotations The Ten Best Dive Bars in St. Louis The 15 Most Ridiculous Band Promo Photos Ever
---