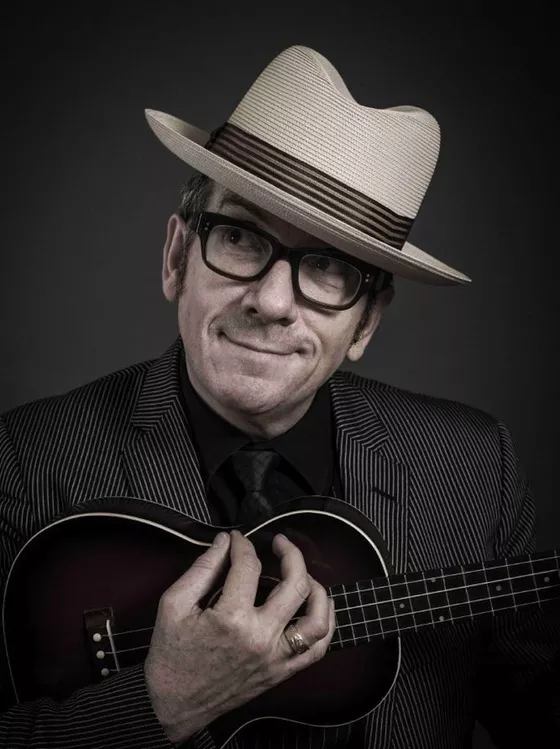 Andy Gotts via LA Weekly
Elvis Costello will perform at the Pageant Monday night.
Ever since Elvis Costello burst on to the scene with his 1977 album My Aim Is True, the British new-waver has dabbled in a wide range of activities that have nothing to do with strumming a guitar or shouting "Pump it Up" into a microphone.
There's something about this man, born Declan MacManus, that has allowed him to both excel for forty years at his not-so-easy day job as a rock star and also explore some pretty impressive side perks denied his peers. Would David Byrne get his own cable television talk show? Would Paul Weller be invited on to Sesame Street and Treme? Would Chrissie Hynde be granted a handful of honorary doctorates from respected academic institutions?
---

Elvis Costello & the Imposters at the Pageant, 7/1/2011: Review, Photos and Setlist
When Elvis Costello finally sells out, quits working as a tireless singer, songwriter and music scholar...
Read more
---
Costello probably received these honors because of his catchy, descriptive lyricism found in songs such as "Veronica," "Allison" and "Watching the Detectives." But we can't overlook those signature spectacles. Perhaps they are what propelled the man to the forefront of all things cool.
Here are some of the opportunities Elvis Costello has taken advantage of while dominating the music world and shunning contact lenses.
Talk Show Host The title of the twenty-episode talk show Costello hosted gives the most credence to the fact that it's all about the glasses, but Spectacle: Elvis Costello with... also had an experimental format unique to Costello's talents. He interviewed musical legends like Elton John, Lou Reed and Bruce Springsteen, and then interpreted his guest's songs on his own before inviting them to play along with him. Not only was it a musical treat, but many celebrities seemed more willing to open up with a fellow musical legend than a run-of-the-mill interviewer.
Actor Though many of his roles over the years have consisted of Elvis Costello acting the part he was born to play, himself, such as in Talladega Nights, Austin Powers 2 and 30 Rock, there have been times Costello has been asked to stretch. He played a butler in Alex Cox's weird opus Straight to Hell, he was the barman in the Spice Girls movie Spice World, and had a legitimate supporting role in the BBC TV series Scully.
Musical Collaborator to the Stars There seems to be no musical genre, nor any artist, that Costello is unwilling to jam along with. He of course has provided instrumentation and vocals for his wife's albums, jazz singer Diana Krall. He co-wrote a dozen songs with Paul McCartney including "Veronica," sang on albums with the Eurythmics and Til Tuesday, and recorded entire albums with artists as varied as the legendary pop composer Burt Bacharach to the embodiment of New Orleans in Allen Toussaint to, most recently, hip-hop dynamos the Roots.
Continue to page two for more.
Philanthropist Costello has served on the board of directors for the Jazz Foundation of America. After Hurricane Katrina he worked hard to raise money to save the homes of the musicians whose lives were ravaged by the calamity.
Academia Though universities bestow honorary degrees to celebrities as if they grew on trees, Costello has been enough of a student of music -- contributing liner notes to albums, writing pieces for magazines and giving insight in documentaries -- that the doctorates handed to him from New England Conservatory and the University of Liverpool won't look entirely ridiculous when framed on the wall of his study.
Marathon Man Through nearly four decades, Costello has recorded close to 700 songs and over 30 albums. Despite turning 60 this past year, he shows no signs of slowing down. At the opening night of this current Detour Tour, he performed a 25-song retrospective of his musical career, proving -- corrective lenses or not -- he's always had vision.
RFT MUSIC'S GREATEST HITS
The 15 Most Ridiculous Band Promo Photos Ever "Where Did My Dick Go?" The Gathering of the Juggalos' Best Overheard Quotations I Pissed Off Megadeth This Week, My (Former) Favorite Band The Top Ten Ways to Piss Off Your Bartender at a Music Venue
---