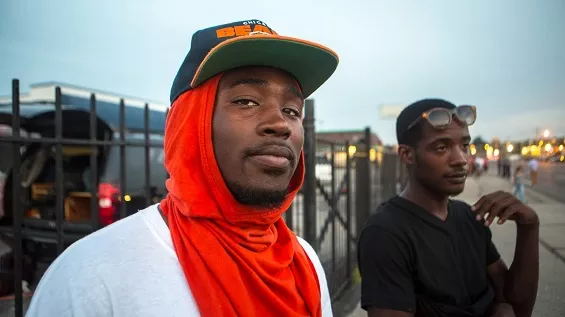 Screenshot from the video below.
Marcellus Buckley, a.k.a. the Ferguson Poet.
By Erin Williams
"I don't even really like doing interviews, to be honest, because I know there's a lot of other people out here who've got stories to tell. I'm already famous, so I really just like to hear other people talk and be the voice for them. And do this stuff for them, because I know how it feels to want to be known or to be out in the struggle in a way. I'm still in the struggle -- I still know that pain, and I still fight."
To talk to 22-year-old Marcellus Buckley, you'd think that he's being full of himself, or even arrogant in the way that he chooses to deal with his fame. Even his answer when asked about his part in Saturday's fundraiser for the Organization for Black Struggle leaves one dumbfounded.
"They just asked me to come recite poetry because they know who I am, and they know what I've been doing. I'm just here to support and just help out everybody. I'm the people's poet, and not just entitled to an organization. They try to raise money for more organizations to keep pushing and stuff like that. That's all I really know. I'm just the Ferguson Poet," he says.
A poet since the age of eight, Buckley has taken his gift for verse and spoken word and used it to bring attention to social-justice issues, beginning with the August murder of Michael Brown Jr. Now he's a full-time activist: He has met Harry Belafonte and Danny Glover, and accepted a proclamation from Oakland, California, for the work he and others have done to bring attention to 21st century injustice.
On March 7, Buckley is scheduled to participate in A Benefit for the Organization for Black Struggle at the Demo, along with local musicians including Mikey Wehling, the Wilderness and 18andCounting. That is, provided he gets back in time from Selma, Alabama, where he'll be observing the 50th anniversary of Bloody Sunday.
RFT Music talked with Buckley about his rise to activism fame, what inspires him and what we can do to make change happen.
Erin Williams: How did you become known as the "Ferguson Poet"?
The way I became the Ferguson Poet was that I rode my bike seven miles every day from Canfield Drive [where Brown was killed] to Spanish Lake, reciting my poetry, handing it out to people, not charging them anything and just reciting. Eventually people started putting me in front of the cameras, like, "They need to see this instead of all that looting." I started getting calls from people, Facebook adds and people messaging me in Africa, Hong Kong, France -- everywhere. [People] just started recognizing me and inboxing me and telling me I'm their hero.
How have you taken that fame to the next level?
I've connected with most of the families that have lost kids to police brutality -- from Eric Garner to Antonio Barton, Vonderrit Myers, Trayvon Martin, Oscar Grant, Kajieme Powell -- all these families, and I work with them now and I talk to them every day.
My [upcoming] book is called The United Voices of the People, With Words & Inspiration & Poetry: In Loving Memory of Michael Brown, but it's not just about Michael Brown -- it's about everybody.
Just talking to the parents -- that's a lot, because they lost [a child]. It's real hard -- it takes a toll on you. I feel like God put me in this place for a reason. The book is open to everybody around the world. I'm doing an [online campaign] so people can see it and put their voices in it from around the world and raise money for the book.
When the time comes for you to craft a poem, what inspires you?
When I first started off, I started off with my business called Heartfelt Industries. Heartfelt Industries just means that everything that I do, everything that I touch, is going to be coming from my heart. It's not going to be coming from just knowing the situation or thinking about the situation, it's going to be because I care and I love and it comes from the heart. Even though I don't have a great dad in my life, I can write about a great dad because I know what it is to have one, through my mom just being a father and a mother to me, and my little brothers and sisters and me being a dad down to my son. I can relate, even though I haven't had that situation for myself.
So you just put yourself in the place of other people.
Yep, that's what I do, exactly. [Before Michael Brown died] I was writing personal poetry for people, just walking around every day to the park, anywhere I went. I just traveled and I just talked to people and let them know I recite poetry, and they would just open their mind and just tell me about what they wanted me to write about, and I would just listen. And I just put myself in their shoes.
So what, in your opinion, is the next step in the movement?
If we really just stop talking and listen to each other, we'll figure out that we're really saying the same thing. We don't want crooked police officers, and we've gotta understand that black people -- we need police officers too. It's just that we're not gonna take this mistreatment.
Be consciously awake. We can't fight a battle if we don't know there is even a battle. And to actually act, and stop being con-sumers and start being co-sumers.
A Benefit for the Organization for Black Struggle featuring 18andCounting, the Wilderness, Marcellus Buckley, Mikey Wehling 7 p.m. Saturday, March 7. The Demo, 4191 Manchester Avenue. $10.
RFT MUSIC'S GREATEST HITS
The 15 Most Ridiculous Band Promo Photos Ever "Where Did My Dick Go?" The Gathering of the Juggalos' Best Overheard Quotations I Pissed Off Megadeth This Week, My (Former) Favorite Band The Top Ten Ways to Piss Off Your Bartender at a Music Venue
---