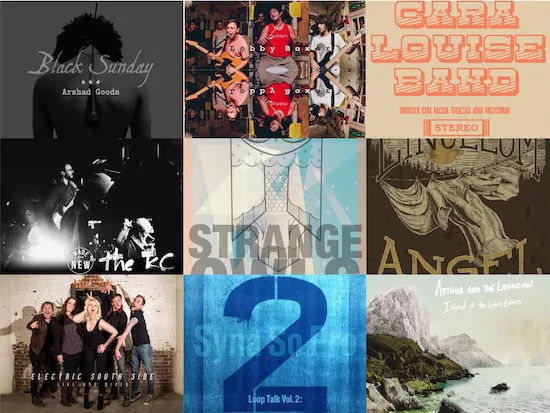 This is pretty self-explanatory, really -- here you will find every musical project released in the St. Louis area in February 2015 that we could get our hands on, listed in alphabetical order. There are links to information about the bands and places to buy these things as well as streaming previews wherever possible.
Note: We realize there are probably a few things we missed. If you know of an album, EP or compilation that came out last month, shoot us a message and we'll amend this post. Likewise, holler if you'd like to have your release included in the March installment or if you'd just like to put an upcoming local release on our radar. Simply e-mail us with "ATTN: St. Louis Release" in the subject line.
See also: Every St. Louis Release: January 2015
---
Anode Records - Integrated Circuits EP
---
Arshad Goods - Black Sunday
---
Arthur and the Librarian - Island of the Lotus Eaters
---
Bo Dean and T-Dubb-O - Bruce vs Bane
---
Bum Luck - Scraps
---
Cara Louise Band - Live at The Demo - St. Louis
---
The CharFlies - Linoleum Angel
---
Cracked Ceilings - Demo 2015
---
Continued on the next page.
---
Daren Gratton - Drinks Well With Others
---
Data '15 - February
---
DJ Crucial - Retro Active
---
Earl - Used
---
Electric South Side - Live and Mixed
---
Guy Morgan and the FT Crew - Not Drunk Enough
---
The Homewreckers - Heavenly EP
---
Hummel / Snarzyk - Hummel / Snarzyk
---
Continued on the next page.
---
Indyground - Eyedentity
---
Jeff York - Repugnant Praise Machine
---
Kate Arendes & Others - Music From Zeta Dell
---
Lobby Boxer - Lobby Session #1
---
Made New Music - The KC Sessions
---
Minus Me - Jupiter
---
Powerline Sneakers - Steak & Spinach
---
RA CHILD - Bleed Out, Light In
---
Continued on the next page.
---
Strange Owls - Strange Owls
---
Syna So Pro - Loop Talk Vol. 2: Two Riffs and Some Heartache
---
Waybridge Records - Still Not Broke: First Year Sampler
RFT MUSIC'S GREATEST HITS
The 15 Most Ridiculous Band Promo Photos Ever "Where Did My Dick Go?" The Gathering of the Juggalos' Best Overheard Quotations I Pissed Off Megadeth This Week, My (Former) Favorite Band The Top Ten Ways to Piss Off Your Bartender at a Music Venue
---