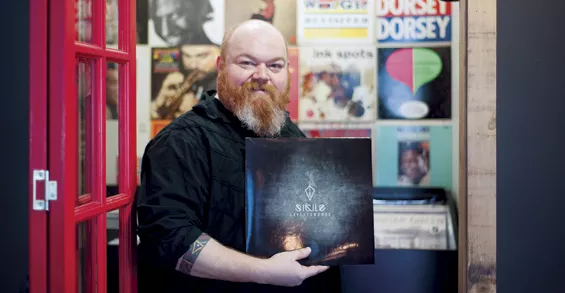 Kelly Glueck
Boxing Clever's Jim Harper, posing with Caveof swordS' latest, Sigils.
When CaveofswordS releases its sophomore album this Friday with a show at the Demo, the local four-piece will play its latest set of dark-tinted, beat-driven songs. The band is powered by the twin engines of married duo Sunyatta and Kevin McDermott -- she supplies trance-like lyrics and delivers them with a clarion call while he handles programming, spy-movie guitar lines and intricate production. While CaveofswordS has grown into a formidable live act in recent years with the addition of bassist Eric Armbruster and drummer Zagk Gibbons, the band has its roots in studio tinkering and its albums are where CaveofswordS makes its cleanest mark.
See also: Six St. Louis Musical Acts to Watch in 2015
At the merch table, fans can find Sigils on compact disc as well as on vinyl, with the album pressed on smoky translucent wax. To produce such a striking product on costly vinyl, the McDermotts didn't turn to Kickstarter or empty their bank account; they partnered with local creative agency Boxing Clever, an outfit whose day-to-day operation usually finds its employees creating advertising materials rather than stuffing records into mailer envelopes.
The album marks Boxing Clever Records' second full-length release by a local band -- garage-pop duo Bruiser Queen released Sweet Static late last year on Pepto-pink vinyl -- and the label has designs on releasing music by more artists at home and abroad.
But why would an advertising agency that can boast of a portfolio thick with creative work for liquor and beer companies dance on the notoriously razor-thin profit margins of releasing records?
Jim Harper, a partner and executive creative director at Boxing Clever, is the man behind this unlikely bridge between the advertising world and independent music. A look inside his tightly packed office in the agency's downtown loft space tells part of the story: One of his three computer screens is open to a cassette-tape ordering form. A Cocteau Twins LP sits on his office hi-fi, and a pair of My Bloody Valentine posters covers the wall above his desk. For the 47-year-old Harper, who spent much of his twenties playing drums in local bands like Snake Ranch and Pave the Rocket, music is a clear passion and wellspring for creativity.
A short, stout fellow of Tolkienesque proportions, with a clean pate and full, fiery orange beard with nips of gray at its borders, Harper talks of his company's new enterprise with record-geek glee. Speaking on CaveofswordS, he's positively gushy.
"I fell in love with them when I met them and heard it because the album, to me, is a long-player," says Harper. "Like, now that vinyl is back, everyone is talking about how albums take on a little bit more life. There's a thing about listening to albums again. When I heard theirs, I thought, 'Man, this is gonna sound so good on vinyl.'"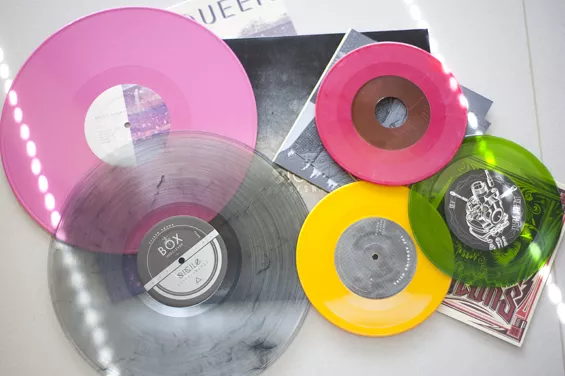 Kelly Glueck
A sample of the beautiful vinyl Boxing Clever has already released.
That love of vinyl, the long-forgotten and recently fetishized medium, is at the core of the label's identity. Boxing Clever branched into record sales a few years ago when the agency released a series of six split singles, including several St. Louis bands, on attractive seven-inch platters. Each single was pressed on eye-catching vinyl -- Coke-bottle green, oxblood red -- and was housed in hearty, screen-printed card stock.
Harper explains the series' genesis: "The seven-inches began as a design project. We're not gonna lie -- we're an ad agency. We did this fun thing and sent them to friends of ours from all over the world."
Boxing Clever initially conceived of the singles as an oversized business card: a fun, funky piece of branding that married design (the agency's product) with music (the agency's passion). But some of those seven-inches found their way onto the turntable of Mark Gardener, who was a founding member of the beloved shoegaze quartet Ride. After a few introductory emails (which Harper, an avowed Ride fanboy, describes with pants-crapping zeal), a deal was struck.
Mark Gardener's collaboration record with artists including Ulrich Schnauss, Cat Martino and Miranda Lee Richards will be released in April -- just in time for Ride's reunion tour, complete with marquee billing at the Coachella festival. If all goes as planned, Gardener's Boxing Clever-released LP will be on Ride's merch table during these globe-trotting gigs.
The label continues its outreach to bands across the nation -- look for an EP from Brooklyn's Vomitface in April -- but Boxing Clever looks to keep its roots in St. Louis' musical heritage.
"We're a St. Louis label, and we're gonna be very much attuned to what we find St. Louis would think is cool, what they want," says Harper. This year's release schedule includes a full-length album by Al Bundie's Army (which Harper describes as "a punk-rock Iron Maiden") and an archival release of Alton, Illinois-based trio Judge Nothing's cassette-era material on vinyl. Harper is also in discussions with '90s dream-pop band Three Merry Widows about issuing its long-shelved second album.
Continue to page two for more.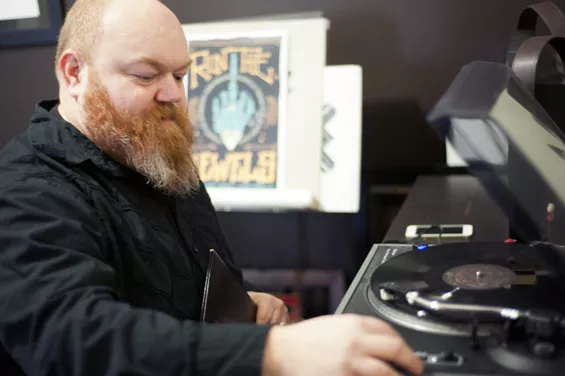 While Harper says there is no shortage of great local bands that he'd like to work with, he singled out Bruiser Queen and CaveofswordS due to their accessibility and their willingness to gig outside of St. Louis, drawing attention to the label and the local scene. He calls Bruiser Queen's Jason Potter and Morgan Nusbaum "tireless workers and hook monsters" and notes that the band routinely sells out of its merch on its many treks across the Midwest.
If the label's batting average has been good so far -- solid bands, fancy design, well-made products -- it doesn't completely answer the question of, "Why?" Why create this offshoot of an otherwise successful company to release records?
"You have to preface it by saying that anyone who gets in a label situation does it for the love of music, because that's why you do it," says Harper. "I think as a creative group we have to take the things we love, and we wanna do this because we love it. Music and literature are the pop-culture barometers of society. Those two things are things that matter and live on."
As for financing this enterprise, Harper isn't dipping into Boxing Clever's petty cash while his fellow partners aren't looking; most of the agency's 28 employees have some hand in helping run the label. And while Harper is aware of the business' bottom line, he looks at the label as a form of outreach that helps establish the agency's identity.
"I hate to sound business-y here, but the honest-to-God truth is that we took our marketing budget as an agency and put it into the label, and we use the label to market ourselves. Because it's our identity; it's become the cultural center of our agency," Harper says. "We've done this thing where we eliminated the need for cheesy marketing for our agency, and we've shown them who we are culturally by saying, 'Hey, here's a label; here's a record. We made this; here's why we made it. Let's talk.'"
Harper, who came of age as an art student at Southern Illinois University-Edwardsville and played DIY shows as a gigging drummer, is aware of the possible tension that comes in the marriage of commerce and art. He's quick to point to Fugazi and Dischord Records honcho Ian Mackaye, who was as good a businessman as he was a firebrand. He's also found that bands on the label aren't squeamish about the arrangement, as long as the label is making smart, artistically sound choices.
CaveofswordS' Kevin McDermott shared some initial fears about his band's partnership with Boxing Clever. The band's new LP Sigils is rich with occluded symbolism, both in Sunyatta McDermott's eliptical, science-fiction-tinted lyrics and in the runic album art.
"[Sigils] was initially harkening towards hidden logos from companies, and the fact is that we were gonna release this record that has a lot of hidden meanings with an advertising company," says Kevin. "The irony wasn't lost on me that we were coming from a punk background and hooking up with what could be the fucking devil -- they're a fucking ad firm. But they seemed like nice dudes. The people at Boxing Clever have their hearts in the right places -- Jim loves music; it's evident."
Kevin explains that his band, which still releases music as part of the FarFetched collective, considered continuing to self-fund releases, but sees a benefit in releasing physical records while being part of a larger roster. "I get that everything is digital and all that, but I'm old enough where I wanted to give a label a chance again -- a label of people I liked."
Harper echoes that sentiment. "I think the label is the community for the bands and the artists," he says. "It's obvious that people are looking out for each other and supporting each other, and that's the beauty of music. Music is about discovery, and it's a social thing, and if you put those things together, that's what a label feels like to me."
RFT MUSIC'S GREATEST HITS
The 15 Most Ridiculous Band Promo Photos Ever "Where Did My Dick Go?" The Gathering of the Juggalos' Best Overheard Quotations I Pissed Off Megadeth This Week, My (Former) Favorite Band The Top Ten Ways to Piss Off Your Bartender at a Music Venue