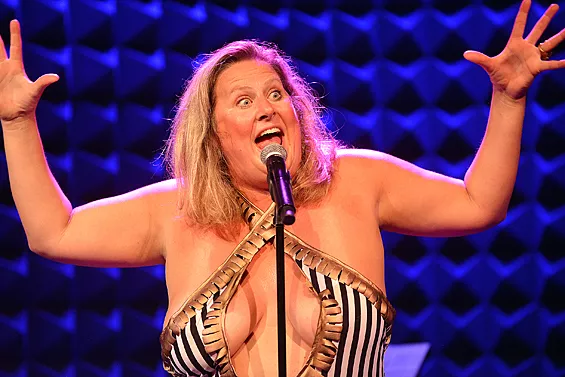 C.S. Muncy
Bridgett Everett will perform at the Firebird on March 12.
"Hit the track!" Bridget Everett growls as she lowers herself to the lip of the Joe's Pub stage in Manhattan, lifting the hem of her flowing silver gown to flash the sold-out crowd in time to the slinky R&B beat.
"Short one, long one, doesn't matter/Just suck on that bean, watch it get fatter/You've had a bad day, you're feeling like shit/You want to beat something up? Beat up this clit/Here's the combination to my lovely lady locker/She'll pop in your mouth like Orville Redenbacher."
Everett tosses aside the flopping pink dildo she'd earlier suctioned to the adjacent table and moves a couple's drinks to safety. Inching forward on thighs and buttocks, her calves encircle a man seated front and center.
"Eat it, eat it," she sings, repeating her song's titular chorus.
A backup singer presents a can of whipped cream. Everett grins down at the audience member she's targeted.
"Eat it, eat it," she coos. "Eat it, eat it."
Everett gives the can a vigorous shake, traces a frothy line up her black panties, and interlaces her fingers behind his head.
"Eat it, eat it."
His face descends and Everett's legs gyrate like Elvis in an earthquake. Glancing down again, she laughs.
"Cut the track!" she hollers. The band fades out behind her. "Stand up and show everybody what it's like to be a man!"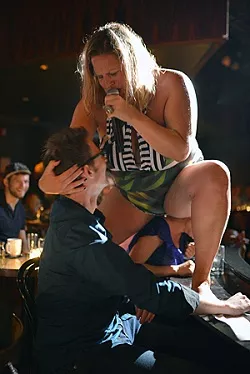 C.S. Muncy
"Eat it, eat it."
He rises and turns: nose, mouth and chin covered in white foam, arms raised triumphantly. The room loses its collective mind.
Over the past hour Everett has swigged from something stuffed into a brown paper bag, and has helped herself to several audience members' wine glasses. A grown man portraying one of Everett's (several) unwanted pregnancies has stumbled blindly out a side door in bald cap and adult diaper, harmonizing with Everett to the saccharine duet "Let Me Live" as he made his way onstage and into her arms. ("If they were all that sweet," she sighed, the "baby" perched atop her knee, "I woulda kept 'em.")
The audience's gasping roar — a vocal celebration of Everett's fearless pushing of performance boundaries — has been building steadily all night. And with the exaggerated oral-sex simulation, Everett grants the delirious crowd permission to bust an emotional nut.
"It's like you're on a great date and you just want to keep going!" Everett enthuses later of Joe's Pub, her home venue since 2008. "Go to the next bar and then go back to bed and have sex and then do it again and then make French toast and have a fucking espresso! That's how I feel when I'm performing there. It's like I'm fucking 200 people, and we're going to have coffee in the morning."
Everett's soaring, purring voice — which croons lube-soaked choruses like "Tell me, does this dick make my ass look big?" — is classically trained. Her commanding stage outfits, often flung loose to reveal racy undergarments, or, on occasion, nothing at all, will soon be featured in a photography book by clothing designer Todd Oldham. With performance artists Kenny Mellman and Neal Medlyn, she helped spearhead a four-year run of the monthly live pop-covers show Our Hit Parade at Joe's. She's shared the Carnegie Hall stage with Patti LuPone, while her band, the Tender Moments, includes one of the Beastie Boys, Adam "Ad-Rock" Horovitz.
In the world of standup comedy, Everett is best known for closing out the 2013 and 2014 season finales of Comedy Central's Inside Amy Schumer with full-contact performances of her songs "Titties" and "What I Gotta Do (To Get That Dick in My Mouth)?" In the acting realm, she's popped up as a wannabe personal assistant to Carrie Bradshaw in the first Sex and the City film; as a bus passenger heading to a conjugal visit on CBS sitcom 2 Broke Girls; and, most recently, in two Schumer sketches.
Yet music remains Everett's driving passion. "Even at my worst, I'm still gonna give 120 percent."
Since her 2007 debut live show, At Least It's Pink, Everett has infused a unique brand of just-go-for-it into the performance scene. Rather than relying on slick self-promotion, Everett focuses on delivering show after unforgettable show — one she's bringing to St. Louis for the first time on March 12 at the Firebird. Her repertoire will feature a mix of numbers from her show Rock Bottom, as well as her band, the Tender Moments. Given all the motorboating, table-dancing and pillar-humping, she's unquestionably a rampant violator of personal space. But Everett's physicality is only one element of the impression she leaves onstage. Presenting her life as an open book and her hang-ups as something best worked through in public, Everett is an artist who wiggles boldly into laps and minds alike.
Continue to the next page for more.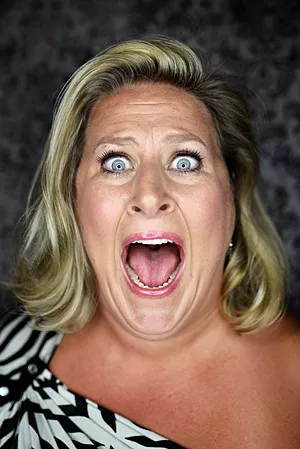 Fuck yeah, I want to do that!" Everett remembers answering. Walking home one autumn afternoon in 2012 from her coffee joint on the Upper West Side, she received a phone call from Joe's Pub director Shanta Thake offering her a National Endowment for the Arts grant.
Back home, Everett sat with the idea. She'd have to write a whole new show, and she didn't know if she had it in her. She started, she says, "to shit my pants."
"Sometimes I put a lot of pressure on myself, and then I get a writer's block," Everett acknowledges. "I think everybody does that, but I never would have written a new show if I didn't get a grant. I'm always someone who's like, 'Book it, and then do it!' "
Along with financial backing, the NEA grant provided Everett an opportunity to partner with collaborators of her choosing, and they turned out to be a couple of industry heavy hitters. Five-time Oscar nominee and Emmy-winning songwriter Marc Shaiman — who has worked on Saturday Night Live, numerous Academy Awards telecasts and 70-plus films — was enlisted, as was his partner, Scott Wittman, whose directorial credits extend to the 1970s and include live shows starring Bette Midler, Martin Short and Dame Edna. Together, Shaiman and Wittman won a Best Original Score Tony and Best Musical Show Grammy for Hairspray.
Rock Bottom is an entirely different beast than Everett's regular gig. The show arrives less than a year after the Tender Moments — bassist Horovitz, pianist Matt Ray, guitarist Mike Jackson and drummer Carmine Covelli — released its debut album, Pound It, on Everett's own Beavertails Music. (The label name nods to a line from "Titties": "You got them little nippy titties/Put 'em in the air/She got them tube-sock titties/She put 'em in the air/I got these beavertail titties/Put 'em in the air/Put 'em up, put 'em up, put 'em up!")
"She's a great singer, she writes really great songs, and she's an amazing performer," says Horovitz, who co-produced Pound It and contributed the Rock Bottom rhythm tracks alongside Ray's piano compositions. "[But she's] not necessarily a perfectionist. As long as the vocals are right and the feeling of the song is how she wanted to portray it, she's not necessarily detail-oriented. [It's] more broad strokes. In music and in her life."
Like At Least It's Pink, co-written by Mellman and former Sex and the City honcho Michael Patrick King, Rock Bottom's narrative is both autobiographical and inordinately graphic.
"If they can get over the shock of many of the elements of it, her compassion and her humanity really comes through," says Shaiman. "And that's what makes all the greats great."
Wittman lists Nathan Lane, Matthew Broderick and Sarah Jessica Parker, as well as multiple Grammy- and Tony winner LuPone, among those who have been taken with Everett's dynamic performances. "Everyone I've brought [to see Everett perform] has fallen in love with her," he enthuses.
LuPone was smitten from the first time she saw Everett perform. "When she came out in her underwear and everybody screamed, it wasn't in shock, but it was in great appreciation," LuPone says. "Then she opened her mouth, and I couldn't believe what came out of her throat. When I went backstage, I said, 'You've got a lot of guts and a great voice!' And that was the beginning of our friendship."
Her relationship with LuPone is hardly an exception, as Everett possesses a demonstrable knack for winning over fellow artists. She and Schumer became friends after sharing the same flight and hotel shuttle heading to the 2010 Just for Laughs festival in Montreal. The industry-heavy pressure cooker unnerved Everett to the point that she wanted to hide out in her hotel room.
"It's hard for me to hang out with comics sometimes, because everyone is so rapid-fire and everybody's so funny," she shrugs. "And I'm not really like that in person." (Wittman concurs, describing Everett as "a schoolteacher" offstage.)
But she and Schumer, then a rising standup, bonded over a shared love of Chardonnay. Everett appreciated the JFL vet serving as a wingman in unfamiliar territory; Schumer identified a kindred spirit.
Schumer soon asked Everett to open a run of shows at Atlanta's Punchline Comedy Club. "She's my favorite live performer, and I think that she changes people's lives when they see her perform," Schumer says. "So I want people to see her. If I have any say, she will be a household name."
Everett worried her cabaret sensibilities wouldn't translate to the world of mainstream comedy rooms. Schumer saw things differently: "I couldn't follow her [onstage]!" she says.
"No one can follow her! It was like, 'She'll make me raise my game. She'll make me work so hard to go on after her.'"
Schumer asked Everett to open roughly two dozen road dates throughout 2012 and 2013. They've also vacationed together, including a trip to New Orleans that Schumer calls "the fucking best time." Schumer now considers Everett one of her best friends.
Everett soon moved on to headlining comedy clubs herself. "It's really blown things wide open for me," Everett admits. "The cabaret world has limited options where you can go do your thing, so I was happy that she put me on that path."
Continue to the next page for more.
You ever see Sleeping with the Enemy?" Everett says onstage, referencing the Julia Roberts thriller about escaping an abusive relationship. She wraps herself in a black-and-red kimono-style robe, settles atop a stool and grasps the brown-bagged bottle in her right hand. "My childhood was just like that, up before the 'she gets away' part."
Everett describes her father dying years later "of that Patrick Swayze cancer." When she flew home to see him for the last time, she recalls saying, "I love you, Dad," as she left his bedroom.
"Marry money," he replied.
"I'd like to dedicate this song to everyone in the DDC: the Dead Dad Club," Everett tells the crowd. "Well, you'll all be there soon enough, so it's basically for everybody. Hit the track!"
Everett was born the youngest of six children in 1972 in Manhattan, Kansas, a college town two hours west of Kansas City. Appropriately, the city is nicknamed "The Little Apple." Her music-teacher mother encouraged piano lessons, voice lessons, and an appreciation for Barry Manilow. Everett rarely saw her father, who was an attorney. Though her parents didn't divorce until she was eight, they'd split acrimoniously by the time she arrived.
Everett was a popular student who participated in both traditional and show choir, and early on she knew that she wanted to dedicate her life to music. And that "The Little Apple" wasn't the place to do it.
She attended Arizona State University on a full choral scholarship, diving into the world of opera and its requisite Italian, German, French, Spanish and diction classes. "But my brain doesn't retain that sort of stuff, which is pretty problematic if you want to be an opera singer," she confesses. "It was one of the early red flags that maybe that wasn't the correct career for me."
The self-proclaimed wild child also preferred drinking and smoking pot over exacting firm self-discipline. "When I'm singing classically I can't drink coffee, I can't drink alcohol, I have to sleep nine hours a night to have that crystal-clear tone, and I just knew I didn't have that in me. I wanted to live my life both onstage and offstage."
Approaching the end of her twenties, Everett's most prominent gig was singing the national anthem before Phoenix Municipal Stadium's spring-training games. Otherwise she spent the mid-'90s partying, "going apeshit" in karaoke bars and "slipping into a lifetime of sadness."
Her circle of Phoenix friends comprised a druggy crowd. One night when things went too far, Everett passed out and was sexually assaulted. The attack spurred her into action.
"I needed a reason to leave," she says in hindsight. "It's probably not the right reason to leave, but I needed a push. I needed a reason to go to follow my dreams. I know that sounds stupid, but I didn't even know what my dream was. I just knew I wanted to be a singer. And living in Arizona, I wasn't finding my way."
Everett rented a Ryder truck and left town the next day. She hasn't set foot in the state since.
She arrived in NYC in 1997 and vividly recalls the first time a friend took her to a drag cabaret show called Kiki and Herb, a melding of monologues and medleys starring Justin Bond and Kenny Mellman. The show, Everett stresses, blew her Midwestern mind wide open.
"Growing up in Kansas, the only show biz I was doing was jazz hands," she says. "I was like, 'Holy shit, there's all these people who are super funny and larger than life and creative in a way I didn't even know existed!'"
Everett first saw then befriended drag queen Sweetie, drag king Murray Hill, and numerous other scene lynchpins who were "just doing weird and bizarre shit." The freedom, madcap craziness and loyal community spirit were intoxicating. Everett knew she'd found her calling. "It felt like people were doing exactly what they wanted to do, and there were no rules," she reminisces. "It still feels that way."
The next decade saw Everett waitressing at Ruby Foo's, a Times Square Asian restaurant popular with theatergoers; singing karaoke; and co-hosting, with Mellman, a variety show called Automatic Vaudeville. By January 2007 she'd built up to At Least It's Pink, an autobiographical show incorporating being from a small town, being a waitress and being a karaoke junkie. (Fans point to the song "Two for One Special," which describes a Planned Parenthood visit that results in Everett's discovering she possesses a double uterus — and thus requiring a second abortion — as a unanimous highlight.) She earned plenty of industry attention but failed to rocket to stardom.
At that same time, just a year after her father passed away, Everett's oldest sister, Brinton, died of bone cancer that had metastasized to her brain.
The two were close. Everett remembers Brinton as the sweet and sensitive sibling, and the member of her immediate family who most understood and supported her move to New York. Even when Brinton struggled through an ugly drug habit, she always called to check in and reconfirm her belief in her baby sister. Unable to conventionally verbalize her emotions, Everett wrote the song "Endless Road," a track on Pound It, as a way to honor and communicate with Brinton in spirit.
That loss, coupled with an uncertain future, left Everett deeply depressed. Sensing his friend needed a boost, Hill invited her to join his softball team, Team Pressure, which included regulars Horovitz, Covelli and Mellman. Joining Team Pressure, Everett says, was the major turning point that "picked me up and shook me out of my blues." Not only did the team become a second family, but it proved a boon to her artistic career. When Mellman and Medlyn got the bug to update Your Hit Parade, a radio countdown that ran from 1935 to 1955 before winding down on television in 1959, they invited Everett to co-host.
Everett credits her time with Parade — which ended in 2012 — as vital to hitting her stride as a storyteller. Three years in, however, she felt compelled to try something new. Something for herself. So she booked her own one-off show, then assembled the Tender Moments. Everett continued the two monthly Joe's Pub shows for about a year and waitressed as well.
"When I started doing things my way, things slowly changed for me," she says. "My life turned around."
Following Rock Bottom, Wittman's next-up dream directing project is a show co-starring Everett and LuPone. "I won't be singing showtunes," LuPone offers as her sole hint. "That much I can tell you: I blessedly won't be singing showtunes!"
This summer Everett will appear in Amy Schumer and Judd Apatow's film Trainwreck as a "horrible, oversexed wife from the suburbs." And further down the pipeline, Kathleen Hanna, formerly of Bikini Kill and Le Tigre (and a fellow Team Pressure teammate), wrote two seasons of a TV script called Bridget Rides the Bus. Everett and Horovitz (Hanna's husband) shopped the series in Los Angeles on two separate pitch trips; Horovitz insists the project remains in the works.
"Me and Kathleen were watching [the news]," he explains of the concept's origin. "There was a story about a bus driver in New Jersey that got arrested. She was driving kids to school, and they pulled her over. She had, like, a flask of rum beneath the seat and a Coors tallboy between her legs. We're like, 'There's Bridget's TV show right there.'"
Continue to the next page for more.
You know how when it's been so long since you've been touched with any kind of human tenderness," Everett asks from the stage near the end of a Rock Bottom dress rehearsal, "and you go to a salon to get your hair cut, and the shampoo girl puts you in the chair, and she starts running the water and she asks you if the temperature's OK, and when she puts her fingers in your hair you start crying?"
Everett approaches a strapping twenty-year-old in the third row of tables. "Will you dance with me?" They sway in the mottled glimmer of a circling mirror ball as she sings "Why Don't You Kiss Me?" a straightforward doo-wop alternative for those wary of, say, the more imperative-minded audience sing-along "Put Your Dick Away."
At the song's lulling bridge, Everett leads her dance partner by the hand onto the stage. In the audience, Marc Shaiman and Scott Wittman sway in their seats. Neal Medlyn and Murray Hill wave their arms back and forth to the music.
Everett lays the man supine on the ground and lifts his feet waist-high. Grasping his hands in hers, she hoists herself onto his legs until she's hovering parallel above him. The crowd cheers. As she sinks back down, Everett wiggles forward onto the man's chest. The song's final notes dissipate with her sitting, as she often does, on her participant's face.
Everett pants from the physical exertion and invites a round of applause for her dancer/hoister as he exits. When the audience quiets down, she pauses. "So LL Cool J was saying to me, 'Bridget, DDHD — Dreams Don't Have Deadlines.' Or maybe he was telling it to Oprah. He was on her TV show, so I guess he was telling it to everybody. Well..."
She takes a deep, steadying breath. "Today I did something special that I thought I would never do. I always kept a partial job — I called it my 'slave job' — and I quit today." The room explodes, collaborators, friends, fans and new converts all jumping to their feet.
Everett tries to continue, but the noise drowns her out. Her brow scrunches and lips twitch. As tears well up, she grins apologetically and wipes them away.
"It seems like such a weird thing to cry about." Her voice, thick and dewy, catches. "I've been working in restaurants since I was fifteen...and I'm making better money now, and, well...I wanted to take a chance on myself." Still standing, her audience mirrors Everett's tilting loss of composure.
"I know this is a roomful of dreamers, and we're all just waiting for cabaret to catch fire." A knowing, rueful laughter spikes.
"Joe's Pub has given me a home. They've never told me no...well, the only thing they ever said was, 'Don't sit on the piano, 'cause it's new.' But other than that..."
Everett clenches her jaw, gathers herself and takes another cleansing breath. "I just want to sing this as a thank-you. DDHD! Hit the track!"
She belts out rousing closer "I'll Take You Home." Addictively striking in both tune and content, it's an anthem proving that with a firm backing pulse and harmonious support, it's possible to continue climbing indefinitely.
RFT MUSIC'S GREATEST HITS
The 15 Most Ridiculous Band Promo Photos Ever "Where Did My Dick Go?" The Gathering of the Juggalos' Best Overheard Quotations I Pissed Off Megadeth This Week, My (Former) Favorite Band The Top Ten Ways to Piss Off Your Bartender at a Music Venue