Photo by Todd Owyoung
Steve Aoki returns to St. Louis tonight at the Pageant. View more photos from his 2012 show in RFT Slideshows.
Electro house music kicks off a full-on aural assault of hyped shows all week long. While Steve Aoki brings theatrics (and cake, apparently) to the Pageant's stage, Juggalo rapper Blaze Ya Dead Homie brings out the clowns for a stacked bill at Pop's. This weekend brings the long-awaited release of Sigils, the latest release by beloved synth group Caveofswords (they have guitar and drums too, ya know). A Benefit for the Organization for Black Struggle features a diverse line-up at the Demo with Mikey Wehling, 18andCounting and more on Saturday night. March is packed already and if you know of a great show that we missed this time around, tell us in the comments below.
MONDAY, MARCH 2
Steve Aoki Monday, March 2 The Pageant 8 p.m. | $31-$33.50 By Benjamin Leatherman From Steve Aoki on How His Gigs Are "About Gettin' Crazy and Going Wild," With or Without Cake: Needless to say, the 37-year-old artist is big on the performance aspect at his shows and is credited with helping to amp up theatrics in the dance-music world, which is a byproduct of his love of punk and history in the hardcore scene. Aoki, a former hardcore kid and member of such bands as This Machine Kills and the Fire Next Time, also drew inspiration for his music from the world's mosh pits and three-chord thunder. "I went from writing guitar lines to writing in a computer, and my first [EDM] records were very aggressive, and I was sampling guitars and learning how to use distortion in my music," he says.
TUESDAY, MARCH 3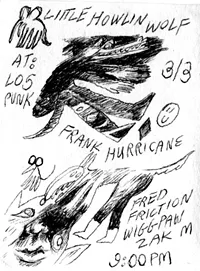 Little Howlin Wolf w/ Frank Hurricane, Wiggpaw, Fred Friction, Zak M Tuesday, March 3 Los Punk 8:30 p.m. | $5 By Joseph Hess No no no, this isn't the Howlin' Wolf you know, this is Little Howlin' Wolf. Completely different. Little Howlin' Wolf churns out quality blues, and does so with a penchant for comedy and free-improvisation. By experimenting with abstract sounds to augment a beloved genre, the man blows apart expectations of what blues should be.
WEDNESDAY, MARCH 4
Blaze Ya Dead Homie w/ Boondox, Trilogy, T-RYDE Freakz "R" Us, John Boi, NuttinXnycE, A.Z The Fallen, P.O.W. Wednesday, March 4 Pop's Nightclub 7 p.m. | $10-$17 By Joseph Hess Blaze Ya Dead Homie is a juggalo rapper possessed by the ghost of a murdered gang-banger circa somewhere in the late '80s. Let that sink in. While he pulls from a pretty vague pool of gimmicks, Chris Rouleau keeps a strong persona intact with a shotgun delivery of scattered rhymes and his own laid back take on the genre's call and response. At his best, Blaze brings a vicious style that sits somewhere between rapping and yelling.
THURSDAY, MARCH 5
Press Photo via High Road Touring
Jonathan Richman w/ Tommy Larkins Thursday, March 5 Off Broadway 9 p.m. | $15 By Christian Schaeffer Jonathan Richman has carved a career out of subverting expectations, so it's no surprise that his live shows follow their own compass. His debut as the wunderkind behind the post-Velvets quartet the Modern Lovers didn't exactly set the course for his solo songwriting, which is marked by a sweet naivete cut with hard-won wisdom. His songbook is thick with well-loved tunes, but don't expect a greatest-hits set at his Off Broadway performance -- if past shows are any gauge, Richman will be accompanied by his own nylon-string guitar, the trusty Tommy Larkins on a cocktail drum kit and a meandering tour through forgotten baseball players, Dutch painters and whatever other corners of the world he chooses to alight with song.
Follow through for the best shows in St. Louis all weekend long. FRIDAY, MARCH 6
CaveofswordS Album Release Show w/ Middle Class Fashion, Adult Fur, Zagk Gibbons Friday, March 6 The Demo 8:30 p.m. | $10 By Allison Babka From Six St. Louis Musical Acts to Watch in 2015: CaveofswordS has been on a performing rampage for the past few months, gigging everywhere from the Saint Louis Art Museum to the Gramophone and even beyond the Mississippi's reach. We can't help but think that it's all because CaveofswordS is as excited for a new album as we are. Recently signed to Boxing Clever Records, the dream-pop band has been working on tunes and collaborating with all sorts of fine folks under a separate Far Fetched imprint. We adore the music, but we're not going to lie about totally crushing on them for dressing like BCR labelmates Bruiser Queen for Halloween. That's some serious STL love.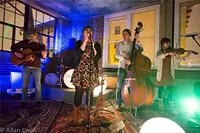 Letter To Memphis w/ My Molly, Dutch Courage Friday, March 6 The Heavy Anchor 9 p.m. | $5 By Mike Appelstein From Folk: Meet the 2014 RFT Music Award Nominees: For guitarist Gene Starks and vocalist/ukelelist Devon Cahill, Letters to Memphis began as a reason to learn and play the works of some of their favorite songwriters, including Jenny Lewis, M. Ward, Jeff Mangum and Camera Obscura's Tracyanne Campbell. When the duo started writing its own songs they were, unsurprisingly, in a traditional style, with elements of folk, country and blues. Now augmented by a full band and a steadily growing cache of fine original material, Letters to Memphis has become a fixture in the city's live music community. Songs like "The Oleatha Shuffle" (about the street where Cahill and Starks live) and "Rest Your Head" are whimsical, even playful in nature. However, it's the smokier, slower material, like "Time" and "Your Eyes and Mine," that really suggest great things in the near future.
SATURDAY, MARCH 7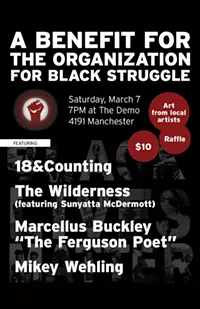 A Benefit For The Organization For Black Struggle w/ 18andCounting, The Wilderness, Marcellus Buckley "The Ferguson Poet", Mikey Wehling Saturday, March 7 The Demo 7 p.m. | $10 By Ryan Wasoba A primer on featured performer 18andCounting, from the RFT Music archives: Stan Chisholm uses the 18andCounting pseudonym for every aspect of his art, whether it is his cross-medium visual work or his Unstrumental raps, but 18andCounting is most visible as a prolific DJ. Chisholm spins records the way a jazz soloist quotes bebop licks, with a wealth of information at his disposal and the taste and technique to react to exactly what his situation demands. Lately, 18andCounting sets have involved live collaborations with musicians like So Many Dynamos drummer Clayton Kunstel, a format that many turntable handlers are not brave enough to attempt. Chisholm's adaptivity is a reminder that he is first and foremost a great musician, even if a conventional instrument is nowhere to be seen.
North Mississippi Allstars w/ Anders Osborne Saturday, March 7 Old Rock House 9 p.m. | $27.50/$30 By Shae Moseley From the RFT Music archives: The North Mississippi Allstars draws from a rich culture of Southern country-blues, and takes cues from the molasses-dripping slide-guitar drone of legends such as R.L. Burnside and Junior Kimbrough. The playing style of guitarist/vocalist Luther Dickinson echoes these influences, but NMA's modern-rock and soul infusions and penchant for big, rousing hooks sets it apart. Over the course of five studio albums (including this year's Hernando), the band stays true to timeless regional blues traditions ("Mean Ol' Wind Died Down"), channels modern Nashville ("Shake 'Em on Down") and unleashes overdriven garage riffs and soul grooves which resemble the Black Keys or the White Stripes ("Take Yo Time, Rodney").
SUNDAY, MARCH 8
The Lone Bellow w/ Odessa Sunday, March 8 Old Rock House 8 p.m. | $17/$20 By Roy Kasten In 2013, the Lone Bellow released a self-titled debut that, for all its vocal testifying, was so quiet that even the denizens of the group's native Brooklyn, New York, might have missed it among the indie-folk din. But anyone who knows what the Lone Bellow can do onstage will take notice of its second album, Then Came the Morning, a sometimes fragile, often freewheeling tour de force of Southern rock, country-soul balladry, gospel communion and even amped-up rockabilly. The band still delivers signature close-harmony climaxes, but the vision is now richer and wilder.
Note: Though we wish we could, we can't feature every great show happening in town in just one post. Look for plenty more recommendations this Friday in our weekend shows post, peruse the St. Louis concert calendar for more ideas and let everyone know what else you're looking forward to seeing this week in the comments below. To be considered for coverage in RFT Music, submit show info online or drop us a line anytime.
RFT MUSIC'S GREATEST HITS
Remembering STLPunk.com -- How to View the Site Today and Find Your Old Profile Page "Where Did My Dick Go?" The Gathering of the Juggalos' Best Overheard Quotations The Ten Best Dive Bars in St. Louis The 15 Most Ridiculous Band Promo Photos Ever
---