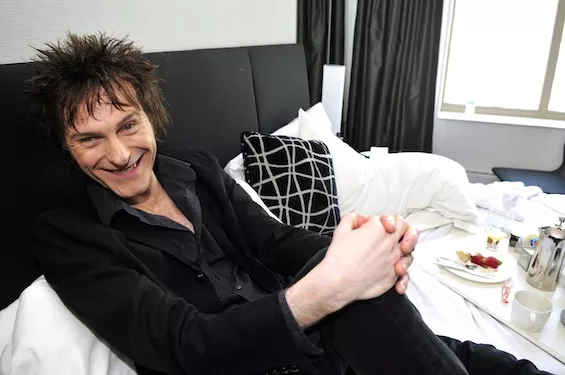 Steven Cohen
Tommy Stinson, music's Kevin Bacon.
By Jeremy Essig
All crossroads of modern music pass through Tommy Stinson.
Best known as either "That fourteen-year-old who played bass in the Replacements" or "That guy in the suspenders Axl replaced Duff with in Guns 'N Roses," Stinson has one other claim to fame: He's music's version of Kevin Bacon.
Like how any actor can be traced back to Bacon in six steps, any post-Beatles artist can be connected to Stinson through performance, production or writing credits in the same amount of links.
Take, for example, proto-punk pioneer Jonathan Richman and one of the current kings of EDM, Steve Aoki. Though both will be performing in St. Louis this week (Richman at Off Broadway on March 5 and Aoki tonight at the Pageant), it's fairly safe to assume the crossover between the audiences of the two shows will be small, if not almost non-existent. But the two musicians do share a common collaborator (of a collaborator, of a collaborator, etc.) -- a bassist who was forced to join his brother Bob Stinson's band at twelve, according to lore, to keep him out of trouble.
See also: Steve Aoki on How His Gigs Are "About Gettin' Crazy and Going Wild," With or Without Cake
Let's run through the steps:
The Modern Lovers
In 1970, Velvet Underground fan/occasional associate Jonathan Richman moved back to his hometown of Boston and formed the Modern Lovers, a group that would eventually include drummer David Robinson and keyboardist/guitar player Jerry Harrison.
The debut album of this incarnation of the Modern Lovers begins with "Roadrunner," a peppy love letter to driving through Massachusetts and listening to the radio. While the song may seem simple on its face, it provides an important musical link between the subject matter of the Beach Boys and the uptempo guitar/keyboard interplay that would morph into New Wave -- a sound that would be expanded upon by Harrison and Robinson's next bands, the Talking Heads and the Cars.
The Cars
After leaving the Modern Lovers, David Robinson spent a short time in garage/punk band DMZ before joining the Cars -- a band fronted by co-songwriters Ric Ocasek and Benjamin Orr, who had moved to the Boston area from Columbus, Ohio.
The Cars would go on to dominate the Billboard charts during the late '70s and early '80s with songs such as "My Best Friend's Girl," "Let's Go" and "Moving in Stereo" -- the latter helped by the, ahem, "special" moment it accompanied in Brad Hamilton's life in Fast Times at Ridgemont High.
While the Cars' update of the sound first laid down by the Modern Lovers would make the group a household name in the '80s, it's "Drive" from 1984's Heartbeat City that would prove to be the group's masterpiece. With haunting keyboards and depressive video, Orr posits, "You can't go on thinking nothing's wrong for long" -- a fear that still sticks with some of us who first heard the track in kindergarten some thirty years ago.
Ric Ocasek
While Orr may have penned the group's biggest hit, it was the Cars' other singer -- guitarist Ric Ocasek -- who provided the public image of the band. With his unusual look, turn as a fly in the "You Might Think" video, and completely unlikely marriage to model Paulina Porizkova, Ocasek was, for lack of a better term, the Car your mother knew.
Though none of Ocasek's solo work following the group's demise in 1988 reached the commercial success he found with the Cars, 1997's Troublizing might be his most interesting -- a collaboration with Smashing Pumpkins troubadour of sadness Billy Corgan. Hired to produce the album, Corgan would also find himself playing guitar and keyboard on a majority of the tracks. The album's sixth cut, "Situation," may come closest to a Cars/Pumpkins hybrid -- Corgan's distortion-drenched guitar and backing vocals hiding in the mix just behind Ocasek's distinctive speak-sing style. Also worth noting is the album's closer, "Asia Minor," which features a electronic sound Corgan would expand upon greatly on his next release, the Pumpkins' Adore.
The Smashing Pumpkins
Before his turn as Zwan frontman, professional wrestling Twitter commentator and Courtney Love antagonist/best friend, Corgan led this band little out of Chicago. Its debut Gish was followed by Siamese Dream, an absolute monster that happened to come out right as MTV was discovering "alternative" music in the wake of Nirvana's Nevermind.
Never released as a single, the album's ninth track, "Mayonaise," serves as an oasis of resignation in a landscape of guitar-driven aggression. Co-written by Corgan and guitarist James Iha, the song sounds like a weary reflection on the anger that preceded it, a beautiful moment of contemplation -- without completely turning down the distortion nob.
Continue to page two.
Whiskeytown
Notoriously prolific (or at least ADD) singer Ryan Adams collaborated with everyone from fellow North Carolinian Ben Folds to former Replacement Tommy Stinson. Sometime during this period, Smashing Pumpkin James Iha also joined the fold, appearing with Adams' Whiskeytown on PBS' Sessions at West 54th as part of a Gram Parsons tribute, as well as composing with Adams and Mike Daly the song "Don't Be Sad," a track that featured guitar and dobro work from Stinson. In all, eleven musicians would be credited on the song, including three bassists -- a feat that possibly hasn't been seen since Spinal Tap released "Big Bottom."
P. Diddy
Historically a holding spot for album castoffs and covers, Diddy wasn't messing around when he recorded the b-side for his 1997 single "It's All About the Benjamins." Dubbed the "Shot-Caller Rock Remix" of the original track, Diddy brought out the heavy artillery on his first foray into the rock world -- including a rhythm section composed of Dave Grohl on drums and Tommy Stinson on bass.
Stinson also appears in the Spike Jonze-directed video for the remix, a clip that shows Diddy and Co. taking over an otherwise mundane high school dance. Though likely unintentional, the shots of Stinson playing bass at a prom bring to mind stories of Replacements lore -- the band was notorious in its early career for playing (and occasionally destroying) proms in its native Minneapolis.
DJ Felli Fel (feat. Diddy, Akon, Ludacris and Lil Jon)
On "Get Buck in Here," the first single from his debut album, DJ Felli Fel put together quite the roster: two verses from Diddy, one from Ludacris, an outro from Lil Jon and Akon's hook that describes a woman with "too much booty for one man to handle."
Though the album Hey DJ! was never released, Felli's doing quite fine, hosting a daily drive-time slot on LA's Power 106 and holding DJ residencies from San Diego to Japan. As for the song, it may be the best booty anthem that never made the Top 20 -- perhaps a surprise, considering the star power contained within.
Laidback Luke and Steve Aoki (feat. Lil Jon)
Having made a name for himself as the head of Dim Mak records (Bloc Party, Sean-Na-Na) and a master of the remix with source material that runs the gamut from Jackson 5 to All American Rejects, Steve Aoki began releasing his own music in 2010. His second single, "Turbulence," was released the following year, featuring contributions from Lil Jon and Laidback Luke.
Lil Jon's familiar growl, the only vocals on the dance-heavy track, serve as either instructions for the uninitiated -- airplane-pilot style -- or warnings for those that may be in an altered state of the song's different movements. The track also serves as the official goal song for the Toronto Maple Leafs.
And that, folks, is how you play Six Degrees of Tommy Stinson.
RFT MUSIC'S GREATEST HITS
The 15 Most Ridiculous Band Promo Photos Ever "Where Did My Dick Go?" The Gathering of the Juggalos' Best Overheard Quotations I Pissed Off Megadeth This Week, My (Former) Favorite Band The Top Ten Ways to Piss Off Your Bartender at a Music Venue
---