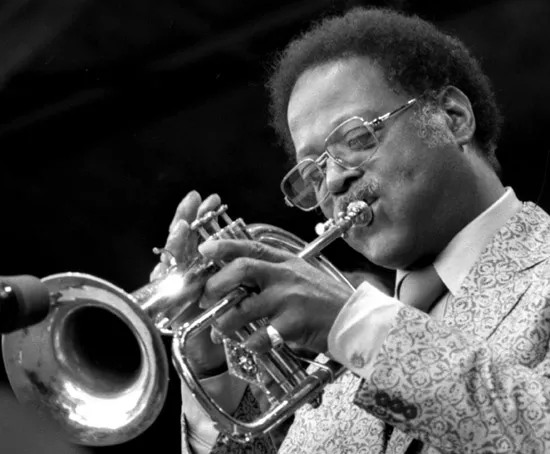 /commons.wikimedia.org / Brian McMillen
Clark Terry at the Monterey Jazz Festival in 1981.
If it's true that St. Louis is the city of Gabriels, Clark Terry was our must swinging archangel. In the annals of St. Louis jazz, he was second only to Miles Davis for his influence and recorded output. The trumpeter, flugelhornist, mentor, composer and ambassador for jazz passed away at the age of 94 on February 21 at his home in Pine Bluff, Arkansas.
Terry was born in 1920 on South Broadway, one of eleven children, and it's not surprising that his father discouraged the young man's musical inclinations. As a youth Terry would hang on every note of the legendary Dewey Jackson, who he saw perform at Sauter's Park, where he absorbed the sound of street-corner bands and church singing, and eventually fashioned his own instrument out of garden house and pipe. As historian Kevin Belford recounts, Terry, who attended Vashon High School, had his first gig with the Drum and Bugle Corps of the Tom Powell Post on Enright Avenue at the age of sixteen. During his formative years in St. Louis, he performed at the Club Plantation and worked with Jeter-Pillar and George Hudson's bands. The young Miles Davis looked up to him, just as Terry looked up to the likes of Charlie Creath, Shorty Baker and Dewey Jackson.
Though he had already been performing professionally for ten years, Terry's earliest recordings were done in St. Louis with Eddie "Cleanhead" Vinson in 1947, followed by remarkably productive years with the Count Basie and Duke Ellington bands from the late '40s to the late '50s. He was one of the few musicians with a long tenure in both outfits. In 1955 he recorded his first full-length session as a leader, a self-titled album on the EmArcy label that remains one of the most thoroughly enjoyable and diverse bop albums you'll ever hear -- and it's still the one album by Terry every jazz lover must own.
In his eight-decade-long career, Terry would lead more than a 100 sessions and take part in nearly 800 as a sideman. Supremely adaptable, tasteful, always swinging and always joyful in his tone, his sound never went out of style. In terms of jazz trumpet playing, it
was
the style. He complemented dozens of the greatest jazz musicians of his day, from flame-keepers like Dizzy Gillespie and Sonny Rollins, to singers like Sarah Vaughan and Ella Fitzgerald, to avant-gardists like Cecil Taylor and Charles Mingus. In 2010, the Grammys recognized the range and depth of his prolific career with a Lifetime Achievement Award.
And of course there's "Mumbles," Terry's hilarious and virtuoso sendup of slurring bluesmen, which he first recorded with Oscar Peterson and performed on The Tonight Show Starring Johnny Carson for an audience that perhaps found it a bit too funny. The song became Terry's only "hit." Signing up for The Tonight Show house band in 1960, Terry was the first black musician on the NBC payroll. After his stint in that Doc Severinsen-led outfit, Terry formed massive orchestral groups, called the Big B-A-D Band, which became internationally touring laboratories that tested the limits of jazz ensemble playing. He was equally at home reworking the Great American Songbook -- his interpretations of "Stardust," "Somewhere Over the Rainbow" and "Autumn Leaves" were always inspired and sensitive -- as he was creating what has become the Great American Bop Book.
Terry was one of jazz's most important and generous mentors; his work in education and philanthropy was recognized in 1991 by the National Endowment for the Arts. If you want to know just how much mentoring meant to Terry, watch the beautiful 2014 documentary Keep On Keepin' On. The film tells the story of Terry's relationship with a young blind pianist named Justin Kauflin. It's a deeply moving narrative -- Terry's health fails and he begins to lose his own sight even as he inspires the young man to become the musician Terry knows he can be.
"You can't do it the easy way," Terry says in the film. "You have to do it the right way." And no jazz musician ever did it more right than Clark Terry.
---