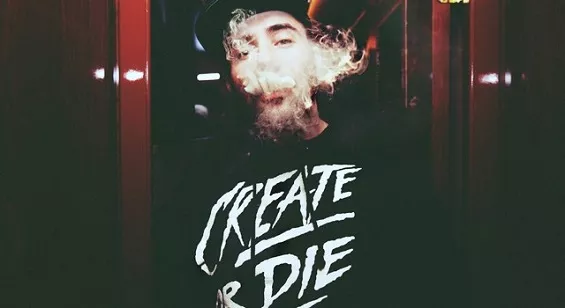 Press photo via Madison House
Paper Diamond will perform at Old Rock House Tuesday night.
Alex Botwin is about to make it rain, but not in the usual way.
You may better recognize the Coloradoan by his professional moniker Paper Diamond. Under this name, he's spent the past four years releasing multi-instrumental neoclassics via Pretty Lights Music and worming his way into the hearts of festivalgoers nationwide.
He's about to release a new EP, Rain Drops, and a concurrent tour that will drip its way into Old Rock House on Tuesday. He named the album in honor of his mission to "control the weather" -- no strippers were involved.
"When [my friends and I] are talking about making it rain on schedule, it's like every day, we get up and do work on music and art," Botwin says. "It's about having fun, being superinspired, and trying to inspire people -- getting all your work done but still knowing how to party."
Of course, all work and no play makes Jack a dull boy, but Botwin knows the value of substance. "I feel like you can make party music -- or whatever kind of music that you make -- but you have a voice with music, so it's more important to figure out what your message is," he says. "I love electronic music culture, but with that too, I want to expose people to different stuff. I've got different ideas of what's dope, and that's what I intend to convey with the new release."
With Rain Drops, Botwin hopes to inspire others "to think for themselves and make good of their time on this planet," but he's not preaching. The groove of the music, the hooks, and the vibes come first. Paper Diamond has a reputation to uphold. Fans love him for his fresh, soulful, genre-bending approach. He doesn't limit himself creatively. That's why he earned the love of fellow Coloradoan Pretty Lights, Brainfeeder boss Flying Lotus and hundreds of thousands of people around the world.
"I just want to write good songs that mean something to me, that I can look back on, be proud of, and are relevant to my life," he says. "I feel like that's the realest shit, when you just write songs about what's happening or what you know, and with production that you enjoy making. I've just been trying to make the craziest beats and dope songs, and work with singers that I like."
That's an understatement. In the past year, Botwin has traveled the world, hopping in and out of studios with musicians, artists, and singers whenever he could. He spent a month in London meeting with a different singer every day.
"It was like going on musical blind dates," he jokes.
When it was all said and done, he had a year's worth of songs compiled. Some of them were just released via a BitTorrent drop -- beats and loops and general ideas. The best of the best is what we get treated to next.
"I honed it down to some stuff that I feel really, really good about, and that's what's on the EP," he says. "The direction is just forward. It's like walking up to five different paths on a street, like Five Points in the middle of Tokyo. There's so many different styles. I've been writing some supermusical stuff that isn't like bangers or anything. I've been writing cinematic stuff. I've been writing hip-hop stuff, beautiful things with chords and melodies and tensions, really just experimenting."
He's put the same mindset into the tour, handpicking accompanying artists to represent as many sounds and styles as his moods.
"I've been inspired for the last six months just from writing a lot of different stuff," he says. "I want people to know when they come to the show, it's going to be an experience."
Paper Diamond 9 p.m. Tuesday, February 24. Old Rock House, 1200 South Seventh Street. $18 to $23. 314-588-0505.
RFT MUSIC'S GREATEST HITS
The 15 Most Ridiculous Band Promo Photos Ever "Where Did My Dick Go?" The Gathering of the Juggalos' Best Overheard Quotations I Pissed Off Megadeth This Week, My (Former) Favorite Band The Top Ten Ways to Piss Off Your Bartender at a Music Venue
---