Tom Carlson
The Firebird's Jimmy Vavak, Mike Cracchiolo and Ryan Sears.
Six years and thousands of sets later, Mike Cracchiolo says there's really no way to choose a favorite band or show at his club, the Firebird. He is, however, able to cite a specific moment.
"I ran into a guy the other night who was talking about Firebird and how he had seen a bunch of his favorite shows there, and [his] best show ever was Foals with Freelance Whales in 2011," he says. "It was really weird, because if you want me to put it down to one moment that I thought was the best thing I had ever seen in that room, it was that show."
Cracchiolo describes a scene at the beginning of Foals' performance of "Spanish Sahara."
"I was standing stage right, behind some of the members of Freelance Whales, looking over at the front row," he recalls. "In my mind's eye I see everybody sort of coiled with their fists balled up. When the drums kicked in, everybody just started jumping up and down, including the members of Freelance Whales. It was one of the most insane and amazing things things I've ever experienced. Everything was kind of hyper-real.
"That was the point when I felt like, if I retired after that show, whatever happened -- if I was to not do this anymore -- that was the point where that would be OK. That would be success for me."
When Cracchiolo and partners Tom Moslander and Jimmy Vavak took the reins of the club six years ago, transforming it from the nascent Bluebird to the Firebird of today, they didn't have an exact plan for their creation -- only an idea of what they wanted from it. They knew there were good acts passing by the St. Louis highway exits between Kansas City and Chicago. They wanted, simply, to give them a reason to stop.
"If there wasn't a hole to fill at the time when we were looking to do it, I don't think any of us would have had the confidence," says Cracchiolo. "If somebody else was doing it, there wouldn't have been a need."
In the six years since, the Firebird has become a dependable hub for local groups, picked up on the synth-pop and chillwave revivals, and even convinced eclectic acts such as Electric Six and Big Freedia to include St. Louis as a sure thing on their regular tour rosters -- acts that, previously, would have skipped right over the city.
"From the very beginning, it wasn't about looking around and wanting what other clubs have," Cracchiolo says. "We wanted to compete with ourselves. The club was started as a place to do music that wasn't coming to St. Louis at that time."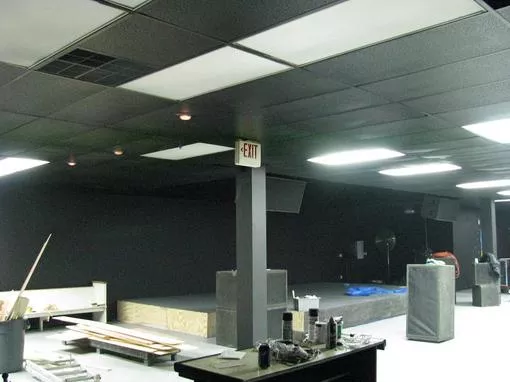 Annie Zaleski
This photo from February 2009 shows the Firebird in mid-transformation.
On Thursday, February 5, 2009, St. Louis' own Superfun Yeah Yeah Rocketship broke in the stage at the Firebird. From the start, it was evident the new venue was rife with possibility and brimming with character. The skating rink/cave club feel, mixed with the building's location in a downtown business district that largely shuts down after 5 p.m., gives the venue a strangely comforting, post-apocalyptic vibe. Cracchiolo acknowledges and embraces the oddity factor in Firebird's appeal.
"I think all the greatest venues are a little weird," he muses. "Maybe that's something that's going away now. Rock & roll is just not that outlaw culture anymore.
Continue to page two for more.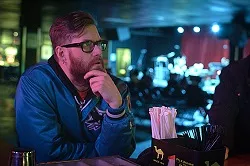 Tom Carlson
Mike Cracchiolo
"I think Firebird is one of the last great weird, off-the-beaten-path kind of places," he adds. "To me, it's definitely the places that have that kind of weird charm -- places that are maybe little bit difficult -- and wondering why it is that way. If you're not wondering that, then there's not a whole lot to talk about."
Any musician who has been forced to drag a refrigerator-sized cabinet up a flight of narrow stairs or nearly frozen to death on a stage located two feet from a venue's front door in the middle of winter should understand this sentiment. Any music lover who has walked down an alley and knocked on what they hoped was a door leading to a club should, too. These inconveniences and discomforts are often the ties that hold the memory of the experience together.
Not that the Firebird's location was specifically sought out for weirdness.
"There's a lot of serendipity involved in anything that works. There's always sort of a stumbling into something really cool," Cracchiolo says. "Every room has its own character, its own history. It's shaped by the people who work there."
In this way, the venue is currently experiencing a renaissance of sorts -- the club's fifth anniversary marked the end of an era, when Bert McClimans, long-time Firebird crew member and the primary talent buyer, moved on to other endeavors.
"Everything happens when it's supposed to happen," says Cracchiolo. "With the departure of Bert McClimans, who was an integral part of booking, it kind of forced me back into that seat. At the time I thought it was terrible to get thrown back into that. But I realized I'm still pretty good at this. It's not the worst thing in the world, and it's a good opportunity for me to train some people."
In McClimans' absence, the remaining Firebird crew members have stepped up to the plate. "Before, it was like me and Bert hunkered down against the world, then in time Bert took over the majority of it and I got to have a little bit of a breather, and now it's more of a collective effort," Cracchiolo explains.
Aside from a few small changes here and there, the venue has largely been built by its original team. "The door staff and the bar staff have remained pretty much the same. There's really not a whole lot of people who have worked there and aren't there anymore. Once they're there, they kind of stick. It's a family."
With a lease which requires commitment in three-year intervals, Cracchiolo and Co. have made the decision to sign on again.
"We've seen venues come and go since we've opened. I didn't anticipate how many places would spring up. By that same token, I couldn't anticipate that we would have outlasted as many as we have," he says. "There wasn't a clear road map. There wasn't a goal in sight. I was in my twenties and thought, 'It would be really cool if...' And then all those things happened."
The Firebird's Six-Year Anniversary Weekend 8 p.m. Friday, February 20, and Saturday, February 21. The Firebird, 2706 Olive Street. $8 each night. 314-535-0353.
RFT MUSIC'S GREATEST HITS
The 15 Most Ridiculous Band Promo Photos Ever "Where Did My Dick Go?" The Gathering of the Juggalos' Best Overheard Quotations I Pissed Off Megadeth This Week, My (Former) Favorite Band The Top Ten Ways to Piss Off Your Bartender at a Music Venue
---