At most St. Louis drinking establishments, 1:30 a.m. marks the time that the lights come on, the music stops and everybody gets the hell out (whether they want to or not). However, for a handful of the city's bars, 1:30 means that a whole new set of intoxicated revelers will make their way through the doors and to the bar for another hour and a half of inebriated escapism.
So for the sake of keeping the party going, here are ten great 3 a.m. bars to add to our original list from 2013:
See also: The Ten Best 3 a.m. Bars in St. Louis: 2013
Upstairs Lounge (3131 South Grand Boulevard; 314-358-2004)
When closing time arrives for the majority of the bars on the South Grand strip, those who just aren't ready to call it a night usually go one of two places. While those looking to wind the night down with another drink and some sloppy conversation with friends head to Mangia Italiano, the (usually younger) crowd ready to dance themselves nearly to death head just a block north to the Upstairs Lounge, where cheap beer and Sandinistas flow freely to a soundtrack of thumping EDM and hip-hop.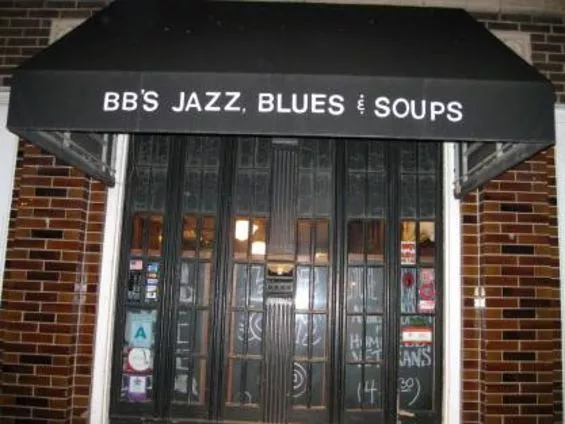 BB's Jazz, Blues and Soups (700 South Broadway; 314-436-5222)
One of the three South Broadway bars forming the "Blues Triangle" (the other two are Broadway Oyster Bar and Beale on Broadway), BB's Jazz, Blues and Soups is the largest and most updated of the three, though not so updated as to detract from the gritty, cozy vibe generated by the great music and down-home food selection.
Beale on Broadway (701 South Broadway; 314-621-7880)
Immediately across the street from BB's is Beale on Broadway, a much smaller and decidedly dive-ier single-floor blues venue that houses some of the city's best blues and roots music every night of the week. During the summer, the patio behind Beale more than doubles its capacity and makes for a great place to stretch out and soak up downtown; during the winter expect to get cozy with a few new friends in the bar's limited-capacity interior.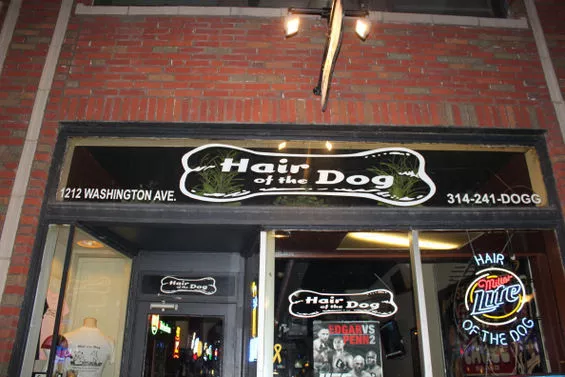 Hair of the Dog (1212 Washington Avenue; 314-241-3644)
A far cry from the glitz and extravagance of the bars and clubs surrounding it, Hair of the Dog is one of Washington Avenue's only dives which, in itself, makes it a special part of the neighborhood. Add to that hours extending all the way to 3 a.m., and you'll understand why the set of downtown drinkers who prefer a more casual experience have made Hair of the Dog a home (a couple blocks) away from home.
Colombo's St. Louis Bar and Cafe (6487 Manchester Avenue; 314-647-2661)
Located near the edge of the city in the Franz Park neighborhood, this family-owned bar and restaurant opens early at 9 a.m. to serve a sizeable menu of soups, sandwiches, burgers and bar food like their oh-so-St. Louis toasted cannelloni. Luckily for night owls, Colombo's also serves drinks -- including three-dozen beers on draft -- until the wee hours.
The Dubliner (1025 Washington Avenue; 314-421-4300)
During the daylight hours, the Dubliner is a relatively family-friendly place to chow down on some Irish and American pub fare. Once the sun goes down, however, the bar is a loud, rowdy downtown destination for those who like to drink hard. Visit the Dubliner during its extended hours -- that is, from 1:30 to 3:00 a.m. -- on a Friday or Saturday, and you'll be reminded of the Irish drinking toast, "Here's to being single, drinking doubles and seeing triple!"
Atomic Cowboy (4140 Manchester Avenue; 314-775-0775)
Despite an abundance of competing bars that borders on the ridiculous, the Grove's Atomic Cowboy has managed to retain its niche as one of neighborhood's favorite spots for late-night drinks and eats. While things tend to get a little tight in the winter, Atomic Cowboy's enormous patio provides ample room for the summertime spillover from neighboring bars come 1:30 a.m.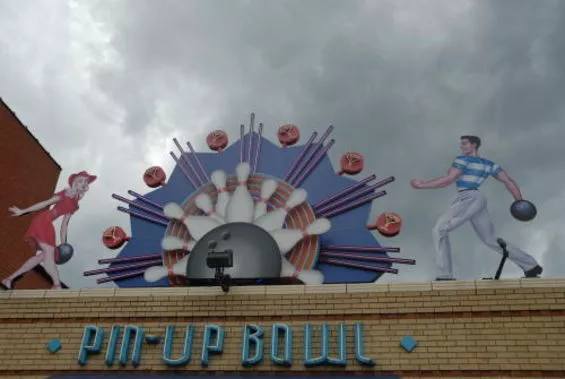 Pin-Up Bowl (6191 Delmar Boulevard; 314-727-5555)
Just one piece of the Edwards empire, the Loop's Pin-Up Bowl attracts locals and tourists alike with its well-groomed decor and cases full of bowling memorabilia. Its eight lanes stay busy, but reservations can be made (for a considerable markup, of course). While that's all great, the Pin-Up's real claim to fame is that it's now the Loop's only bar to remain open until 3 a.m, seven nights a week.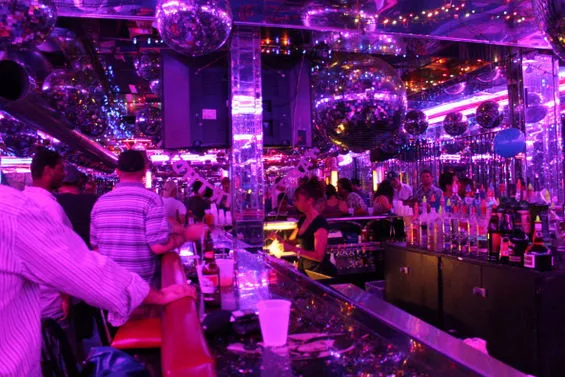 Mike Talayna's Juke Box Restaurant (1115 Hampton Avenue; 314-647-7600)
What is there to say about this St. Louis institution? Walking past its unassuming exterior into Mike Talayna's Jukebox Restaurant is like entering another world. At Talayna's, after enough drinks, you might actually start to feel like you've been shrunk down Rick Moranis-style and placed inside a retro jukebox in which pizza and hot wings are served.
Howl at the Moon (601 Clark Avenue; 314-736-4695)
The newest bar on in our roundup, Howl at the Moon is a dueling piano bar in the new Ballpark Village complex downtown. The entertainers pander perfectly to the tastes of Ballpark Village's clientele, covering current Top 40 hits along with a sprinkling of radio country and rock hits of yesteryear. If for some weird reason you ever need to take your baby-boomer parents out for drinks after 1:30 a.m., this is the place to do it.
RFT MUSIC'S GREATEST HITS
The 15 Most Ridiculous Band Promo Photos Ever "Where Did My Dick Go?" The Gathering of the Juggalos' Best Overheard Quotations I Pissed Off Megadeth This Week, My (Former) Favorite Band The Top Ten Ways to Piss Off Your Bartender at a Music Venue
---