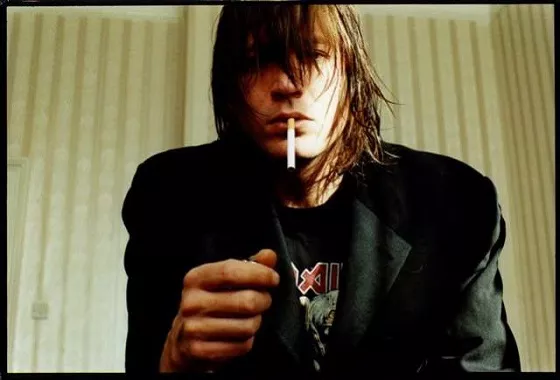 By Jeremy Essig
UPDATE: Dando has cancelled the remainder of his current tour, including his STL stop. From his booking agency: "We are very sorry the upcoming Evan Dando show is cancelled. Evan has been struggling with sickness while on the road and is unable to perform. Refunds are available at point of purchase." Original post continues below.
With a catalog ranging from the New Kids On the Block to G.G. Allin, the Lemonheads' Evan Dando may be indie pop's king of the cover song.
While the band's sped-up version of Simon and Garfunkel's "Mrs. Robinson" eventually introduced the group to a wider audience in 1992, Dando -- its only constant member -- has been cultivating a cover repertoire during his career so varied it might make Pandora crash.
From his dalliances with Charles Manson and Susanne Vega in the punkier, early version of the Lemonheads to his acoustic takes on the Misfits and Metallica after becoming a college rock darling in the mid-'90s, Dando has always displayed a unique eye for reinterpretation. His last album, 2009's Varshons, was a complete cover affair -- drawing influence from both Leonard Cohen and Christina Aguilera.
In honor of his current tour -- hitting Blueberry Hill this Saturday, February 21 -- let's take a look at some other great '90s covers you may have missed
9. Pavement - "Camera" (R.E.M. Cover)
For Pavement, a band that literally sang R.E.M.'s praises a year before on "Unseen Power of the Picket Fence," this cover wasn't a huge surprise. The interpretation, however, is definitely unique. While both songs follow the same musical blueprint -- Pavement's version adding a bit of wah-guitar under the mix -- Steven Malkmus veers almost completely away from Michael Stipe's original prose, with "you were born to be a camera" being the only line that links the two pieces.
While the original still shines as one of the two or three best songs off R.E.M.'s Reckoning, Pavement's version sounds -- in the best way possible -- like something a band might play around with at the end of practice as the intoxicants start taking hold and technical concerns fade into a goofy musical bliss.
8. Hindu Love Gods - "Raspberry Beret" (Prince Cover)
Joke/bar band/cover outfit in the mid-'80s, the Hindu Love Gods was composed of R.E.M's Peter Buck, Mike Mills and Bill Berry, with Warren Zevon taking vocal duties from Michael Stipe. When Zevon went into the studio to record 1987's Sentimental Hygiene, he hired Buck, Mills and Berry as his backing band. During a looser evening during the session, the four recorded a ten-song cover set of mostly blues numbers and this Prince track.
Stripping away the synth drums and keyboards from Prince's original and replacing them with Buck's slightly overdriven guitar and Berry's hi-hat/snare heavy drum part makes it quickly apparent that this song also works as a fine piece of power-pop. Plus, it's Warren Zevon and R.E.M. doing a Prince song -- a way more interesting combination than, say, anything Kanye West and Paul McCartney might come up with.
7. Sonic Youth - "Get Into The Groove(y)" (Madonna Cover)
From littering 1987's Master-Dik with the pop star's last name (Ciccone), to naming the group's side project Ciccone Youth Thurston Moore made it abundantly clear that the material girl was on his mind -- a fascination that lead to Sonic Youth covering her 1985 hit "Get into the Groove."
Beginning with dark, heavy bass line and sprinkling in cuts of Madonna's original version, the song sounds like many of the mash-ups that float around YouTube -- not all that remarkable, until you realize this was produced in the late '80s.
6. Soul Asylum - "Sexual Healing" (Marvin Gaye Cover)
Anyone who was lucky enough to see Soul Asylum in the '90s can attest that the group's set was littered with cover songs, ranging from "Rhinestone Cowboy" to TLC's "Waterfalls." In contrast to Marvin Gaye's original, Dave Pirner's urgent, scratchy, tobacco-soaked vocals make the request for healing sound like an untenable situation. He was also dating Wynona Ryder at the time -- in other words, we understand, Dave.
5. Afghan Whigs - "Creep" (TLC Cover)
While his list of covers may not span the breadth of Evan Dando's, Afghan Whigs' frontman Greg Dulli can lay claim to his own impressive catalog, ranging from the band's Uptown Avondale EP, featuring covers of four classic soul numbers, to Dulli's Twilight Singers, who covered everyone from Hope Sandoval to Mary J. Blige on 2004's She Loves You.
In covering TLC, the Afghan Whigs take the tale of a person who decided to cheat on their unfaithful partner and remove the sultriness of the original vocals, leaving a track that sounds more like a tortured self-confession than the initial sexy come-on.
4. The Muffs - "Kids in America" (Kim Wilde Cover)
If Singles was the movie that portrayed the '90s listless slacker living in Seattle, then Clueless was the other side of the coin: a beautiful California existence where Valley girls still floated through life effortlessly. Think Beverly Hills, 90210 before those Walsh kids moved in with their depression and moral dilemmas.
The stand-out track from a soundtrack laced with good covers, the Muffs' update of Kim Wilde's debut features Kim Shattuck's punchy guitar and bratty California growl -- a perfect counterbalance to the movie's mid-'90s sun-bleached airheads.
3. Superchunk - "Brand New Love" (Sebadoh Cover)
On 1991's The Free Seed EP, North Carolina's Superchunk did its own version of three different Sebadoh songs -- an interesting choice considering neither band was extremely well-known, outside of certain circles.
Superchunk's interpretation of "Brand New Love" changes the entire vibe of the song. As opposed to Sebadoh's Lou Barlow, whose dark voice and acoustic guitar give the feeling that perhaps this love is something to be feared, Superchunk speeds the track up and adds Mac McCaughan's higher voice. The combination provides a hopeful quality to the new love targeted in the lyrics.
2. Dinosaur Jr. - "Hot Burrito #2" (Flying Burrito Brothers Cover)
With its version of the Cure's "Just Like Heaven," Dinosaur Jr. produced a song that, according to Internet lore, led Cure frontman Robert Smith to re-think how his band did the original.
While Dinosaur Jr.'s version of "Hot Burrito #2" came way too late to affect how Gram Parsons may have seen the song, J. Mascis' stoner drawl fits in nicely with the song's country beginnings, while his fuzzy, overdriven guitar obliterates the jangle of the original. The track also features actor Matt Dillon on background vocals, because -- well, I don't know. Maybe Citizen Dick was on a break.
1. Nirvana - "Do You Love Me?" (Kiss Cover)
Along with Doc Martins, flannel shirts and overpriced coffee, the '90s also brought another development: musicians finally expressing their love for Kiss. From Pearl Jam's Mike McCready to Pantera's Dimebag Darrell, musicians finally proudly spoke of Kiss' influence on them.
While Kiss predictably took this new-found credibility and promptly curated a cover album in tribute to itself, the most interesting of all the Kiss covers appeared on C/Z Records' "Hard to Believe" -- a compilation featuring bands from the Northwest including the Melvins and Nirvana. Singing what was lyrically one of the most ridiculous KISS songs (and that's a high bar), Kurt Cobain seems to be high spirits as he goofs his way through the chorus -- a beautiful counterpoint to the usually somber Nirvana catalog.
RFT MUSIC'S GREATEST HITS
The 15 Most Ridiculous Band Promo Photos Ever "Where Did My Dick Go?" The Gathering of the Juggalos' Best Overheard Quotations I Pissed Off Megadeth This Week, My (Former) Favorite Band The Top Ten Ways to Piss Off Your Bartender at a Music Venue
---