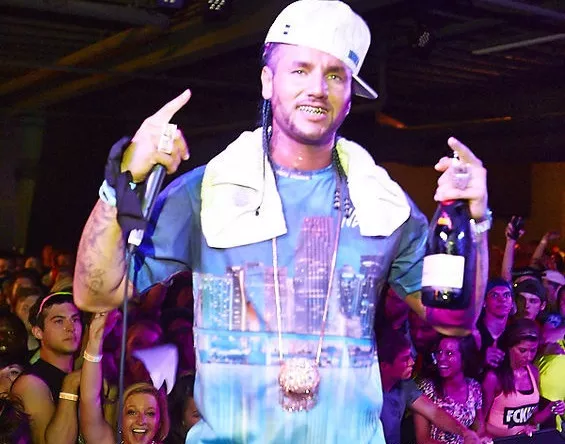 Theo Welling
Will Riff Raff be welcome on Warped Tour 2015?
Warped Tour has propped up emergent music acts, primarily in shades of punk, as well as fringe activism and outsider art all over the map since 1994. As America's largest traveling music festival enters its third decade, fans and critics alike have strong opinions as to what is or isn't "punk" about the festival.
This year's lineup includes previous Warped alumni like Neck Deep and Handguns, but two names aren't sitting right with a group of punks. Those names: Riff Raff and Kosha Dillz. Why? Because those are the names of two rappers.
See also: Check Out This Awesome Flyer for Riff Raff's St. Louis Show
The punk fans are making their voices heard by starting a change.org petition to "Get Riff Raff and [sic] Kosher Dillz OFF the Vans Warped Tour line up."
The anonymous authors of the petition, using only the author name "Outcasts," take offense to rappers being a part of Warped in a passionate, but hastily written statement:

"Vans Warped Tour has been a place created for outcast kids to go see their favorite bands play, it is a place for kids who have been teased for liking those bands who are up on those stages. Having Riff Raff and Kosher Dillz on the line up would be inviting those people who put down rock music and the people who listen to it."

Later, it goes on to say, "You may think adding these rap artist to the line up is a good thing, but think of all the people who are going to be hurt by you adding these artist to the line up."
Silly as it may seem, the petition is picking up some steam. With 270 signatures as of press time, the punks are making their opinions heard in the comments as well.
Cassie Hill of Trust, Maine foretells, "Warped Tour was NOT made for all genre's. It was made for the weird kids who have been teased and booted out for liking bands and rock music. Adding rap music will ruin everything."

Annika Gomez of Maplewood, New Jersey screams, "I HAVE NEVER BEEN SO ANGERED BEFORE IN MY LIFE...ADDING THESE ARTIST GOES AGAINST EVERYTHING WARPED TOUR STANDS FOR."

Ericka Fowler of Albany, Georgia fears, "if you let ghetto people in theyre gonna start shit with 'emo' kids."

Jasline Gonzalez of Boston, Massachusettes wonders aloud, "why would two different genres that hate eachother be put under the same roof?"

Airy Walker of Racine, Wisconsin adds, presumably at the top of her lungs, "IF THEY ADD RAP MORE RUDE PEOPLE WILL HATE THE BANDS ON THE LINE UP START PROBLEMS AND PICK FIGHTS!"
This is only a handful of the Warped-Rap-Truthers who know how absolutely catastrophic the addition of hip-hop to the Vans Warped Tour could possibly be.
Except for the fact, of course, that hip-hop has been a part of Warped Tour for almost the Tour's entire existence.
Next: The Rappers Who Have Shaped Warped Since the Beginning

Photo by Denis Jeong Plaster
Atmosphere got a lot of exposure in the early going on Warped.
While punk and third wave ska certainly is Warped Tour's bread and butter, to overlook rap's presence kind of discounts the Tour's open-door policy. There's a ton of hip-hop every year, from designated stations on the tour like the Code of the Cuts tent and the Bring It Back stage, to a who's who of underground acts like Atmosphere, Immortal Technique, Non-Phixion and Mac Lethal, to indie rap artists cultivating a buzz shortly before breaking out.

From P.O.S., Hangar 18, Grieves, Yelawolf and Dama Nilz to the career-making run of Gym Class Heroes, Warped Tour has already had a lot of rap over the years. They've even had rapping on their annual Warped Tour compilations going back to Ozomatli on the 1998 A Compilation of Warped Music installment.
Yes, rap's been a part of Warped Tour long before a significant chunk of this year's Warped Tour attendees were even born.
We reached out to Kosha Dillz, a veteran of the 2012 Warped Tour, who joked about the petition on his Facebook page. "I was just Googling Riff Raff after he was announced and was like, 'Damn dude, a lot of people signed this shit.'"

Despite the animosity of the petition, Dillz's previous Warped Tour adventures never included fighting with punk purists. "I don't think anyone's disrespecting an artist when they see them and their work, I think they just want to talk online. It's a place for weirdos to exist and have confrontation."
Warped Tour organizer Kevin Lyman has already responded to the petition on Twitter:

Twitter Screen Capture
No Change
RFT MUSIC'S GREATEST HITS
The 15 Most Ridiculous Band Promo Photos Ever "Where Did My Dick Go?" The Gathering of the Juggalos' Best Overheard Quotations I Pissed Off Megadeth This Week, My (Former) Favorite Band The Top Ten Ways to Piss Off Your Bartender at a Music Venue
---