Michael Wilson
Jason Isbell will perform at Peabody Opera House on February 14.
Back in the day, Jason Isbell was as likely to pack a pool cue as a guitar when he hit the road. If you ran into him on the street, in a bar or at a show, or maybe for a late-night community-radio session, he might ask where the nearest billiards hall was and if you wanted to join him. Back in the day, you'd have been crazy not to take him up on the offer.
"I'm not sure how much pool I played," he admits. "In those days I'd go out under the auspices of playing pool and would just go out drinking."
That should go without irony or regret in the saying. After all, Isbell was a Drive-By Trucker (a band not known for sobriety), a young songwriter and guitarist of the first disorderly order. But those nights drinking — around a velvet table or onstage, in the back of a bus or in an alley — could have killed him. They probably should have.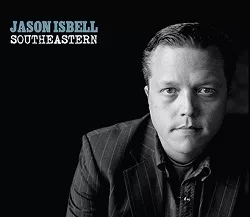 "Damn near strangled by my appetites," he sings on "Traveling Alone," one of a dozen redemption songs on his most recent album, Southeastern, a record that's as potent and poignant as anything his ex-bandmates or peers have recorded. "Ybor City on a Friday night, couldn't even stand up right." Through those songs you get to know Isbell, as sure as if you had shot pool with him till dawn, and it's the unmasked honesty of his stories that makes the archetype of the self-destructive rocker reborn ring true. These are the songs of a born storyteller, a born musician.
"That was always the plan, from as far back as I can remember," he says while on the road in Michigan. "I always wanted to be a musician, but I didn't realize when I was a kid that people made a living at it. My grandfather played and my uncles played as a hobby, or in church, but I guess by twelve or thirteen I realized that that was the same thing people were doing on the radio. I always read a lot, and my mother listened to a lot of songwriter albums, so the words were a big part of it from day one. Sitting around playing guitar and reading books, those were my two favorite things to do."
As a young man, Isbell joined his fellow Southern-traveling musicians in Drive-By Truckers, contributing unforgettable songs — "Decoration Day," "Outfit" and "Danko/Manuel" for starters — to the band's best albums. When he was dismissed from the Truckers in 2007 (the drinking was out of control and relationships were disintegrating), he took some lessons with him.
"I learned that it was a whole lot of work," Isbell says of songwriting. "If you want to get better at it, you have to do it over and over. Patterson [Hood] had written probably a thousand songs by the time I had joined. And the Truckers made all their decisions, and that stuck with me. Patterson was booking all the shows on the one cell phone we had to share. Even after we signed with a label, we kept a very close eye on everything. That's certainly something I've taken with me."
Continue to page two for more.
With the release of Southeastern in 2013, Isbell has gone from fronting his own tough-rocking answer to the Truckers — the 400 Unit — to getting cleaned up, marrying songwriter and musician Amanda Shires, touring with the likes of John Prine, sweeping the 2014 Americana Awards (winning the Best Song, Best Album and Artist of the Year categories) and figuring out what the hell really matters. Songs like "Super 8 Motel" — on which he howls about preferring not to die in such a place, surrounded by his own vomit — or "Flying Over Water" — on which he recognizes that the temptation is always there, so long as the ineffable fear remains — prove that he can still hit the boards with all guitars roaring. But taken as a whole, the album is quintessentially introspective and honest, with each line honed until it could never be better expressed or sung.
"Sometimes I'll work harder on a song, if I believe in the melody or like the story," he says. "I'll spend days or weeks or months on it. Sometimes they just fall out. I'll take it any way I can get it. I don't write a shit-ton of songs. I do write year-round, maybe twenty songs a year. And of those there are ten or twelve that are really strong.
"I'm not somebody who writes a song unless I have something to say," he adds. "I don't write the way folks in Nashville do. I wouldn't be any good at that, to tell you the truth."
And that seems to be what Isbell has figured out: what it means to tell the truth, to face yourself and reveal yourself — not just to an audience, but to someone you could love. And that's the really hard work. In the song "Stockholm," he sings of the change: "The difference with me is I used to not care."
"That's a bad infinitive actually," he laughs, and then unpacks the line: "I wouldn't say in general I didn't care. There were things that were important to me, but my own personal well-being wasn't one of them. And there wasn't anything at home for me until Amanda and I got together. I had to figure out what I liked and disliked about myself.
"Rather than just treating the symptoms, I had to figure out what was causing me to drink so much. Once I had something I valued as much as a relationship, I had a reason to keep myself on the straight and narrow."
RFT MUSIC'S GREATEST HITS
The 15 Most Ridiculous Band Promo Photos Ever "Where Did My Dick Go?" The Gathering of the Juggalos' Best Overheard Quotations I Pissed Off Megadeth This Week, My (Former) Favorite Band The Top Ten Ways to Piss Off Your Bartender at a Music Venue
---