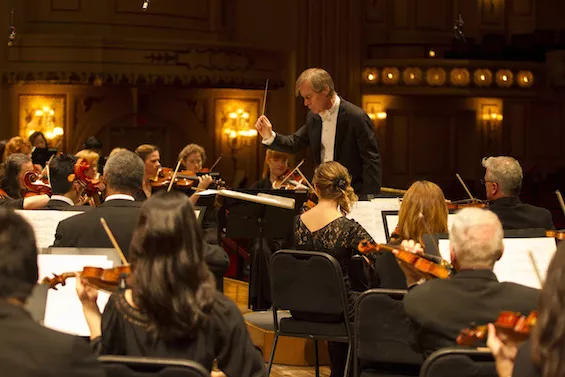 Dilip Vishwanat
Music director David Robertson leads the Grammy-winning St. Louis Symphony.
In the time since the St. Louis Symphony's last win at the Grammy Awards, a child could have been born, learned to drive, voted and had its first legal beer.
That is, until February 8, when the symphony took home a 2015 Grammy for Best Orchestral Performance. SLSO's first Grammy win since 1991 was for its February 2013 performance of John Adams' City Noir, which was released on Nonesuch Records last May.
See also: - St. Louis Symphony Announces 2015-2016 Season - St. Louis Symphony, KETC Partner to Create New TV Series 'Night at the Symphony'
"I just couldn't be prouder of or happier for these musicians," Erika Ebsworth-Goold, publicist for the St. Louis Symphony, tells RFT Music in an email during the Grammys broadcast. "Everyone involved on this project -- music director David Robertson, composer John Adams, the staff and crew at Nonesuch and the musicians and staff of the St. Louis Symphony -- gave this their all. It shows, and this award is well-deserved."
The symphony was performing works by Dvořák, MacMillan and Debussy at Powell Hall Sunday afternoon when the administration learned about the win. Ebsworth-Goold and vice president for external affairs Adam Crane broke the happy news after the musicians left the stage for intermission.
"It was truly special to be backstage with him as we told them all about the great news! It was a moment I won't ever forget. Lots of happy faces, and lots of joy," Ebsworth-Goold shares.
SLSO's now-Grammy winning performance of John Adams' City Noir tells the story of Los Angeles in the '40s and '50s, and its composer describes it as "jazz-inflected symphonic music." Led by music director and conductor David Robertson, the symphony's recording also includes an Adams-penned saxophone concerto, recorded in October 2013. New York Times-lauded saxophonist Timothy McAllister is featured on both pieces. Listen to part of City Noir below:
"This is the equivalent of winning the World Series for this orchestra, and this means the world to them," Ebsworth-Goold says. "It's a terrific evening for our entire city."
Indeed, the symphony's Grammy win dominated Sunday's Twitter feed, with orchestra musicians, music lovers and community leaders sharing accolades.
With this year's Grammy win -- the St. Louis Symphony's seventh overall -- SLSO bested heavy competition in the Best Orchestral Performance category, including the Seattle Symphony, the Pittsburgh Symphony Orchestra, Berliner Philharmoniker and the Atlanta Symphony Orchestra. SLSO also was nominated for Best Engineered (Classical) Album but lost to the Chicago Symphony Orchestra.
See also: - Sex and the Symphony: Ben Folds Explains Why Orchestral Music is the Best Aphrodisiac - Ferguson Protesters Lead Demonstration During St. Louis Symphony Rendition of Brahms' 'A German Requiem'
Founded in 1880, SLSO is the second-oldest symphony in the nation and is known as one of the best in the world. The orchestra recently announced its 2015-2016 season, which begins in September and will include a reprise of City Noir along with works based upon literature by William Shakespeare and others. The symphony also will continue its weekly broadcast on KWMU (90. 7 FM) and its monthly television series with KETC-TV (Channel 9). The schedule for its popular Live at Powell Hall series -- which often features popular musicians like Ben Folds or symphonic tributes to rock idols like the Rolling Stones -- will be announced soon.
For more information, visit stlsymphony.org.
RFT MUSIC'S GREATEST HITS
The 15 Most Ridiculous Band Promo Photos Ever "Where Did My Dick Go?" The Gathering of the Juggalos' Best Overheard Quotations I Pissed Off Megadeth This Week, My (Former) Favorite Band The Top Ten Ways to Piss Off Your Bartender at a Music Venue
---