An adequately unnerving flyer
Are you sick of being responsible? Does it annoy you to have to follow rules or be pro-social? Do you like basements? Well, if you are a goofy, degenerate weirdo who doesn't quite fit in anywhere else, you might consider our city's hardcore/punk shows. Your underlying anger problems can be brought out to their fullest potential (in a positive way). These are my recommendations for great local and national bands that don't play five-minute (marathon!) songs or remind you about drink specials. General rule of thumb: If you have five bucks and can show up by 9 p.m., then it's go time in the pit. One, two, fuck you!
Enabler, Call of The Void, Everything Went Black, Path of Might at the Demo February 7th 8 p.m./$10
Once again, one of Milwaukee's best (aha! Get it?), Enabler, is coming through St. Louis with new jams from last year's La Fin Absolue Du Monde LP; this time the support is provided by Denver's Call of the Void. Now, it would be a huge mistake to write off Enabler as "that band that the drummer of Fall Out Boy was in a while ago." One, because you aren't going to find a more proficient hybrid of Converge and Tragedy in the Midwest, and two, because Andy Hurley hasn't been involved with the band for a long time. Yes, two or three years is an eternity in band/tour years. Plus, EWB's new stuff will tear your asshole's head off. Find more credible excuses if you want to be a poser and miss out on this show.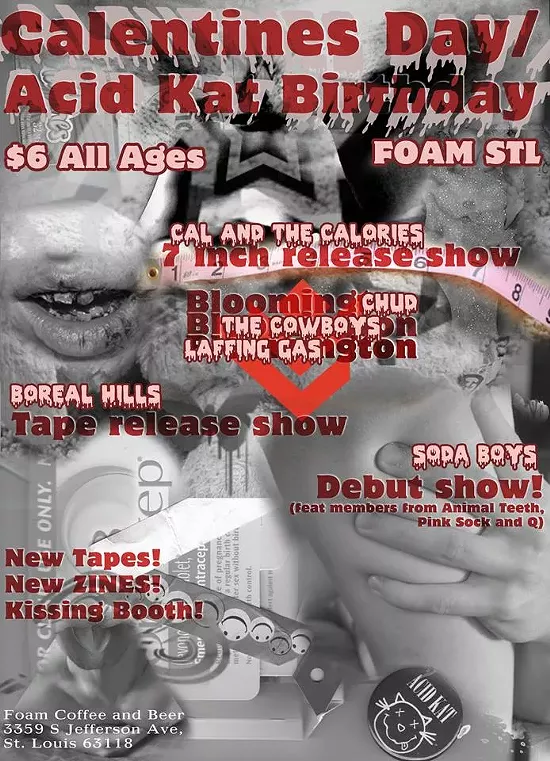 Nothing makes for a night of puking in the Tunnel O' Love like a flyer fresher than 2001.
Acid Kat Zine's 3rd Birthday/Calentine's Day Party w/ Cal and the Calories, CHUD, the Cowboys, Laffing Gas, Boreal Hils, the Soda Boys at Foam February 14 9 p.m./$6
Finally, Valentine's day will mark a new day for dwellers of Cherokee street. Cupid's stupid reign of terror will come to an abrupt halt as Acid Kat celebrate its third year of weirding out readers all across the Mississppi River territory. Not to be outshined, Cal and the Calories (an alter ego of multinational corporate punk sensation Lumpy) has finally graced us with a new record. On top of all that, three of Bloomington's best (CHUD, Laffing Gas, and the Cowboys) are coming through to help wallow in the grimy underbelly of St. Louis' lonely hearts club. Plus, It's the Soda Boys' (members of Q, Pink Sock and Animal Teeth) first show ever. Anyone with a brain should choo-choo-choose to be at Foam this Val...Calentine's Day.
FFO: Social Commentary and Neckwear, Military Police's The End Of...
Military Police, Human Traffic, Black James, Trauma Harness, Braining at Melt February 22 9 p.m./$7
Raw Pop is coming back to our fair city and it couldn't be a moment too soon. STL native/Chicago traitor Mark Plant is bringing his own genre back to the place of its birth. As prone as one might be to turn a cold shoulder to another Cubs worshiper, don't -- Military Police is the perfect thing to rise out of the ashes of the short-lived kings of Raw Pop, Times Beach. Anyone who's got a tinging rhythm in their spine should come out on a cold, unforgiving Sunday night to dance awkwardly with a room full of old pals yelling badly timed one-liners at one another. Who knows, you could become one of those old pals. Plus, Trauma Harness will have just gotten back from its first of two tours this year. They deserve your merch money.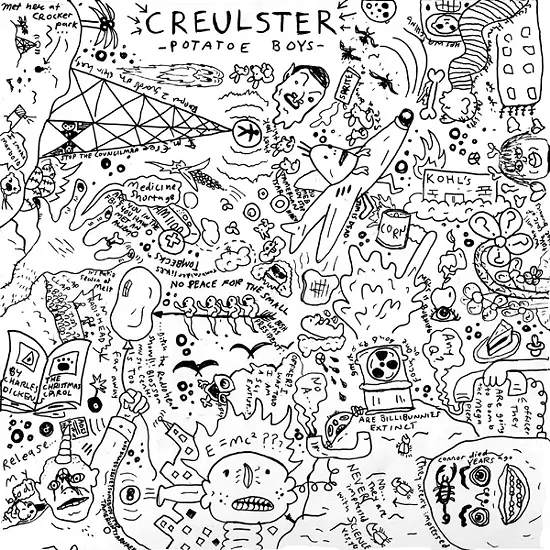 Gotta admire a band that spells its name wrong on its own record
Cruelster, Safety Words, Q at Melt February 24 9 p.m./$5
Hey idiot, are you a dumbass? You might just mouth-breathe your way down to Melt for one of the dumbest nights of your dunce-cap life. Cleveland's Cruelster and Chicago's Safety Words have decided to try and challenge some of Nellyville's lowest IQs to a moron-athon. While those cities surely have their own garbage and drugs, is it really any match for us? Pick axes, tables, finger-less gloves, oh my. Do you want to drool as much as you want to bleed? This ill-advised beefcake showdown will be your cup of tea then. A night of fast, idiotic hardcore in a waffle store. Respect the venue and everything, but charge head first at the first leather jacket you see. See stage potato pogo-off/dogpile fetish video below.
RFT MUSIC'S GREATEST HITS
The 15 Most Ridiculous Band Promo Photos Ever "Where Did My Dick Go?" The Gathering of the Juggalos' Best Overheard Quotations I Pissed Off Megadeth This Week, My (Former) Favorite Band The Top Ten Ways to Piss Off Your Bartender at a Music Venue
---