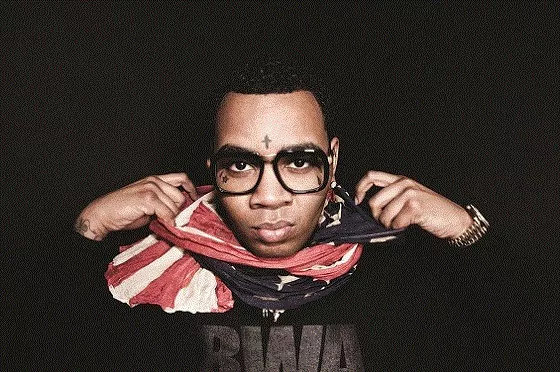 Jimmy Fontaine
Kevin Gates will perform at the Ready Room on February 24.
This month is rife with national acts, from alternative hip-hop to southern bangers, from OGs to newbies. We've even got one of our favorite local up-and-comers with a show on the books. So as you're weathering the cold -- though St. Louis has been unseasonably warm this winter -- try one of these concerts on for size. Here's the best St. Louis hip-hop shows of February.
Riff Raff with Chanel West Coast, Trev-Hype and Repatalleon at the Ready Room February 8 8 p.m. / $25-$30
Riff Raff had humble beginnings in the suburbs of Houston, Texas, with a promising future in basketball. But in 2003 he let go of that dream and decided to pursue a rap career instead, spitting rhymes over other artists' beats and crafting CDs at home while using the Internet to his maximum viral advantage. After a short stint on Soulja Boy's label SODMG, he signed a ridiculous eight-album deal with Diplo's Mad Decent label in 2012, releasing Neon Icon in 2014. Riff Raff is largely recognized for his crazy facial hair, outlandish style and colorful braids --a luminous, shining hip-hop icon, indeed.
Neon Icon's first official single, "How to Be the Man," was no match for the second official single "Tip Toe Wing In My Jawwdinz," a tribute to Riff Raff's beloved sneakers. Though he's likely made a princely sum from his album deal -- he "used to drive a Focus" after all -- he's still rocking those Jordans.
G. Love & Special Sauce with Matt Costa at the Pageant February 14 8 p.m. / $22.50-$25
G. Love & Special Sauce beautifully straddles the line between rap, funk, blues and R&B. And the band -- with frontman Garrett Dutton, drummer Jeffrey Clemens and bassist Jim Prescott -- is able to do maintain its alternative hip-hop sound while covering a myriad of subjects, including beverages, cereal, love and rodeo clowns. As a member of the band and as a soloist, Dutton is able to careen between alt rap, folk and indie rock with precision: In 2011, he released a collaborative album with the Avett Brothers. In 2014, the original G. Love & Special Sauce trio got back together and recorded Sugar, with a few throwbacks.
Ciej with Lst Mbrs, Phill Love, Bentley Hendrixx and DJ SayWord at the Demo February 17 9 p.m. / $5
This year has already been deemed a success for Ciej and his MME crew, though 2014 was pretty great for them too. Ciej and his cohort Rell hosted the second installation of Vibes at the Grand Arts Center, a night full of art and music where MME performed, as well as a slew of other rappers including Chicago's Alex Wiley. As a soloist, Ciej has released a fair amount of fire music, including the stellar "12 Women," which was included in our list of the 10 best St. Louis music videos of 2014.
Continue to page two for more.
Twista with GGM, Nate Moore, Major Money Mafia, Kommon Groundz, Project Zero Elite, Nemo, Mad Money Mike & Murker, Bizzy Productions, Young Rizzle at the Mad Magician February 21 8 p.m. / $20-$25
"Baby drop another slow jam / And all us lovers, need to hold hands / And if you ain't got no man, hop up in my Brougham / I keep it pimping like an old man." If you don't know those lyrics then we're definitely shaking our heads at you. The epic single "Slow Jamz" appeared on both Twista's 2004 album Kamikaze and Kanye West's 2004 debut The College Dropout, as two slightly different variations. Yep, Twista's been around for a very long minute. He's recently released his ninth album Dark Horse, which includes a fair amount of notable features, such as R. Kelly, Tech N9ne and Wiz Khalifa.
Kevin Gates at the Ready Room February 24 8 p.m. / $22-$25
In 2007, Louisiana's Kevin Gates started working with Lil Boosie; together, they cut the successful track "Get in the Way." Gates was unfortunately jailed in 2011 for a short stint, but as luck would have it, his management was taken over by Young Money Entertainment and signed to Atlantic Records in 2013. Gates has steadily kept releasing new music, with his latest mixtape By Any Means released in 2014.
RFT MUSIC'S GREATEST HITS
The 15 Most Ridiculous Band Promo Photos Ever "Where Did My Dick Go?" The Gathering of the Juggalos' Best Overheard Quotations I Pissed Off Megadeth This Week, My (Former) Favorite Band The Top Ten Ways to Piss Off Your Bartender at a Music Venue
---