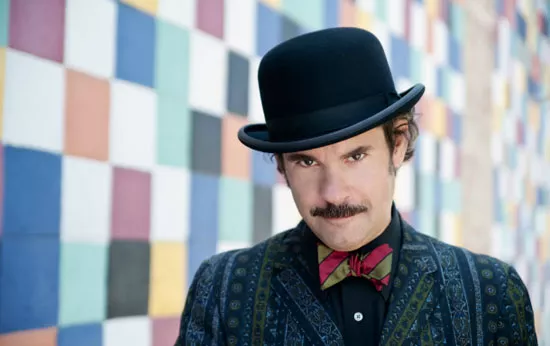 Rebecca Sanabria // HeyReverb
Paul F. Tompkins to perform at McKendree College
"Best" is relative, much like what you find funny. That's why each month we will be recommending a varied number of comedy events -- some sketch, some improv, some standup and some all-of-the-above -- and calling them the best. Should you be in search of a laugh or willing to take a risk on humor, this is the list for you.
This month is all about the DIY. National and touring headliners are coming to a slow halt in preparation for festival season as well as their own spring and summer tours, so we rely on the locals to keep the jokes coming. That being said, one of the greatest humorists, comedians and writers is heading to town (or at least close) and you're definitely not going to want to miss it.
Carly Aquilino February 5 to 7 at The Valley Park Funny Bone $10 - $18 | Showtime Varies
A woman of the screen and stage, Carly Aquilino has a weekend at the Valley Park Funny Bone all to herself. You may recognize her from MTV's Girl Code or simply by her bright and wildly colored hair. Offering a perspective and voice purely her own, she'll tell you to go to hell and leave a smile on your face while doing so. Carly's influences include, sass, Dad and a flippant attitude.
The Catalogue Live Saturday, February 14 at The Heavy Anchor $5 | 9 p.m.
Whether you're alone on Valentine's Day or simply looking for something to do, search no further than the Catalogue Podcast. Hosted by Joshua Evans and Christopher Melton, the Catalog is a monthly podcast featuring sketch comedy, storytelling and yes, music.For this event they're taking a step out of the online realm into real time and real life multimedia with a live and very loving production at the Heavy Anchor.
On the standup side, Catalog welcomes Justin Luke and Milly Naeger, both of whom just accepted to the Crom Comedy Festival in Omaha, Nebraska, as well as Stryker Spurlock, the man behind Contraceptive Comedy. Improv teams Boothby and Bed and Breakfast are also slated to perform, and the musical stylings of Dream Fox will close the show.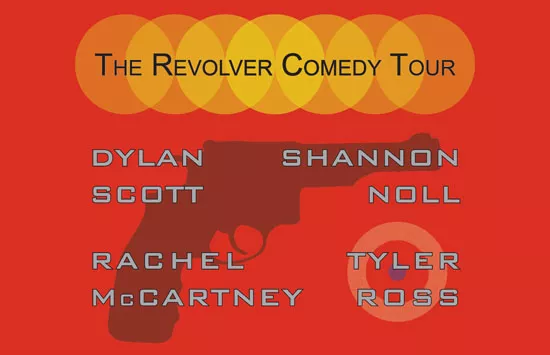 Revolver Comedy Tour Wednesday, February 18 at Foam $5 | 8 p.m.
The Revolver Comedy Tour features Tyler Ross, Shannon Noll, Dylan Scott and Rachel McCartney -- a band of comics out of Chicago on a DIY trek across the Midwest. The three are no strangers to club, theater and festival work; a coffee shop that doubles as one of the more dynamic performance spaces in the city should be nothing less than an ideal setting for this pack. Each comic brings their individual heresy and gusto to the table, offering a one-of-a-kind and rapid-fire show.
Paul F. Tompkins Thursday, February 26 at McKendree College $10 | 6 p.m.
For those of you who like your humor with a spoonful of education, the Cake Boss and Mr. Show veteran himself, Paul F. Tompkins, is joining a discussion on self-marketing in the digital age at McKendree College in nearby Lebanon, Illinois. And for those of you who will take your humor in the good 'ol fashion, strictly funny form, he has a standup set slated directly following the panel.
A sharp-dressed man and comedic utility player, Tompkins appears regularly on Scott Auckerman's, Comedy Bang Bang and Real Time with Bill Maher. You're not going to see a more well-rounded and purely entrancing performance from any other comedian working today. It's been far too long since he's made his way back to town. Granted, he's just across the river and it's more than worth the drive -- maybe, just maybe, if we show him enough love he'll come back our direction real soon.
Contraceptive Comedy Saturday, February 28 at Shameless Grounds 8 p.m. | No Cover
As the comedy scene becomes increasingly saturated by independent and recurring shows, Contraceptive stands out as an anomaly thanks to the caravan of out-of-towners consistently circulating through town. This time around it's an ensemble of young and spirited comics by way of Indiana.
In cities outside of St. Louis, it's not uncommon for comics to be banned from their local club for performing at open mics or independent shows within a certain mile radius of said club. So for Jordan Mather-Licht, Josh Cocks, Matt Bachus and Dave Britton, the trek to work an unfamiliar room and city is a necessity. Products of both the club circuit and the road, these boys understand the value of stage time and take full advantage of it.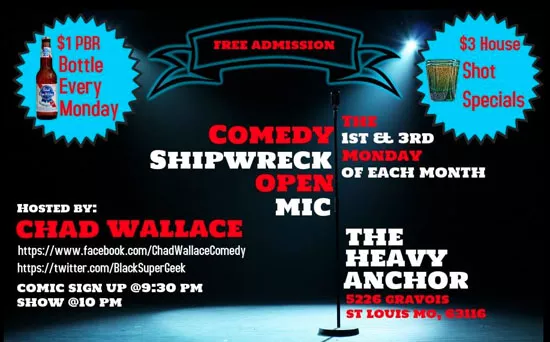 The Comedy Shipwreck Every 1st and 3rd Monday at The Heavy Anchor 10 p.m. | No Cover
Open mics come and go, but few truly weather the storm. In an effort to make one open mic stand out from the rest, venues (and comics) have tried a number of variations. Restrictions on material, adding elements of improv, taking away the microphone... the list goes on. But what the Comedy Shipwreck has done is focus on the most important and often ignored aspect of an open mic: the crowd.
The show's host and producer Chad Wallace is one of the nicest and most committed individuals in St. Louis' scene, so it's not surprising that a sizable audience flocks to his show. As a direct result, the content improves exponentially. Knowing their jokes won't fall flat to an empty room, comics step up to the challenge by either presenting their best material or by taking advantage of having an audience on which to work out their newest ideas. The crowd comes ready to laugh, but it won't come easy -- they demand work from the comedians, not just charisma behind a microphone.\
RFT MUSIC'S GREATEST HITS
The 15 Most Ridiculous Band Promo Photos Ever "Where Did My Dick Go?" The Gathering of the Juggalos' Best Overheard Quotations I Pissed Off Megadeth This Week, My (Former) Favorite Band The Top Ten Ways to Piss Off Your Bartender at a Music Venue
---