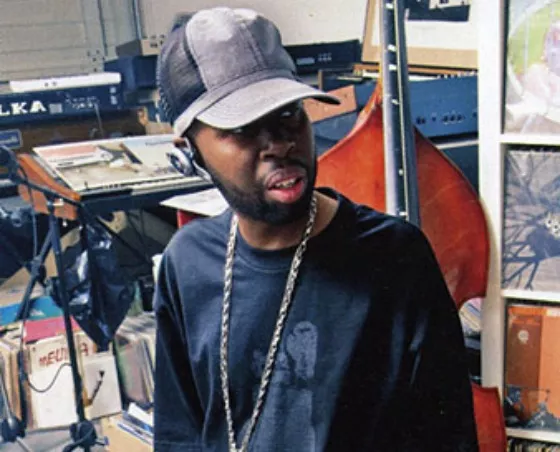 Roger Erickson / Wikipedia
RIP J. Dilla
February might be the cruelest month for hip-hop fans. Despite being the shortest one of the year, it reminds us in rapid succession of the loss of some of the most promising talents whose lives were cut just short of drastically impacting the rap world. Those lost in this 28-day span include Big Pun (February 7, 2000), Big L (February 15, 1999) and producer J. Dilla (February 10, 2006).
But while Pun had already tasted mainstream success with "Still Not a Player," and Big L had a well-received debut and a strong single in "Ebonics" under his belt at the time of their deaths, the days surrounding Dilla's death and his career up to that point have been largely drowned out with the accepted statement that he was always one of the genre's best. Now, nine years after his death, his greatness is an undisputed fact.
While we're not denying that Dilla is great, it's important to actually analyze why that is, as well as examine how the life of his music following his death has come to define his legacy.
Truth be told, the name "Dilla" wasn't heard much over the course of his life because, for the vast majority of his career, he was known as Jay Dee. Though he was born James Yancey in Detroit, Michigan, his production work as Jay Dee has a visible presence in the '90s, ranging from Janet Jackson's Grammy-winning single "Got 'Til It's Gone" and Q-Tip's "Vivrant Thing" to cult classics like De La Soul's "Stakes Is High" and Pharcyde's "Drop." He also developed something of an underground following through his work with his group Slum Village, as well as his frequent collaborations with Common.
But all of these feats were attributed to the name "Jay Dee." The name change to J. Dilla didn't happen until 2001, and didn't really stick until mentioned on his single with Madlib from their collaborative Jaylib project "The Red." It wasn't the name used as his promotional focal point until his 2006 masterpiece Donuts, which is why the immediate aftermath of the news of his death morphed into a quickly passing wind of condolences for both Jermaine Dupri and Ice Cube's Lench Mob member J-Dee.
But the untimely passing of this "other" Jay Dee gave sudden attention to the fact that one person was responsible for a fairly varied list of classic cuts.
Dilla's death on February 10, 2006, happened three days after his 32nd birthday and coincided with the release of the aforementioned Donuts. Reportedly completed from his hospital bed, Donuts is the only project you'll find on several "Best Rap Album of the 2000s" list that doesn't contain any actual rapping on it.
While the vast majority of hip-hop instrumental projects that gained popularity in the 2000s were essentially truncated rap instrumentals that didn't have any corresponding vocal versions, Donuts is a multi-layered, ridiculously complex statement that perfects its grooves while still keeping the experience moving in surprising directions. Some read the sentimentality of the soulful production as Dilla saying a final goodbye, others point to the emotional resonance as just par for the course of a master at work.
But why is his posthumous fandom bordering on full-blown worship?
Continue to page two for more.
We asked New York producer/MC the Audible Doctor, who cites Dilla as a major influence, about why Dilla connects with so many listeners.
"His ear is phenomenal," he told us. "The way he chops samples, and sonically his drums are always phenomenal. From a producer's standpoint, it could be the simplest thing. The rhythm of it, the swing of it is just phenomenal. I've never heard it that on point with anybody but him."
Rapper Chino XL, who collaborated with Dilla in 2001 for his song "Don't Say a Word," also said, "I think what was amazing about him was, I think, his musical IQ was higher than most people's. His blending of genres and the way he looked at most music as one genre, the elements he was influenced by the and interpolations in his music -- nobody would know what that was. His library was extremely extensive because his taste was so vast. And, working with him personally, he brought the best out of artists he worked with. He was such a stickler for 'you being you.'"
It is true that Dilla seemed to hear things other people wouldn't immediately gravitate toward when working with an artist, bringing those elements out in his own unique way. Perhaps the strongest testament to that is his reworking of Busta Rhymes' outlandish "Woo-Hah! Got You All in Check" into an incredibly laid-back song. The only thing that seemed more unorthodox than Dilla's musical goals was his methodology.
But the embrace of Dilla following his death has recontextualized his work to a degree. As Chino told us, "His fanbase's demographic is different and developed a neo-soul vibe, which is a trip because, in a sense, Dilla was mad gangsta. He wasn't that type, in a way." And that's just discussing Dilla's production work, whereas his time behind the mic, while not quite as popular, has also inspired a ravenous following. Chino continued "His rhyme patterns were crazy, me and Proof used to call him 'Sneaky Note.' He gets his bars in."
Audible Doctor agreed, "His content could pretty much be said to be the equivalent to mainstream content -- girls, jewelry and cars -- but his rhythm and the way he used his voice was phenomenal. I've never heard another rapper rap like that."
RFT MUSIC'S GREATEST HITS
The 15 Most Ridiculous Band Promo Photos Ever "Where Did My Dick Go?" The Gathering of the Juggalos' Best Overheard Quotations I Pissed Off Megadeth This Week, My (Former) Favorite Band The Top Ten Ways to Piss Off Your Bartender at a Music Venue
---